Ted Cruz Releases A Statement About His Controversial Cancun Trip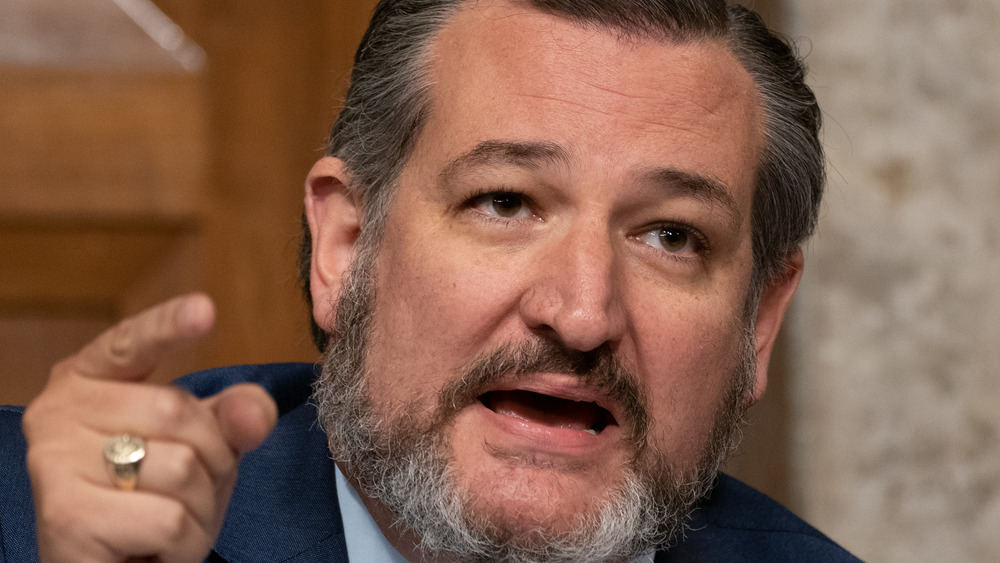 Pool/Getty Images
Ted Cruz left his state of Texas out in the cold — literally — and now, he's giving his reason for why.
According to The Washington Post, "as millions of Texas residents were without power and safe drinking water amid freezing weather" in the deadly winter storms that have shook the southern United States, the Republican Texas senator was spotted on a flight to Cancun, Mexico, with his family. The discovery caused an uproar, with the Texas Democratic party since calling Cruz to resign, per The Hill. And much of the internet generally feels pretty furious. Not only did Cruz leave Texas amidst their mass power outages and "suffering," per WaPo, but also "at a time when public health authorities have cautioned against international travel amid the coronavirus pandemic," the site reported. "Cruz seems to believe there isn't much for him to do in Texas for the millions of fellow Texans who remain without electricity/water and are literally freezing," MSNBC anchor David Schuster tweeted.
On Feb. 18, 2021, a day after Ted Cruz's initial airport photos circulated online, he was spotted in a Reuters photo wearing a Texas flag-themed mask and wheeling a black suitcase once more, this time at Cancun International Airport on his way back to Texas, as WaPo confirmed. That same day, Sen. Ted Cruz confirmed that he indeed traveled to Mexico, per Good Morning America, and has since discussed the reason for the trip.
Ted Cruz says he went to Cancun to 'be a good dad'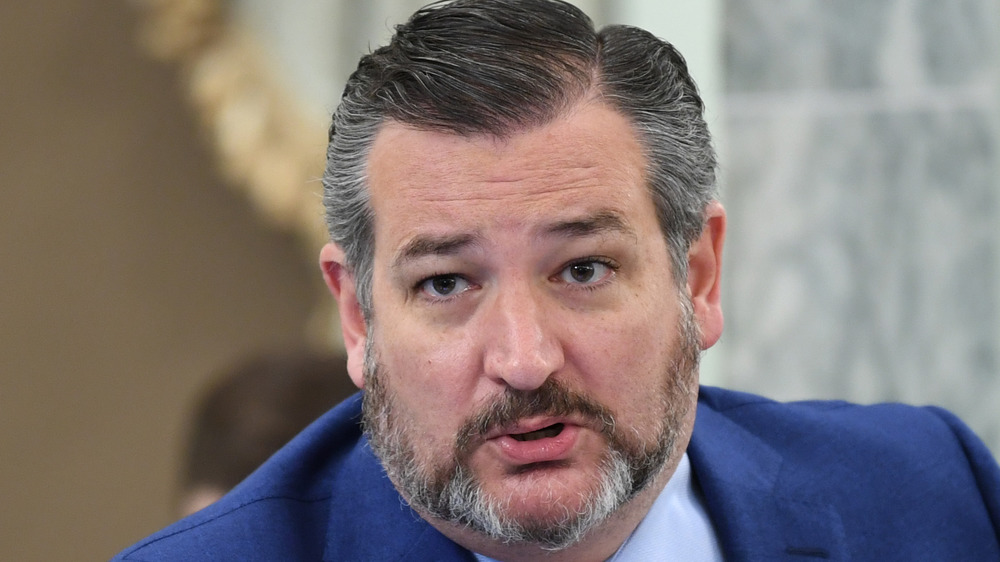 Pool/Getty Images
So what is Ted Cruz's reasoning for his Cancun, Mexico trip? The senator told ABC News on Feb. 18, 2021, in a statement, that he took the trip to "be a good dad" to his daughters. 
"This has been an infuriating week for Texans... Like millions of Texans, our family lost heat and power too," Cruz said. "With school canceled for the week, our girls asked to take a trip with friends. Wanting to be a good dad, I flew down with them last night and am flying back this afternoon," he added. 
The internet was quick to dole out even more backlash. "...The type of person willing to throw his own children under the bus to avoid accountability. Reckless," one Twitter user wrote. "Finding out ted cruz's daughters are 10 and 12 makes this story even more unhinged," wrote another. Ted Cruz's statement concluded, "My staff and I are in constant communication with state and local leaders to get to the bottom of what happened in Texas," adding they are "using all our resources to keep Texans informed and safe."
Meanwhile, the Texas Republican has been getting flack for an old tweet in which he slammed California's "failed energy policies" amidst their outages from the 2020 wildfires, per Forbes. He copped to the backlash by apologizing on Feb. 16, 2021, tweeting, "I got no defense."