Donald Trump Spotted With Melania For The First Time Since Leaving The White House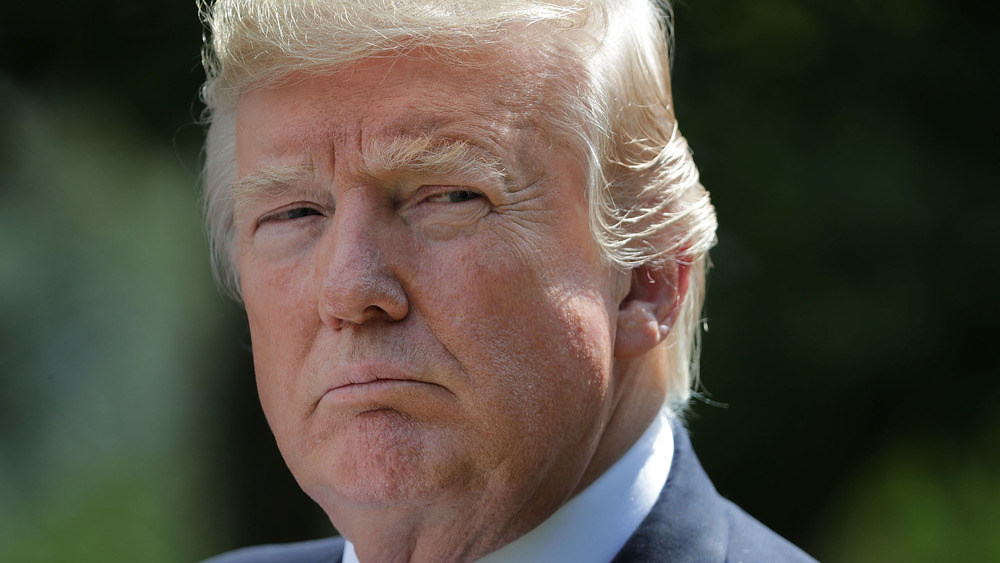 Chip Somodevilla/Getty Images
Donald Trump and Melania Trump have been spotted together for the first time since waving the White House goodbye.
On Jan. 20, 2021, the former president and former first lady, as you probably know, bid their farewells to 1600 Pennsylvania Avenue. They jetted off to Mar-a-Lago in Palm Beach, Florida, where they are planning to live for the foreseeable future, as President Joe Biden's inauguration was beginning. Actually, the Trump clan got the worm that day; according to the Chicago Tribune, they landed at Palm Beach International Airport "more than an hour before Biden was to be sworn in." Regardless, Donald and Melania's relationship since, at least on paper, has been frosty, to say the least. 
After the couple touched down in Florida, Melania was seen walking away from her husband as soon as they got off Air Force One. Instead of stopping to wave at supporters and pose with her husband, she immediately walked to the car, per Hollywood Life. Later, Melania also shared some sweet words on social media for Valentine's Day, but didn't mention the 45th president. On Valentine's Day. Hmm...
According to the Daily Mail, "rumors about the state of" Donald Trump and Melania Trump's "marriage continue to swirl." The former president watched his own impeachment proceedings on television and has been golfing a lot, even hitting the links on Valentine's Day itself, per the Daily Mail. But that very same day, the pair were indeed spotted at Mar-a-Lago together.
Scroll down to find out what they were up to.
Donald Trump and Melania Trump took photos with a few dinner guests at Mar-a-Lago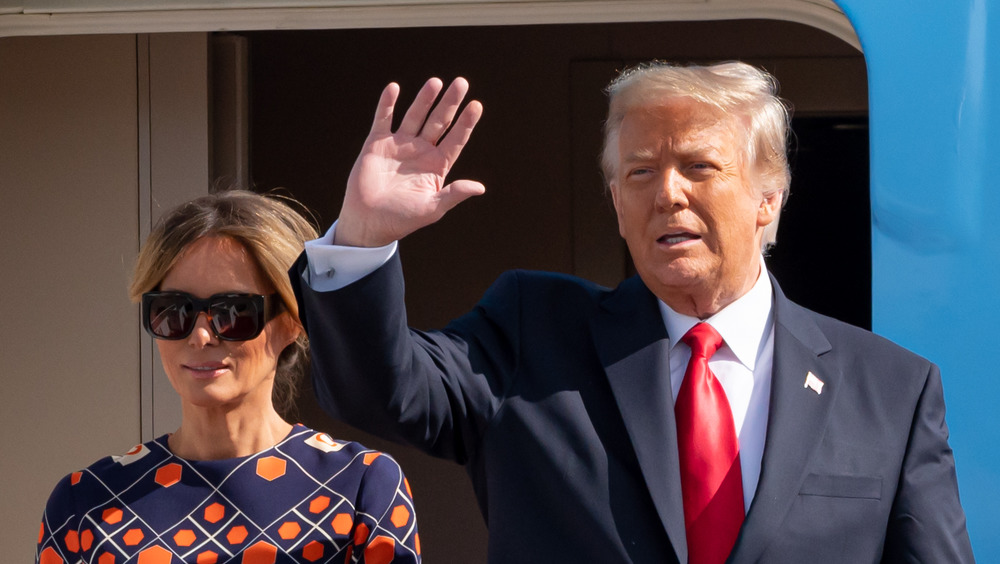 Noam Galai/Getty Images
So, where were Donald Trump and wife Melania Trump seen together? That would be in the Mar-a-Lago dining room, which they stopped by together on Feb. 14, 2021, aka Valentine's Day, as photos shared by the Daily Mail show. Instagram user Keith Otto shared a variety of shots of the couple joyfully posing, captioning them, "What a way to spend Valentine's Day, having dinner in the dining room along side the Trump family!" Indeed, the pair posed with a few dinner guests (no masks can be seen), in what was their first appearance together since waving goodbye to Washington, D.C. Well, steady as she goes!
Meanwhile, it's no wonder that imaginations have been wandering about these two. Melania Trump rinsed much of her Instagram page, leaving up only three photos to date, per Yahoo! News. Sources told CNN that Mrs. Trump is spending much of her days at the spa. "She goes to the spa, has lunch, goes to the spa (again) and has dinner with Donald on the patio," one source told the network. Another source told CNN, "It is not unusual for her to spend several hours a day [at the spa]." 
Donald Trump and Melania Trump have both been keeping pretty quiet about their marriage post-presidency, but it seems all is well, or at least, just fine. As the saying goes, 90 percent of success is just showing up!