Why Meghan McCain Is Causing Such A Stir Over Dr. Fauci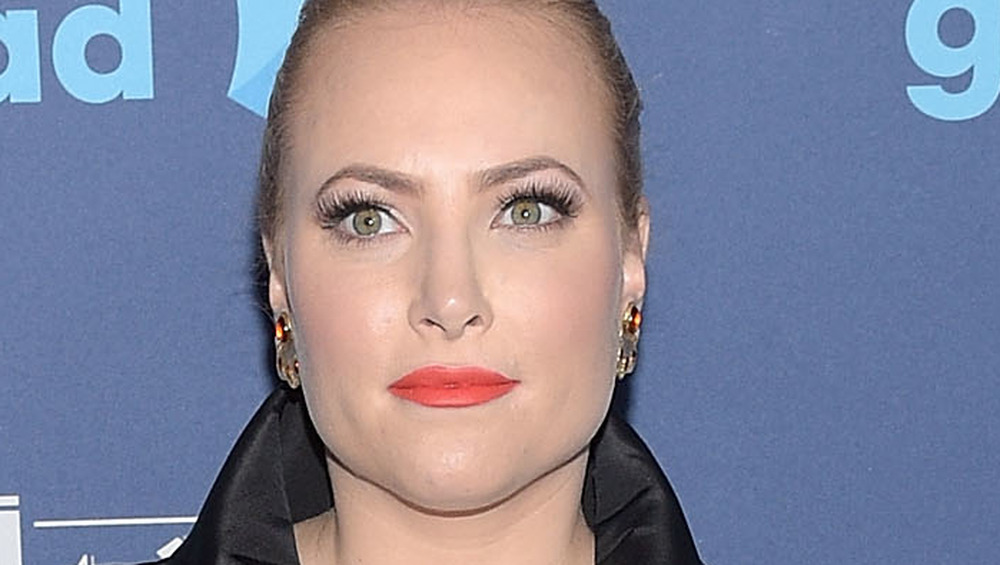 Jason Kempin/Getty Images
Meghan McCain has made some heated remarks about Dr. Anthony Fauci, the director of the National Institute of Allergy and Infectious Diseases (NIAID), and The View of the internet is not so favorable toward McCain.
But first, let's start off by saying that If Meghan McCain's return to the female-led ABC talk show in January 2021 after her maternity leave were a song, it would be by "The Clash." The conservative daughter of the late Arizona Sen. John McCain and Cindy McCain has butted heads with co-stars Whoopi Goldberg, Sara Haines, Sunny Hostin, and Joy Behar more often than not. In January 2021, she and co-host Behar got in a heated argument, with Behar telling the freshly-reemerged McCain, "I did not miss you. Zero." (Those two have quite a history, BTW.) And days after the fight, Goldberg cut off McCain during another equally tense moment. Being a Republican on a more left-leaning talk show is one thing, but Meghan McCain stirs the pot so often some might argue she's better suited for a cooking show.
When the topic of COVID-19 vaccinations came up on Feb. 22, 2021, Meghan McCain once again stirred up controversy. This time sparked backlash for complaining about the unknowns of the vaccine rollout. According to Newsweek, McCain "voiced frustrations over the rollout of the vaccine, particularly about when she herself will be able to receive it." Then, she honed in on President Joe Biden's top medical advisor, Dr. Fauci, with some... thoughts. See what McCain had to say.
Meghan McCain called for Dr. Fauci to be replaced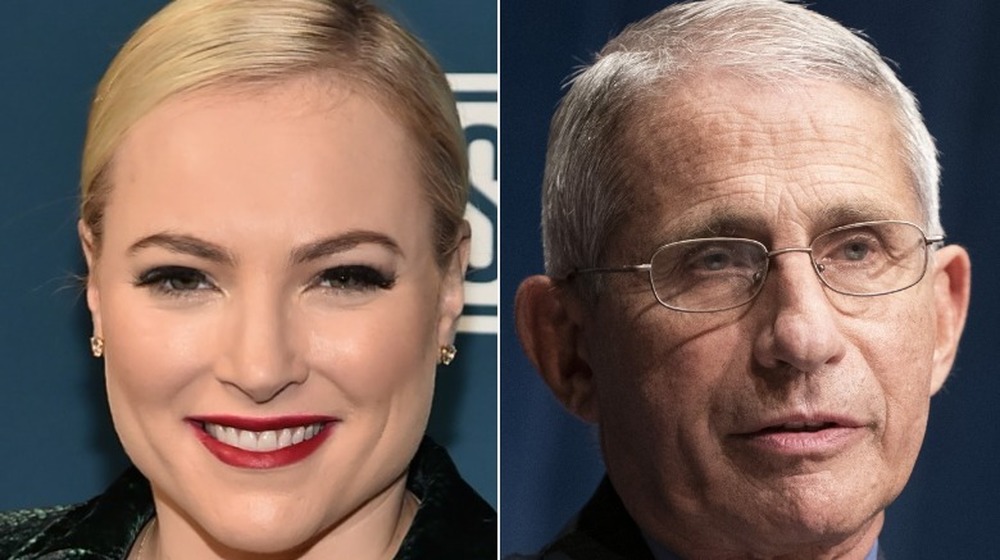 Theo Wargo, Joshua Roberts/Getty Images
So what did Meghan McCain say about Dr. Anthony Fauci on The View? According to The Daily Beast, after discussing a recent clip of Dr. Fauci on CNN, Meghan McCain lambasted the vaccine roll-out as having " inconsistent messaging." However, it seemed her issue was when it would be rolled out... to her. 
"The fact that I—Meghan McCain, co-host of The View—I don't know when or how I will be able to get a vaccine because of the rollout for my age range and my health is so nebulous," McCain said on Feb. 22, 2021. "I have no idea when and how I get it," the new mom added. "I want to get it. If you call me at three o'clock in the morning, I will go any place at any time to get it. I want to be responsible and obviously wait my turn, but this rollout has been a disaster. And I understand President Trump can take much of the blame, but now we're in the Biden administration..."  Meghan McCain then took aim at one official in particular. "So I'm over Dr. Fauci," McCain said. "...And honestly, quite frankly, I think the Biden administration should remove him and put someone in place that does understand science or can talk like these other countries..." The pundit earlier praised Israel's COVID-19 response in the same segment, per The Hill. 
As for how the internet reacted to her comments? Keep scrolling to find out.
The internet claps back at Meghan McCain
Cindy Ord/Getty Images
So how are people reacting to Meghan McCain's demand for Dr. Anthony Fauci's replacement on The View? The clip quickly caused fury online, with people questioning McCain for having a supposedly self-centered argument about the COVID-19 vaccinations and her potential misunderstanding of Dr. Fauci's longstanding position as the director of the NIAID.
"Big walking into the pharmacy and yelling "DON'T YOU KNOW WHO MY FATHER IS?" energy," wrote one Twitter user. "Does Meghan McCain understand that Fauci is an infectious disease expert/medical advisor and it's not his job to figure out the logistics surrounding the distribution of vaccines?" another user wrote. "Meghan McCain really just said 'The fact that I, Meghan McCain, COHOST OF THE VIEW, don't know when or how I will be able to get a vaccine'... Girl," wrote a third. "parents: make sure your children understand they're not the center of the universe, so they don't grow up to be Meghan McCain," penned a fourth. Others argued Meghan McCain's anger even aligns with her politics. "This is the Conservative Entitlement Mind in action. She demands preferential treatment, prefers to whine rather than research, and blames experts," another Twitter user wrote.
McCain later responded to the criticism, tweeting, "Many of you can keep worshiping at the alter [sic] of Fauchi [sic]. I'm not a phony – i will not go on tv and lie saying one thing privately and another on air. This is my opinion. We need someone else in charge of coronavirus messaging and leadership."