The Surprising Origin Of Jon Bon Jovi's Feud With Donald Trump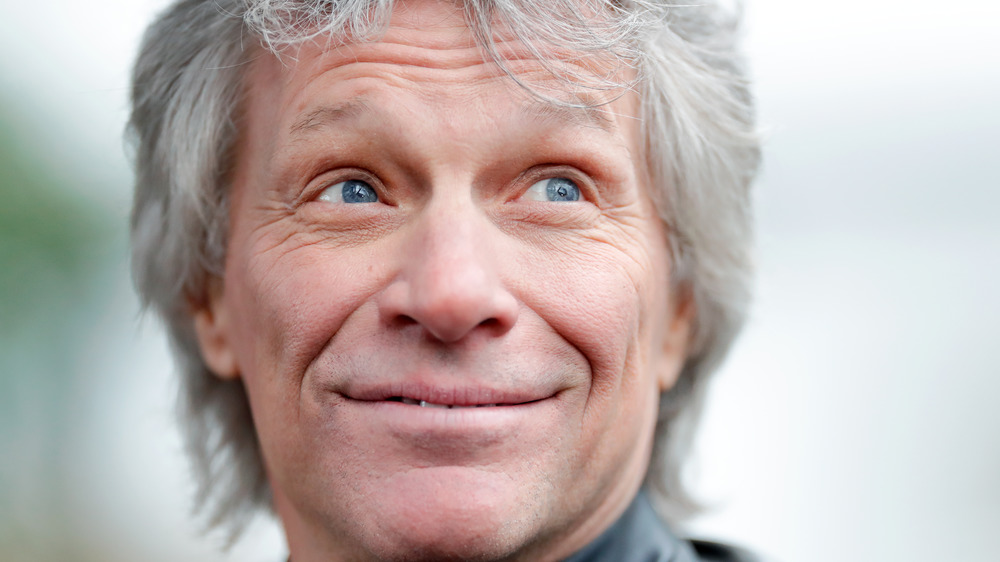 Max Mumby/indigo/Getty Images
We know Donald Trump isn't afraid of igniting a feud, and as such, he has developed a reputation for having some unlikely enemies. Although you might think we're about to touch on his beef with Chrissy Teigen, this is the tale of his scuffle with beloved rock star Jon Bon Jovi — yes, you read that correctly.
Before Trump's November presidential election loss, he slammed the artist's support for now-President Joe Biden when he hit the campaign trail for the Democrat in October 2020. "And Jon Bon Jovi, every time I see him, he kisses my a**: 'Oh, Mr. President,'" Trump said at a MAGA rally at the time, per The Hill. "But he'll get something out of it, just like everyone is." He went on to suggest that star power doesn't influencer voters, stating, "You know what happens, you bring in some of these — and they don't draw, by the way, we draw much bigger crowds than these people — But you know what happens, he'll sing a song or two and then he'll leave, and the crowd will leave, and Sleepy Joe is up there talking." Their feelings toward one another were mutual, as Bon Jovi told The Guardian, "On every issue we wholeheartedly disagree, from how he handled the COVID crisis to immigration to the Paris accord – everything."
To Trump's assumed displeasure, Bon Jovi performed at Biden's January 2021 inauguration celebration. However, Trump's feud with the rocker goes much farther back than his presidency.
Donald Trump allegedly targeted Bon Jovi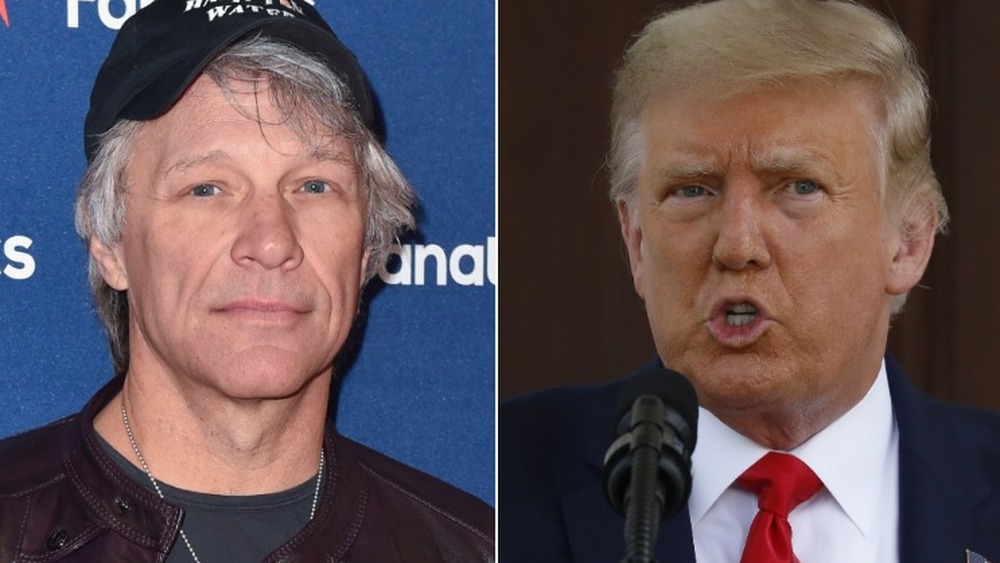 Aaron J. Thornton, Bloomberg/Getty Images
Although a feud between Donald Trump and Jon Bon Jovi may seem out of left field, that's because their rift is more of a shocking Super Bowl streaker than a wholesome baseball reference. According to The Guardian, Trump and Bon Jovi's beef began in 2014 when the singer and the businessman both tried to buy the Buffalo Bills football team. Despite outbidding Trump with the help of his Canadian investors, a strong sense of distaste for the artist began to spread across Buffalo, N.Y., following rumors he planned to relocate the team. Although he denied the speculation, "Bon Jovi-free" zones popped up throughout the area until a third bidder stepped in and took the team.
As GQ reported, the Bon Jovi smear campaign was supposedly orchestrated by political strategist Michael Caputo, who Trump allegedly hired. "Trump knew he couldn't outbid the Canadians," Caputo told the outlet. He alleged of the efforts to push the singer out, "I had it all set up with neighborhood guys who lived by the stadium."
Bon Jovi told The Guardian about that difficult time, "I was really shocked at the depths [Trump] went to. He wasn't even qualified to buy the team, because you have to submit your tax returns, and he never filed the paperwork. Instead, he did this dark shadow assassination thing, hoping to buy the team at a bargain basement price." He added, "But I just couldn't understand how this misinformation was being put out there. It was seriously scarring."