The Truth About Jon Bon Jovi And Joe Biden's Relationship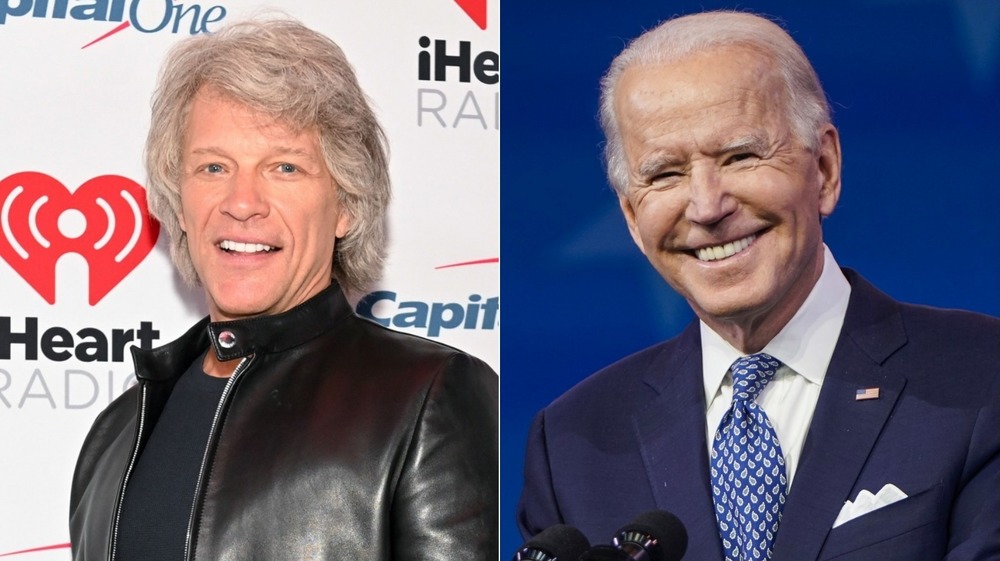 Jason Kempin, Joshua Roberts/Getty Images
President-elect Joe Biden is highly experienced, well-known, and well-liked (for the most part, anyway — he's the first presidential candidate to earn more than 80 million votes). The Pennsylvania native's presidential campaign against President Donald Trump ultimately resulted in the highest turnout election since 1900 (according to Vox), mobilizing more voters than any candidate in modern history. This is perhaps due, in part, to Biden's coalition of A-lister supporters, such as LeBron James, Eva Longoria, Katy Perry and Lizzo, all of whom used their wide-reaching platforms as mouthpieces to endorse the Democratic candidate. Other celebrities, like Lady Gaga and Jon Bon Jovi, even went on the road to campaign for Biden. (Of course, Trump had his fair share of supporters as well.)
As for Biden's famous followers, in October 2020, Boston.com reported that Jon Bon Jovi played a small concert at a drive-in rally in Pennsylvania (a swing state), where he performed a medley of hits and praised Biden's response to the coronavirus. That same month, he joined an all-star lineup of musicians to raise money for Biden during the I Will Vote livestream. Now, USA Today reports that the rocker — who threw his support behind Democratic nominee Hillary Clinton in 2016, as per Billboard — will once more be playing for Biden, this time at Inauguration Day on Jan. 20, 2021. But before he takes to the stage, what else is there to know about the pair's relationship?
Joe Biden called Jon Bon Jovi a 'national treasure'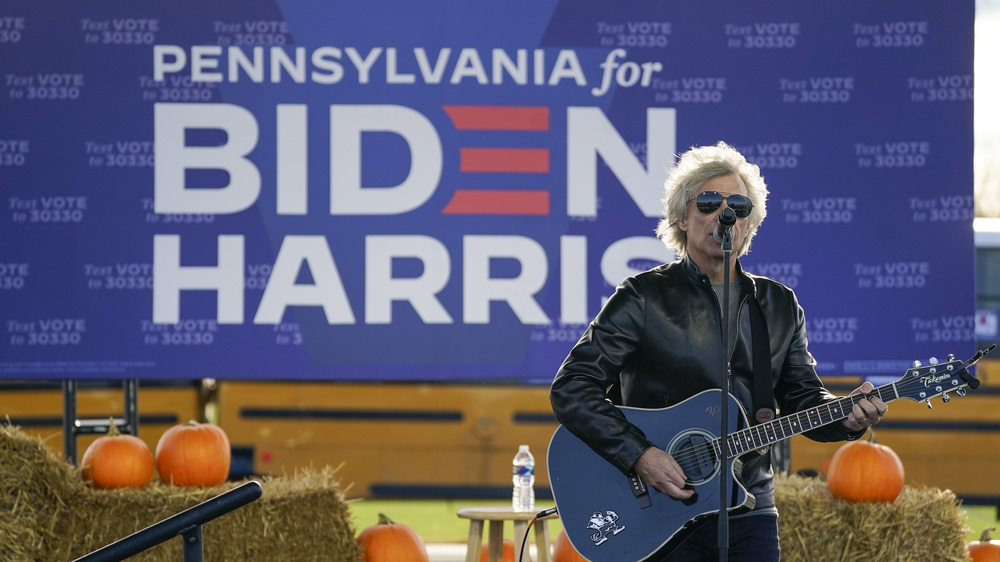 Drew Angerer/Getty Images
Jon Bon Jovi was a vocal supporter for Joe Biden in the lead-up to the 2020 election, calling him "a man of empathy, character and experience," as per a tweet from CBS News reporter Nicole Sganga. For the "Livin' On a Prayer" singer, choosing between Donald Trump and Biden was a no-brainer. In September 2020, he spoke to USA Today about his newest album, a socially-conscious lineup of songs inspired in part by America's racial reckoning, and he opened up about why he felt Biden was the best man to lead the country forward. "It's my belief that he understands a wide spectrum of Americans' feelings, needs and hopes," the rock icon shared. "I also think that experience matters – I thought it mattered last time. And relations with allies [matter] because none of us is an island."
Admiration between the famous duo is mutual. While on the campaign trail in Pennsylvania, Biden told supporters that Bon Jovi has "always gone wherever I've asked him," calling him "a friend" and "national treasure" (via Boston.com). No doubt both are looking forward to the Inauguration Day performance.