Helena Bonham Carter's Net Worth: How Much Does The Actor Make?
Jeff Spicer/Getty Images
Helena Bonham Carter has gone from an acclaimed British film darling to a full-on A-lister faster than you can say, Sweeney Todd! Plus, these days, she can surely afford more than just the "Worst Pies In London." Born in London, England, Bonham Carter is, as IMDb describes, "one of the U.K.'s finest and most successful" stars, with 100-plus acting credits to her name. 
While the curly-haired wonder first made a name for herself in 1985's A Room with a View, she is perhaps best known for her Tim Burton film entanglements. She starred alongside Johnny Depp as the deliciously sinister Mrs. Lovett in 2007's Sweeney Todd: The Demon Barber of Fleet Street, and voiced the titular Corpse Bride in 2005. Romantically, she and Burton were also entangled, and seemingly as quirky as one of their films. 
They called it quits in 2014, per Vanity Fair, after 13 years, two children, and an arrangement that involved living in separate, adjoining houses. "We just have two houses knocked together because mine was too small," Bonham Carter told The Telegraph in 2010. "Our relationship is enhanced by knowing we have our personal space to retreat to." More like Sweeney "Odd"... not that we hate the new-age concept!
Bonham Carter has arguably eclipsed Burton fame-wise, joining the Harry Potter franchise and Netflix's The Crown as Princess Margaret for Season 3 and 4. With a plethora of high-profile gigs under her belt, let's take a look at Bonham Carter's net worth and salary. 
Helena Bonham Carter's net worth is nightmarishly impressive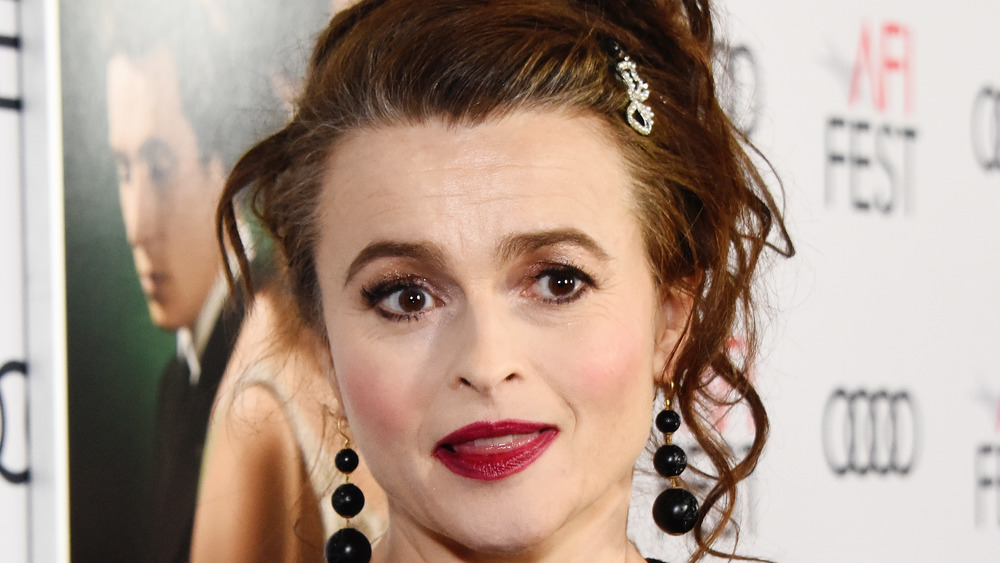 Araya Doheny/Getty Images
So, what is Helena Bonham Carter's net worth today? While she may be known for her off-kilter characters, she's starred in some huge blockbusters. The actor, lest we forget, played Bellatrix Lestrange in the last four Harry Potter films, "which all grossed more than $900 million," per Celebrity Net Worth. Harry Potter and the Deathly Hallows – Part 2 alone grossed a magical $1.3 billion worldwide, per Box Office Mojo. 
CelebWorth estimates that yearly, the star makes $5 million (a good chunk of that is likely from her role on The Crown), though the exact figure isn't certain. According to The Daily Beast, Season 1 of The Crown alone cost a royal $130 million, making it "the most expensive television production ever." The Sweeney Todd actor surely got a slice of that "Meat Pie" too once she joined the show.
Real estate-wise, after Bonham Carter and Tim Burton split, Bonham Carter was granted ownership of "both houses," per FilmNews.co. Burton made off fine, buying a stunning nearby brick mansion for an adjusted $15.6 million that was designed by a mathematician and inspired by a Lewis Carroll poem, per the Daily Mail. "[If a relationship] isn't forever, that doesn't mean it's a failure," Bonham Carter told The Sunday Times about her and Burton's amicable split. Easier said with two houses! 
These days, Tim Burton is worth $100 million, per Celebrity Net Worth, and with a net worth of $60 million, Bonham Carter isn't far off.