The Truth About Donald Sutherland's Wife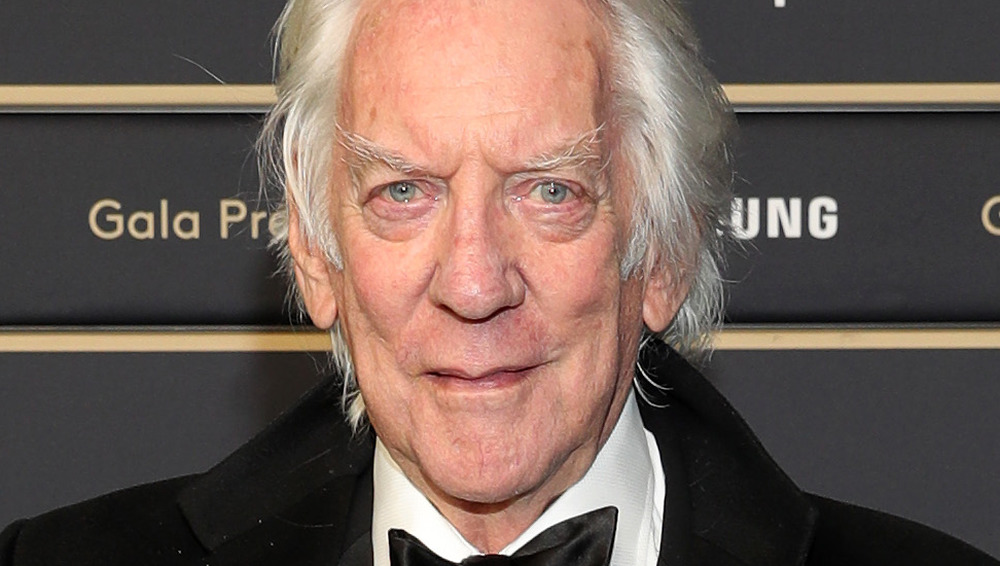 Andreas Rentz/Getty Images
Although it's no secret that heavy-hitting actor Nicole Kidman stole the show in HBO's slam dunk miniseries The Undoing, acting icon Donald Sutherland, who played the star's father, wasn't exactly a wallflower in the series.
In case you missed it, Kidman got cast as a wife and therapist reeling after she learns that her husband, a prominent physician, has been carrying on an extramarital affair with a young, beautiful artist. The kicker? That same woman is now dead, and her husband is the primary suspect for her murder. Although Grace wavers back and forth about her husband's guilt, her wealthy and powerful father — Franklin Reinhart — remains steadfast on his mission to protect his daughter from the lothario. In one scene, Sutherland delivers a powerful performance when he visits his son-in-law in prison and minces no words as he bails him out to the tune of $2 million fat ones. "I think you're guilty. I believe you killed that woman," he says, per Newsweek. "Grace makes room for the possibility that you did not. And perhaps because she so rarely asks for my help, I find myself ill-equipped to refuse it. But should you run, should you do anything to further harm my daughter, my grandson, I will track you down. And I will kill you myself."
But enough about all that — let's get to the real tea! Who is Sutherland's mysterious wife — the woman who has managed to remain just beneath the Hollywood radar all these years? Keep reading to find out!
Francine Racette is an 'extraordinary' person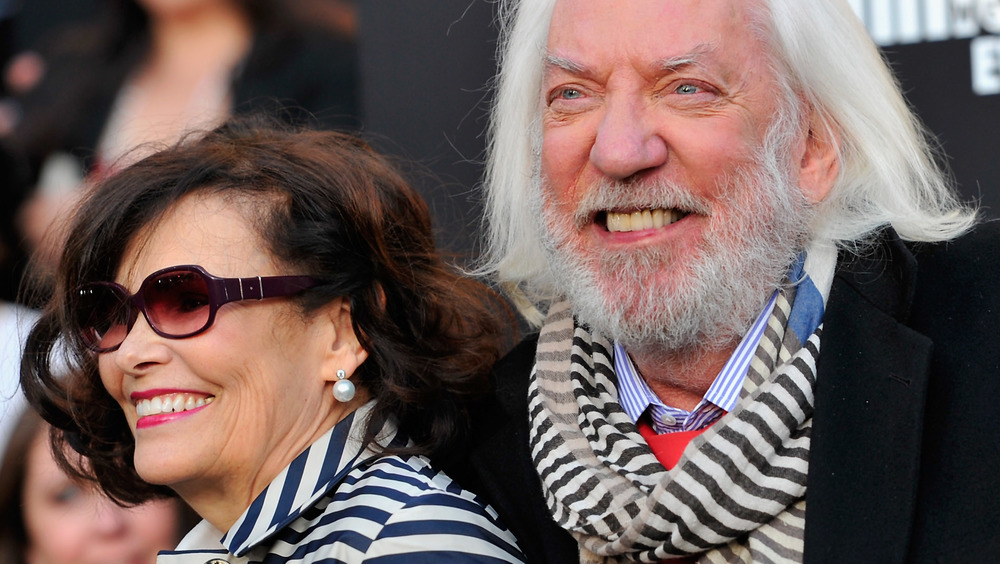 Alberto E. Rodriguez/Getty Images
Legendary actor Donald Sutherland wed French-Canadian star Francine Racette in 1972, making her his third bride. But make no mistake — she's not just "the wife of..." As it turns out, Racette is successful in her own right. Per her IMDb profile, Racette has starred in Au Revoir Les Enfants, Lumiere, and Mr. Klein. 
Perhaps her biggest claim to fame, however, is how she managed to sweep Sutherland off his feet after the demise of his relationship with the iconic actor and fashion model Jane Fonda. As reported by The Guardian, Sutherland allegedly entered into an affair with Fonda while still married to his second wife, Shirley Douglas. During a candid interview, Sutherland recalled his rollercoaster romance with Fonda. "We were together until the relationship exploded and fell apart in Tokyo. And it broke my heart. I was eviscerated. I was so sad. It was a wonderful relationship right up to the point we lived together," he confessed. But then he met Racette, of course.
When asked about the secret to finding the right partner, Sutherland had this to say: "I don't know... It's not something that you can communicate. She's an extraordinary human. She was courted by intellectuals. Jean-Paul Sartre? She was his actress. She was Frédéric Rossif's muse." He continued, "I think it's like Joanne Woodward [actress wife of Paul Newman] said, 'Beauty goes and sex goes but my husband makes me laugh every single day.' And so does my wife. We laugh all the time."