The Truth About Leslie Odom Jr.'s Wife Nicolette Robinson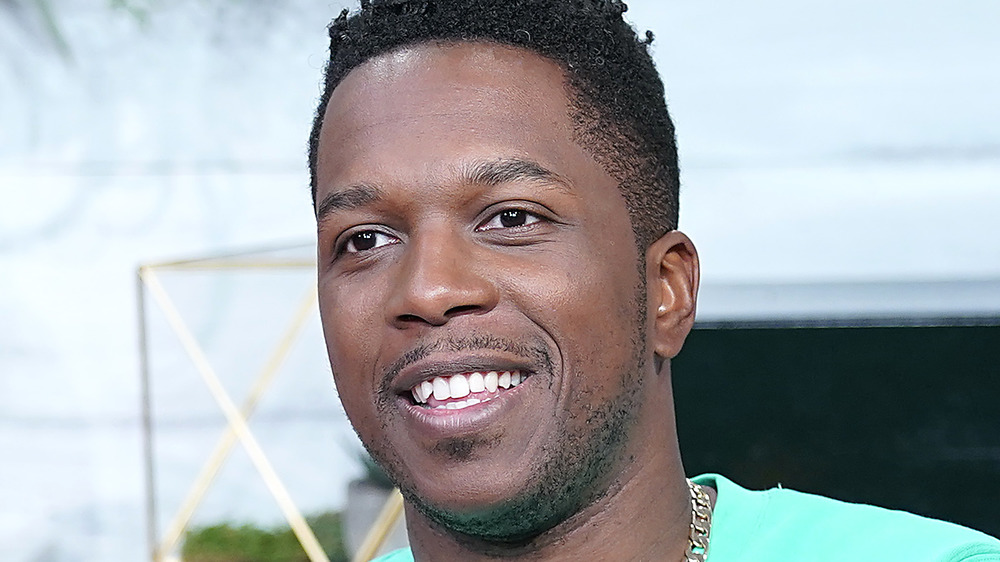 John Lamparski/Getty Images
Leslie Odom Jr. is one to watch at the 2021 Golden Globe Awards. The actor is nominated for two awards: Best Supporting Actor in a Motion Picture for his portrayal of Sam Cooke in the Regina King-directed One Night in Miami and Best Original Song for "Speak Now," which he co-wrote and sings for the movie.
The star is also well known for his singing career and his starring roles on the big and small screen. He's appeared in big TV shows such as Smash, CSI: Miami, and Law & Order: Special Victims Unit, and movies, including Murder on the Orient Express and Harriet. And, of course, Odom Jr. will always be known for his breakout role in Broadway's Hamilton. But what is Odom Jr.'s life like beyond the spotlight?
The actor and singer appears to have a very happy home life and has been married to Nicolette Robinson since 2012. But just who is Robinson exactly and what does she do? Keep reading to find out more.
Leslie Odom Jr.'s wife Nicolette Robinson is an actor, too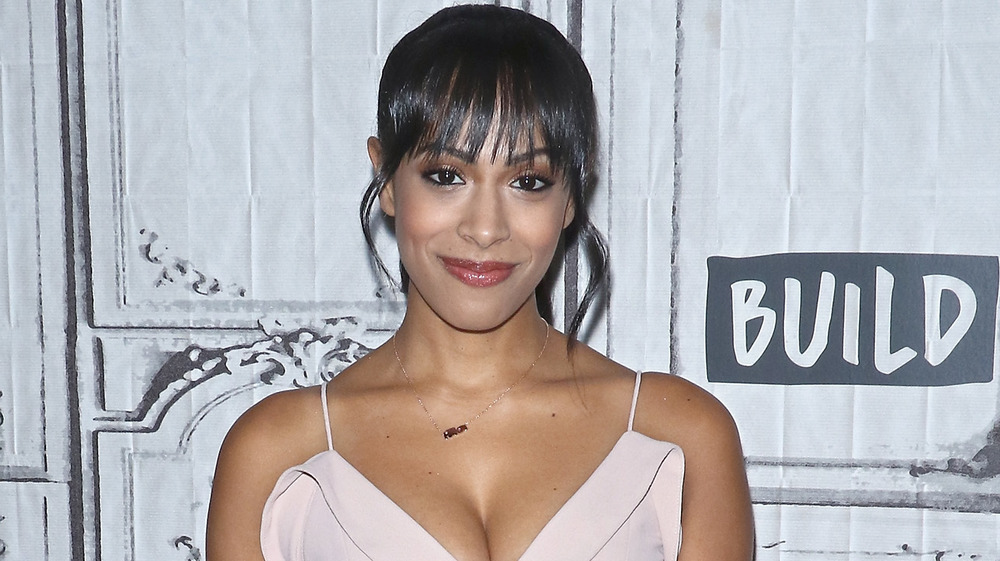 Jim Spellman/Getty Images
Leslie Odom Jr.'s wife Nicolette Robinson also boasts an impressive acting career, with roles on stage, TV, and in movies. On Broadway, Robinson appeared in Waitress and, according to her IMDb page, she also had a recurring role in the single season NBC comedy Perfect Couples. She also starred as Tara in four episodes of The CW's Hart of Dixie and appeared as Jane in The Affair on Showtime. Robinson has even acted alongside her husband, ironically playing his character's wife. Robinson appeared in One Night in Miami as Barbara Cooke, the wife of Sam Cooke.
It seems the performing arts is in Robinson's blood, as she revealed that both her parents were involved with the industry. "My dad was a director and my mom was a choreographer and they started their careers as performers," she told UCLA, where she studied at the School of Theater, Film & Television and was a special guest alumna at its 2019 orientation. "I grew up leaning against the mirrors in rehearsal rooms watching my mom work. It was around me all the time and performing just was something I've loved so much from an early age."
Leslie Odom Jr. and Nicolette Robinson have Billy Porter to thank for their relationship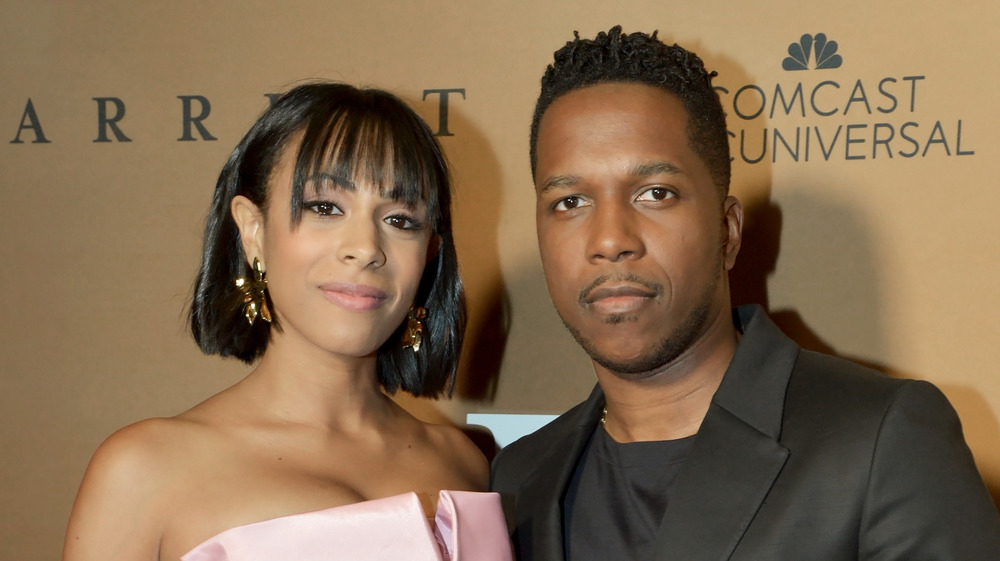 Shannon Finney/Getty Images
Leslie Odom Jr. and Nicolette Robinson met during a Los Angeles production of Once on This Island, which was directed by Pose star Billy Porter. According to Playbill, Porter took full responsibility for their romance at their 2012 wedding, joking, "I made this happen."
They met while Robinson was studying at UCLA and Odom Jr. was Porter's assistant director. "I got to sit in on the auditions, and this very lovely young girl came in to audition — this UCLA student — who I would have cast. That's not blowing smoke. I just thought that she had an ineffable quality that is very rare and not really something you can teach. It was between her and another very talented actress, and Nicolette didn't get cast," Odom Jr. recalled.
He revealed that a cast member later couldn't perform, which meant Porter did "some juggling" that allowed Robinson to come back. "He called that pretty Black girl from the audition and had her step in. As his assistant it was my job to get her up to speed and make sure she was okay. We got very close very quickly, but normally those kinds of things — you call them showmances — end when the show ends, but ours never ended. We just had so much fun together," Odom Jr. gushed.
Leslie Odom Jr. and Nicolette Robinson have a baby on the way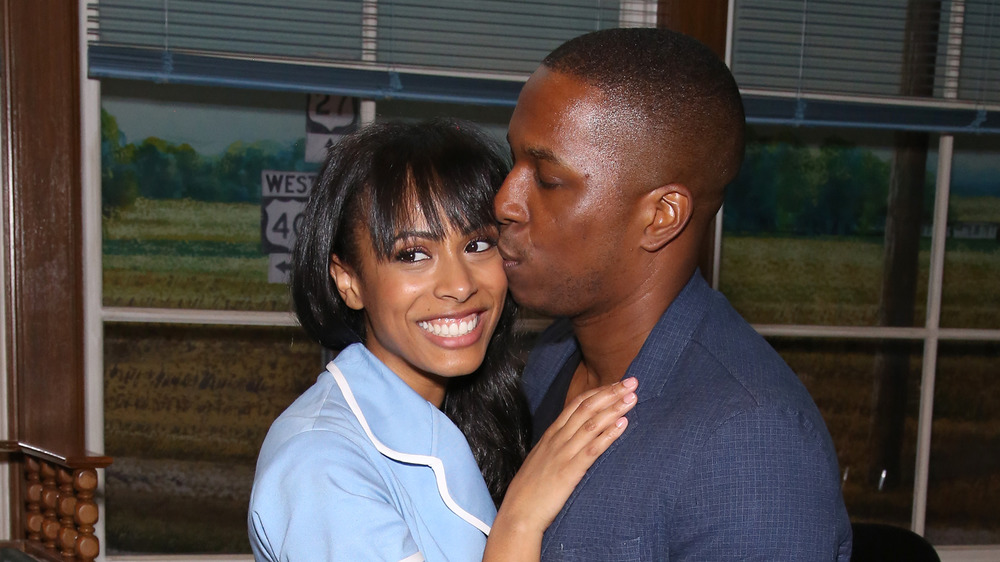 Walter Mcbride/Getty Images
Leslie Odom Jr. and Nicolette Robinson will soon be the parents of two. The couple welcomed their first child, daughter Lucille Ruby, into the world in April 2017 and Robinson announced she was expecting their second baby, a boy due in March 2021, with an adorable photo on Instagram in November 2020 that showed their firstborn cuddling her bump.
Speaking to Today Parents, Robinson opened up about being pregnant during the coronavirus pandemic and how special it was to have Odom Jr. around more. "This pregnancy is really different from my last one, because he's here and we get to share this together as a family. It's been a real silver lining to having to be home right now," she said.
Robinson also shared how their daughter is gearing up to be a big sister, revealing she's "really starting to wrap her head around the concept and is getting excited." Odom Jr. said that becoming a parent "changes the color of your world" and described it as being "the greatest joy" and "the biggest challenge." He added, "It tests your limits and your patience, but it is the most special gig I have ever had."