The Forgotten Madonna Interview That's Super Cringey Now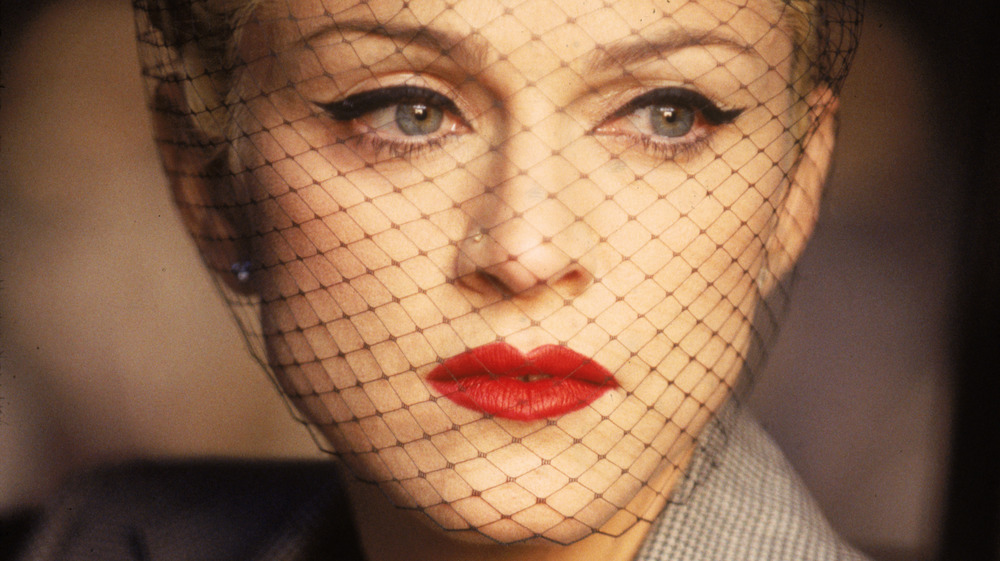 Frank Micelotta Archive/Getty Images
Madonna didn't earn a reputation as one of pop culture's most daring stars by shying away from controversy, but a 1994 interview with late night icon David Letterman definitely hasn't aged well.
When Madonna appeared on the Late Show with David Letterman on Mar. 31, 1994, she was already an established music superstar. According to Billboard, she'd already earned an impressive collection of No. 1 hits and a series of albums that defined the 1980s:  Like a Virgin, True Blue, and Like a Prayer. Madonna's appearance on Letterman came soon after her infamous 1992 Sex book and Erotica album. According to CR Fashion Book, she'd just finished a world tour, and the Letterman interview was her first appearance on U.S. television that year. 
Lettermen introduced the then 36-year-old as "one of the biggest stars in the world ... in the past 10 years, she has sold over 80 million albums, starred in countless films and slept with some of the biggest names in the entertainment industry." 
Moments after Madonna walked onto the set and sat down, Letterman suggested she randomly kiss a guy in the audience. Madonna questioned why he seemed so obsessed with her sex life, to which Letterman responded, "as we know, I have none of my own."
The whole interview is somewhat of a cringefest. Keep reading to find out why.
Madonna made TV history for all the wrong reasons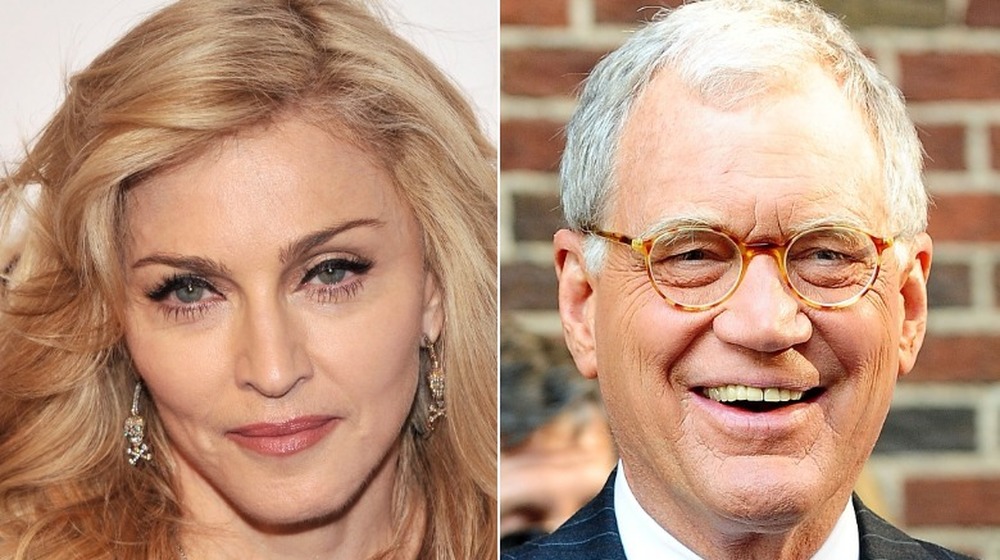 Stephen Lovekin, Gustavo Caballero/Getty Images
The cringe factor of Madonna's 1994 interview on the Late Show with David Letterman escalated quickly. Aside from the suggestive references and giggles throughout, Madonna said she gave Letterman a pair of her underwear. She asked the comedian if he was wearing a "rug" on his head and joked that he couldn't go through a show without talking about her. Madonna smoked a cigar during the second part of their chat and refused to leave the set at the end of their interview.
Madonna is no stranger to breaking records. According to Guinness World Records, some of her achievements include having the highest-grossing tour and the most top 40 singles by a female artist in the United States. Another record she can add to the list is being responsible for the most censored episode in American network television talk show history. Madonna reportedly said the word "f**k" 14 times, which just so happened to give Letterman some of the highest ratings he had ever received.
The episode also attracted a lot of heat. Madonna responded to the backlash by writing a letter, per CR Fashion Book. In true Madge fashion, she wasn't one bit sorry. "I can't help it if I know how to have fun," she wrote. "And speaking of having fun can everyone please get over the fact that I went on TV, smoked a cigar, said the f-word a few times and made David Letterman look stupid."