The Most Powerful Line From Jane Fonda's Acceptance Speech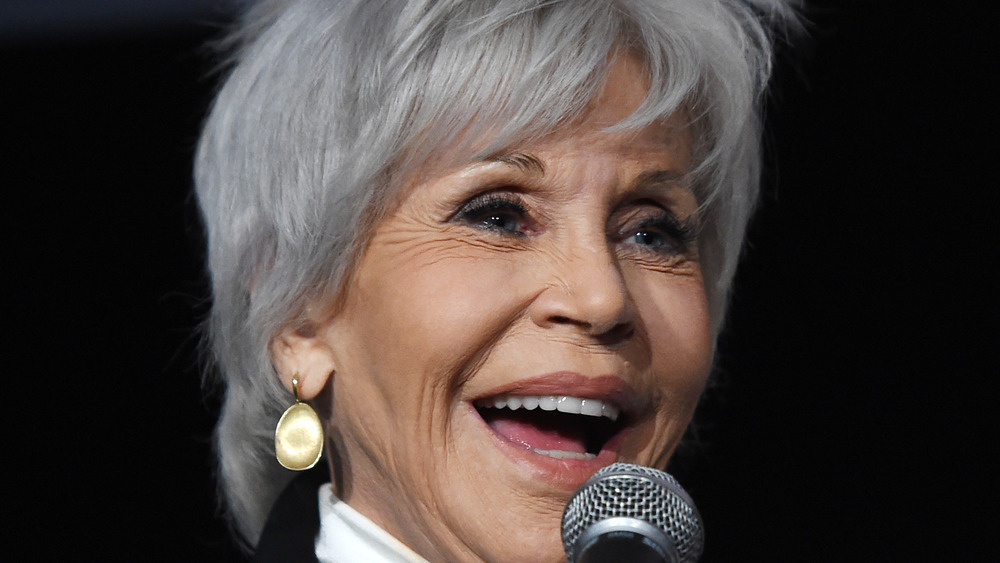 Amanda Edwards/Getty Images
Jane Fonda is no stranger to giving meaningful awards show speeches, but her acceptance speech at the 2021 Golden Globes blew fans away. As she accepted the honorary Golden Globe Cecil B. DeMille Award, Fonda praised some of the movies she loved in 2020, while calling for more diversity in Hollywood. "I'm so moved to receive this honor," Fonda said in her acceptance speech (via USA Today). She continued (via Vanity Fair), "Stories have a way of changing our hearts and they can change our minds and they can help us see each other in a new light."
Some of Fonda's recent included Nomadland, which was directed by Chloé Zhao and stars Frances McDormand, and Minari, which won the Best Foreign-Language Film award at the ceremony after a bout of controversy over the fact that it didn't qualify for the category by the Hollywood Foreign Press Association's rules. The HFPA was under fire leading up to the award show thanks to its lack of Black members, per the New York Post, as well as the Minari situation and what constitutes an "American" movie. By focusing on diversity, Fonda made sure to call attention to underrepresented voices, even when the organization giving her the lifetime achievement award failed to do so.
Fonda's speech stood out because of the fact that she focused on other people, rather than herself and her impressive body of work. "Let's all of us make an effort to expand our tent," Fonda said in her Golden Globes speech, referring to diverse voices being heard within the entertainment industry.
Jane Fonda reminded viewers that storytelling helps people relate to one another
"For all our diversity, we are humans first," Jane Fonda said in her Cecil B. DeMille acceptance speech. That simple line perfectly summed up her message, with her call for diversity in Hollywood and her praise of projects like I May Destroy You and Judas and the Black Messiah. As the actor explained, movies and TV shows can help people understand each other's struggles, even if they're different from their own experiences.
"Stories — they really can change people," Fonda said in her speech. It's an especially relevant point in 2021, with the HFPA situation and the Black Lives Matter protests of summer 2020. After the protests, many white people were quick to share social media posts about antiracist books. But fictional books, movies, and TV shows about experiences that are different from yours can be just as educational. As Fonda explained in her speech, for instance, she'll never have the experience of being a Muslim-American — but Hulu's Ramy offers her and other viewers a window into what it's like. People who aren't immigrants will see what that's like by watching Minari.
Opening your mind and heart to other people's perspectives and realities is essential, and the work is twofold. Viewers at home can seek out those stories from and about diverse voices, and Fonda's fellow actors can join her in calling for more people to have seats at the table. As the actor said, we're all "humans first."