Here's How Kaley Cuoco Handled Losing At The Golden Globes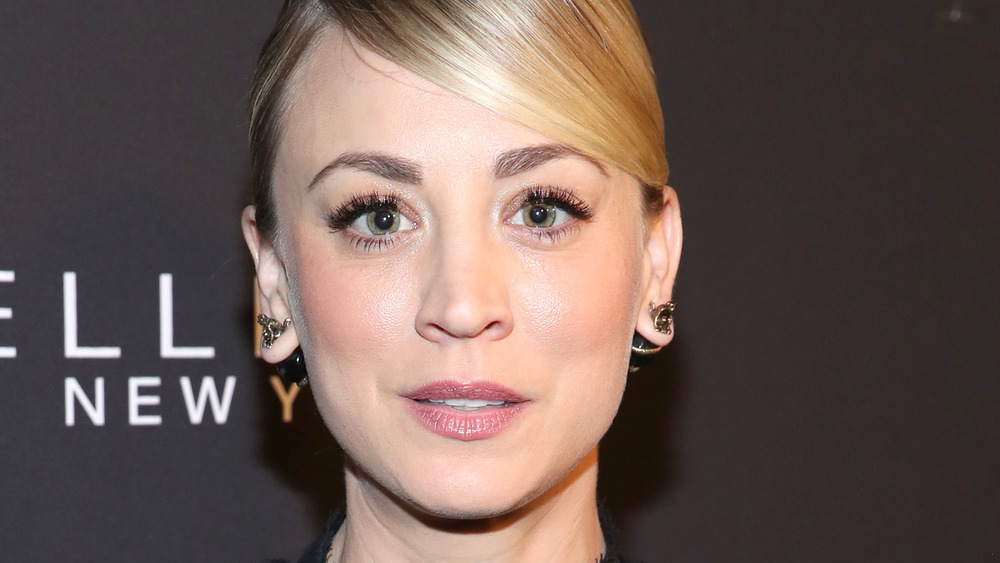 Randy Shropshire/Getty Images
On Feb. 3, 2021, Kaley Cuoco found out that she received her first Golden Globe Award nomination, as reported by Entertainment Tonight. She got the nod for her role on the HBO Max series The Flight Attendant in the Best Actress in a Musical or Comedy TV Series category. That same day, she got her second nomination, this time as an executive producer for The Flight Attendant. The show was nominated in the Best TV Series, Musical or Comedy category. She shared a video of herself watching the nominations that morning, which included her saying "Oh my God" over and over again.
Following the big news, she released a statement to the press, admitting, "OMG! My heart is still pounding and the tears won't stop flowing!" (per People). She thanked the Hollywood Foreign Press Association (HFPA) for the nominations, which she said were "truly the highlight of [her] entire career." The Big Bang Theory alum concluded, "I couldn't be more excited and proud to share this recognition with the most incredible cast and crew. This feels like a dream!"
Unfortunately for Cuoco, she did not receive any trophies at the 2021 Golden Globe Awards, but she may have won an honorary title for best Instagram reaction after the show.
Kaley Cuoco had a major moment on Instagram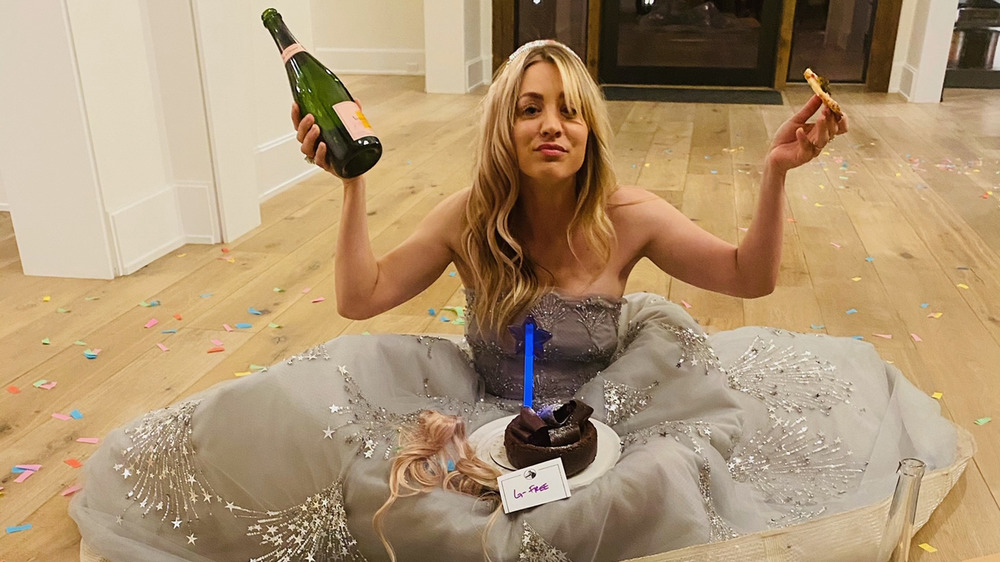 Handout/Getty Images
Kaley Cuoco did not win any Golden Globes in 2021. Schitt's Creek won for Best TV Series, Musical or Comedy and Catherine O'Hara beat Cuoco in the acting department. Following the loss, Cuoco shared a hilarious photo of herself in a ball gown, sitting on the floor with a bottle of champagne, a cake, macaroni and cheese, a pizza, a stray hair extension, and some other baked goods, surrounded by confetti. The actor wrote "I would like to thank...never mind !!" As if her many years on television did not prove she had a knack for comedy, this Instagram solidified that fact. 
Of course, she (probably) wanted to win, but at least she lost to one of her favorites. When Cuoco found out that she and O'Hara were nominated in the same category, she emailed O'Hara's manager, saying it was a "dream" to "be nominated next to her." Days later, O'Hara reached out herself, saying, "I wish we were in person this year, so I could give you a hug." 
Unfortunately, Cuoco did not get that hug, but The Flight Attendant did get renewed for a second season, per Entertainment Tonight, which sounds like a pretty fair consolation prize. Maybe if Cuoco gets nominated next year, she will run into O'Hara. After all, it is tradition to have last year's winners as presenters. Or perhaps O'Hara will get a nomination for her next project. Cuoco did not nab an award, but at least she ended this experience with a new, budding friendship and some premium Instagram content.