The Hidden Meaning Behind Meghan Markle's Oprah Interview Dress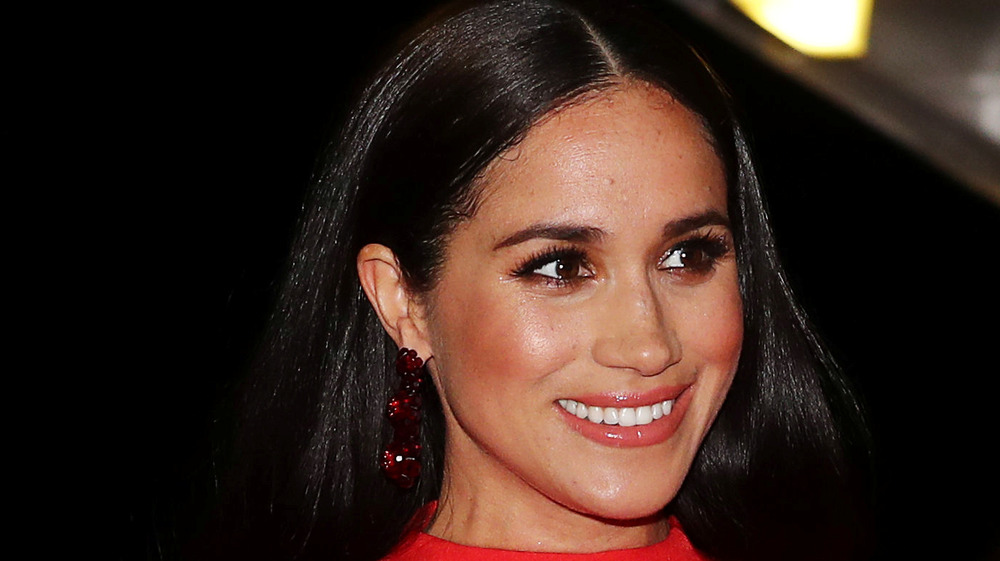 Wpa Pool/Getty Images
Prince Harry and Meghan Markle had an eventful early 2021. Before announcing that they did not plan to return to their royal duties, the Sussexes sat down for a joint interview with Oprah Winfrey. As reported by Harper's Bazaar, the two-hour interview is the couple's first sit-down interview since making the decision to step back from the royal family and relocate to Los Angeles.
On Feb. 14, 2021, the couple announced they were expecting their second child. As per Harper's Bazaar, the date holds significance as Harry's late mother, Princess Diana, announced she was pregnant with him on Valentine's Day over three decades earlier. After having her first child, Archie, Meghan told London's ITV News in 2019 how difficult it was dealing with the media while with child. "Look, any woman, especially when they're pregnant — you're really vulnerable," she said (via NBC News).
Princess Diana is a topic of conversation in the couple's interview. "I can't begin to imagine what it must've been like for her, going through this process by herself, all those years ago," Harry said in a trailer for the Oprah interview from CBS. The network said the interview will discuss how Meghan "is handling life under intense public pressure," per Who What Wear.
The Duchess of Sussex looked elegant while showing off her maternity style for the special. Besides helping her look stunning, Meghan's wardrobe also helped send several messages. She accessorized with a Cartier diamond bracelet that belonged to Harry's mother, and her designer dress delivered a significant message.
Meghan Markle's dress featured a special flower
As hinted in the trailer, Princess Diana and her ill-fated run-in with the media is a theme during Meghan Markle and Prince Harry's interview with Oprah Winfrey. "I'm just really relieved and happy to be sitting here, talking to you, with my wife by my side," the Duke of Sussex told the legendary host. Meghan paid homage to her late mother-in-law with the Cartier bracelet, and also accessorized with a pair of earrings from the Canadian brand Birks, and a Pippa Small necklace, Page Six reported.
Meghan wore a flowing silk black Armani dress valued at $4,700 — as per the designer's website — with a plunging neckline, a belted waistline, and an embroidered lotus on the right side. This flower holds symbolic significance.
As reported by Town & Country in August 2020, the lotus "submerges every night into river water" only to reemerge each day in pristine condition. The outlet wrote: "In many cultures, this process associates the flower with rebirth and spiritual enlightenment." Meghan appears to be sending a message to those who have disparaged her name in the media. Town & Country writes that the flower is associated with "unwavering faith" that is "most emblematic of the faith within ourselves."
Several royal commentators and fans have urged Harry and Meghan to delay broadcasting the Oprah interview while Prince Philip is hospitalized to treat a heart condition (via the Daily Beast).