Blac Chyna And Rob Kardashian Call It Quits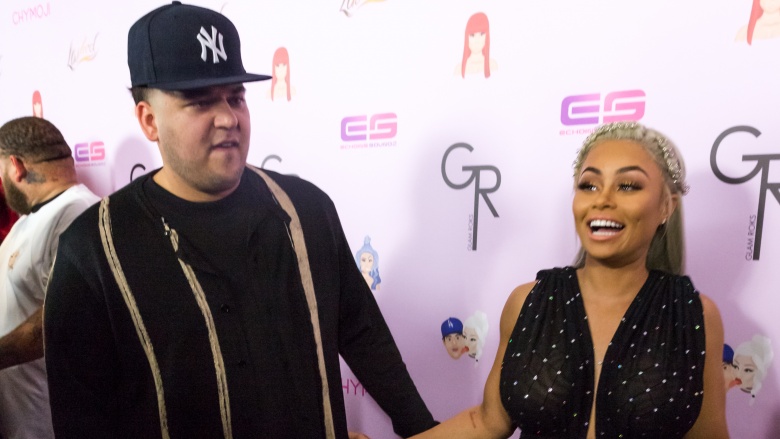 Getty Images
Blac Chyna and Rob Kardashian are dunzo, and the split is anything but amicable. The tumultuous couple reportedly called it quits after an explosive fight on Dec. 17, 2016.
The world found out about the drama when Kardashian, 29, posted a series of since-deleted Instagram videos and Snapchat clips showcasing his empty home, writing (via People), "I thought this was going to be the best year of my life...had a beautiful baby Dream and haven't spent Christmas with family in years and I just can't believe she really hurt me this way. She knows how to hurt me and I loved her so hard like I'm supposed to. Like any man is supposed to love their wife. Chyna knew exactly what she was doing to get me. I can't believe she did this to me." He added, "And this isn't for some ratings this is my real life so please understand I'm just being open right now. Cuz if it was for ratings I wouldn't explain all this here. And with Chyna's messages and her leaving with everything and the baby I am broken. I go 1000 percent for my girl. I am so confused how a man who gives and loves everything about a woman is the one left alone....this is killing me."
The trouble allegedly began when Kardashian demanded to look through Chyna's phone. In a furious Instagram post, the former stripper fumed (via People), "I'M DONE. This entire year I have done nothing but help Rob! It's so SAD & PATHETIC how low he'd stoop to cover up HIS PERSONAL ISSUES! I have done nothing but help & loved him from the beginning! It's Chy here I got my own!!! I was doing swell before I got with him! I got him out of khloe's house, helped him lose all that f**king weight for him to do nothing & gain it all back! Rob asked for all of this! Rob begged me to have Dream! He stressed me out my ENTIRE PREGNANCY!!! Accusing me of cheating, going crazy on me with massive text blast daily! being an absolute lunatic & then cover it up with gifts!"
Here's where it gets really interesting: just as the split was going down, Chyna's social media accounts were hacked, resulting in leaks of text messages supposedly between her and a slew of other stars and athletes, including Jaden Smith and Young Thug. While none of the leaked messages implied infidelity on her part, some sources interpreted her exchange with Young Thug to be flirtatious. In other leaked messages supposedly between Chyna and her BFF, she calls Kardashian "fat," "lazy," and unmotivated, even saying she's giving him one year to shape up or she's leaving. She doesn't say she's dumping him immediately or hint in any way that she'd intended to do so from the beginning of their rocky romance in January 2016. Some leaked texts reportedly included messages between Chyna and her attorney, Walter Mosley, about her intention to trademark the name Angela Renee Kardashian.
Chyna seemed relatively unfazed by the hack and hinted that Kardashian may have been behind it, writing (via People), "I was verbally abused every other day. I was still there with nothing but high hopes for us! I had to beg him to cut his hair, To take his braces of [sic], and To get more into his businesses! I shouldn't have to tell any grown ass man s**t! Not to mention Just brought him a brand new 2016 Range Rover! I PUT MY PRIDE ASIDE & I GAVE UP MY HOUSE TO MOVE INTO KYLIE'S HOUSE WITH HIM TO BE WITH A MAN!! We weren't together in that house 2 whole weeks before he starting calling me all types of b***es & h**s! AND I NEVER NOT ONCE CHEATED ON ROB! EVER! I gave him the passcode to my phone I have nothing to hide. He refuses to do anything! Eat healthy, work out, work, anything positive, he does nothing! Those Messages OLD AF! He only did this because when he went through my phone he couldn't find anything to be mad about! He's on snapchat acting hurt but he's yet to come see Dream yet! He knows where we are! Honestly it's only so much a person can take. Everyone has tried to help Rob. I've gone beyond to help & so has his family!"
Sources previously explained that Kardashian's depression is a trigger for trouble in the relationship. Chyna reportedly helped him out of his depression and aided him in his weight loss goals, but when he regained weight, he allegedly got depressed again, then turn to food for comfort, trapping himself in a vicious cycle of self-defeat.
Of course, the timing of this breakup couldn't be worse...or better: the Rob & Chyna Baby Special premiered Dec. 18, 2016, leading many to believe the split was a hoax designed to drum up buzz and ratings for the show.
Despite all the drama, Chyna's mom, Tokyo Toni, took to Instagram to assure fans the estranged couple would work it out. When one commenter called Chyna a "gold digger" and asked why she ditched Kardashian, Toni wrote (via People), "They will be fine trust me, since you want to be one nosy b**ch or should I say dude...Chyna had hers long before Rob K...Chyna don't need to dig for gold...N***a please you should not be asking me why did Rob and Chyna break [sic] up or why Chyna leave [sic] Rob the question should be where is my daddy and why did he leave my mama!!! It's [sic] absolutely nothing about the relationship then [sic] I don't know!!"