How Britney Spears Just Paid Tribute To Her Boyfriend On His Birthday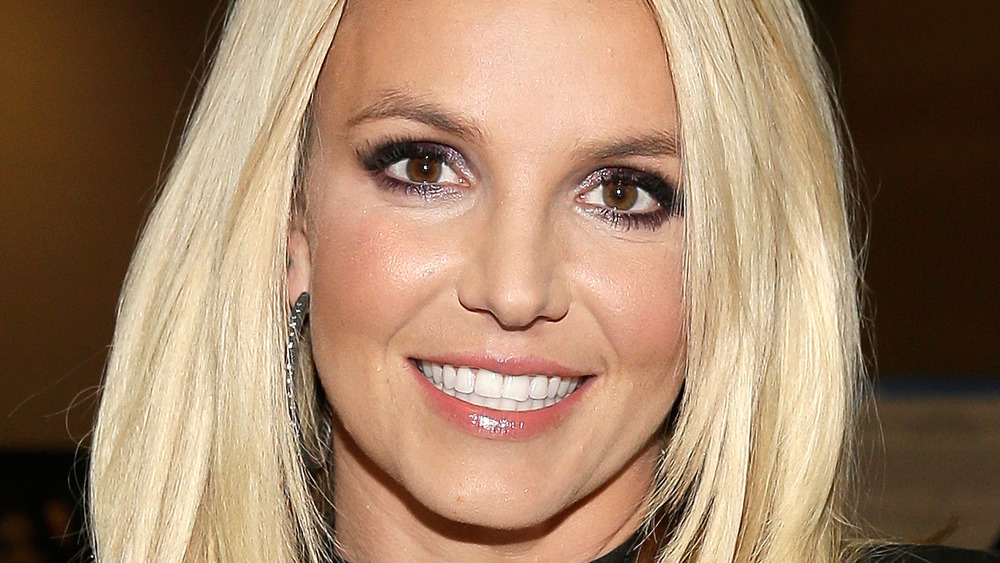 Isaac Brekken/Getty Images
Britney Spears paid tribute to her boyfriend Sam Asghari on his birthday in the most hilarious way. Spears performed a light-hearted version of "Toxic" for Asghari's birthday... in the shower. Don't worry! Spears and her love were both in robes as the superstar singer performed Asghari's birthday tribute.
At the start of the video, which was posted to Spears' Instagram account, the singer can be seen standing behind the glass shower door, wearing said bathrobe and moving her hips from side to side as "Toxic" plays in the background. "Happy birthday to the man that always makes me laugh," Spears captioned the video. And while fans likely expected something sexy to happen next, Spears actually did something quite unexpected. Before we get to that, it is important to note that Asghari actually made a video of himself doing the same exact thing, which is why Spears also asked, "Who did it better?" and added his video to her post. A quick swipe to the right and fans got to judge for themselves.
In the brief clip, Spears puts her face against the glass and moves it from side to side, causing a squeaking sound that actually corresponds to the tune of the music! Spears' hilarious post was viewed more than one million times, with hundreds of fans agreeing that Spears, in fact, did it better!
Britney Spears may have found true love with Sam Asghari
Fans, of course, are thrilled to see singer Britney Spears having fun with her 27-year-old beau. She deserves all the happiness after what Spears' has been through, after all. The relationship between Spears and Sam Asghari is the opposite of toxic, and her boyfriend appears to have the superstar's back, unlike another man in her life — her father, Jamie Spears.
In fact, it appears Spears may have finally found true love with Asghari. The couple looks like they have fun together, and there's a sweetness between Spears and Asghari that was not there with some of her previous relationships. The actor seems like her knight in shining armor; Asghari is not afraid to fight for his woman.
Spears' boyfriend told the world what he really thinks of his girlfriend's father. Asghari let loose in an Instagram Story he posted on Feb. 9, 2021. "It's important for people to understand that I have zero respect for someone trying to control our relationship and constantly throwing obstacles our way. Jamie is a total d**k." Asghari has strong feelings about his girlfriend's dad heading up the conservatorship over his daughter for thirteen years (and counting).
After the Framing Britney Spears documentary spotlighted the pop star's story, fans and other celebrities have called for an end to the conservatorship. We will continue to closely monitor the superstar's court battle with her dad as she fights for the freedom to control her own life.