Who Is Anfernee Simons' Girlfriend, Bre Hudson?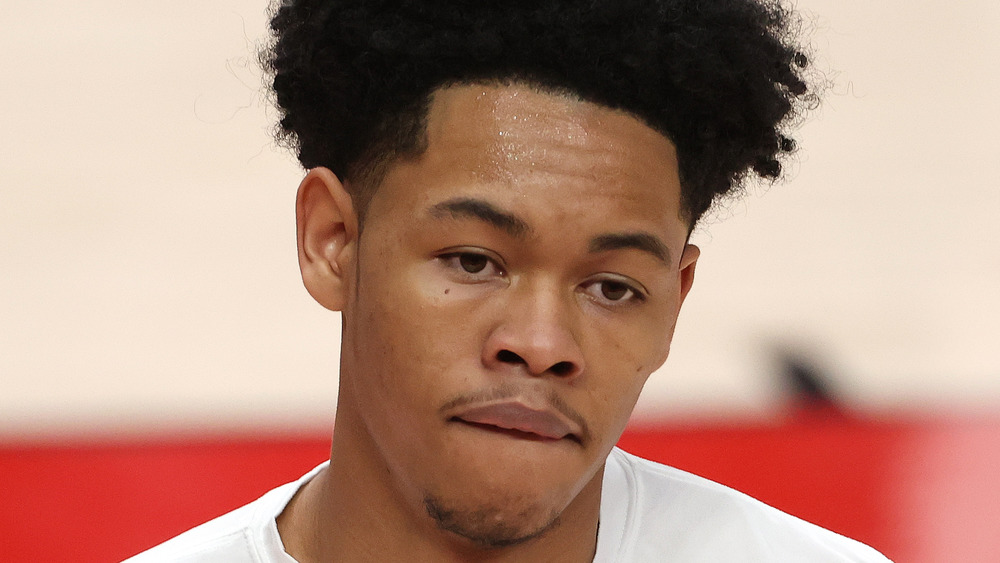 Abbie Parr/Getty Images
Anfernee Simons had an inauspicious start to his NBA career, but showed promising flashes that caught the attention of Portland Trail Blazers fans. One of Simons' biggest fans early on was the Blazers' All-Star guard Damian Lillard. After a game in January 2021 when Simons notched 26 points while connecting on six 3-pointers, Lillard heaped praise on his young counterpart. "There's a reason why we have a lot of faith in Ant and why we speak so highly of him," he told The Oregonian. "I think he's shown signs all along."
The young guard was offered a chance to show fans outside of the Portland area what he could do on the court when he was invited to join the 2021 NBA Slam Dunk Contest. Luckily, one of Simons' teammates, Derrick Jones Jr. had won the contest the year before and imparted some knowledge. "We are going back and forth," Simons told The Athletic's Jason Quick (via Bleacher Report). "If he sees something that is good, he will send it to me, and I will send something to him, saying we should think about this. One idea that Simons considered was to incorporate Lillard into one of his dunks. "I will probably use Dame in one of my dunks, but I don't know what I'm going to do yet," he said.
After Simons joined the team, he and Lillard formed a big-brother-little-brother relationship. This led to a hilarious exchange between the two on social media when Lillard found out that Simons had a girlfriend.
Anfernee Simons' girlfriend is popular online
In October 2020, Anfernee Simons jumped on Instagram Live alongside his girlfriend, Bre Hudson, as per NBC's Sports Northwest. Damian Lillard noticed the feed and joined in the stream while playfully grilling the young guard about his love interest. He asked why Simons had never mentioned his beautiful companion, and the young guard said they had been dating for four months. "Four months and you wasn't gonna tell me?" Lillard joked. Once Lillard found out that Hudson was from Houston he started to remember, "Oh, you did tell me about Bre. OK, H-Town," the All-Star said with a smile.
Hudson has a sizable following on Instagram, and according to her bio, she is a brand ambassador and an actress. The Texas beauty made her film debut as Chey in the movie Old Man Jackson, as per her IMDb profile.
Shortly after the Instagram Live run-in with Lillard, Hudson posted an adorable picture of her and Simons on her Twitter feed. "Blazers fans ask that you make sure your talented man work hard on his game and his confidence this off season," one follower responded.
The actress posted a selfie on Instagram with her boyfriend in early February 2021 where they stood in front of a mirror while Simons peered over her head. Less than two weeks later, Hudson celebrated Valentine's Day by posting an outdoor selfie with Simons. "So an Oscar and a NBA championship would be a good year for you guys," one fan responded.