Inside Kate Middleton's First Public Appearance Since Meghan's Tell-All Interview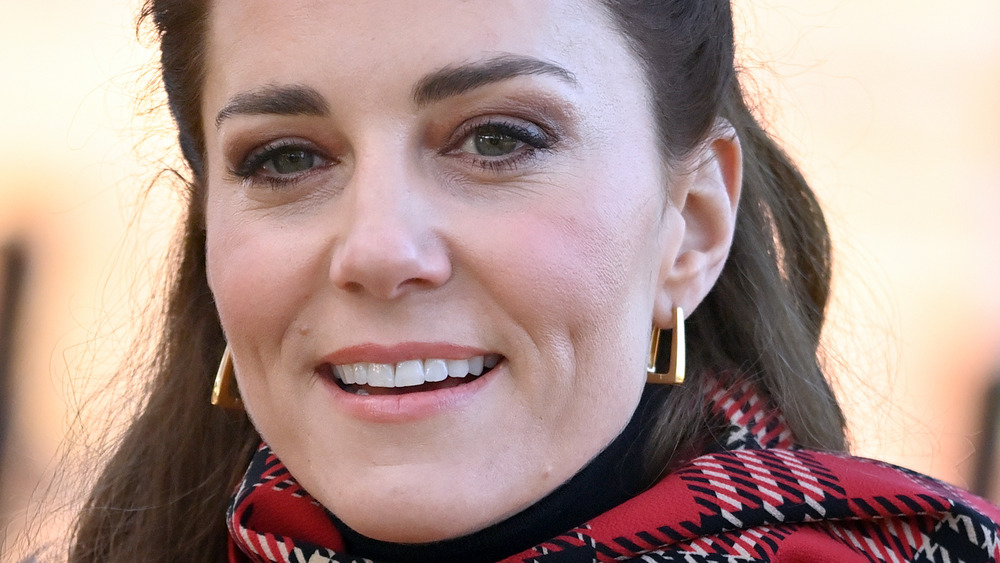 Pool/max Mumby/Getty Images
It does not look like Kate Middleton is ducking for cover following Meghan Markle and Prince Harry's tell-all interview with Oprah Winfrey. While talking with the beloved journalist during the first half of their sit-down, which aired on CBS on March. 7, 2021, Meghan revealed the Duchess of Cambridge made her weep days before her royal wedding in 2018, debunking reports that the reverse had really occurred, per Harper's Bazaar.
"She was upset about something pertaining to flower girl dresses. And it made me cry," Meghan told Oprah before getting into the scrutiny she encountered from the British press. "I don't think it's fair to her to get into the details of that, because she apologized, and I've forgiven her."
However, Meghan called the spin on the story "a turning point," when the palace did not decry the claims or come to her defense, revealing royal officials would not allow those involved to speak about the ordeal. "I would hope that [Kate] would have wanted that corrected," Meghan said about the rumor she made her sister-in-law cry. "And maybe in the same way that the palace wouldn't let anybody else negate it, they wouldn't let [Kate], because she's a good person."
Despite the shocking revelations in Meghan's interview, Kate was spotted celebrating International Women's Day less than 24 hours after her sister-in-law spilled her royal tea. Keep scrolling for more details about Kate's first appearance since Harry and Meghan's tell-all.
Kate Middleton talks about 'inspiring young women' after Meghan's tell-all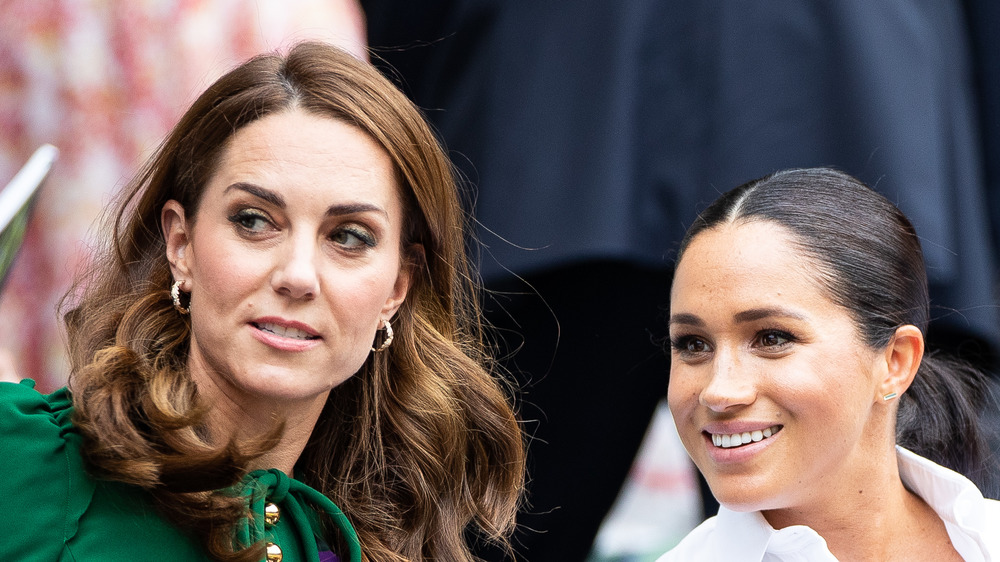 Simon M Bruty/Getty Images
Despite the bombshells Meghan Markle dropped about her relationship with Kate Middleton, the Duchess put her best royal foot forward as she went ahead with business as usual the following day for a video chat with Jasmine Harrison, the youngest woman to row solo across the Atlantic Ocean at just 21 years old.
Harrison completed her record-breaking 3,000-mile trip on Feb. 20, 2021 — a journey that took her 70 days, 3 hours, and 48 minutes, according to People. Speaking with Kate in a YouTube video shared by the royals on March 8, 2021, the young athlete said, "I think so many opportunities are closed off or just not out there for women to see, that we don't know that's something you can do," to which the Duchess replied, "That's why I wanted to talk to you."
She continued, "I think you're such an inspiration to young women out there. You're so right — unless these things get spoken about and get showcased, you never get to realize the opportunities that are around the corner." Although the conversation helped to illustrate what Kate is doing to help women around the world, Meghan's interview suggested Kate could have done more to help the women in her family.