Where Donald Trump Was Just Spotted In NYC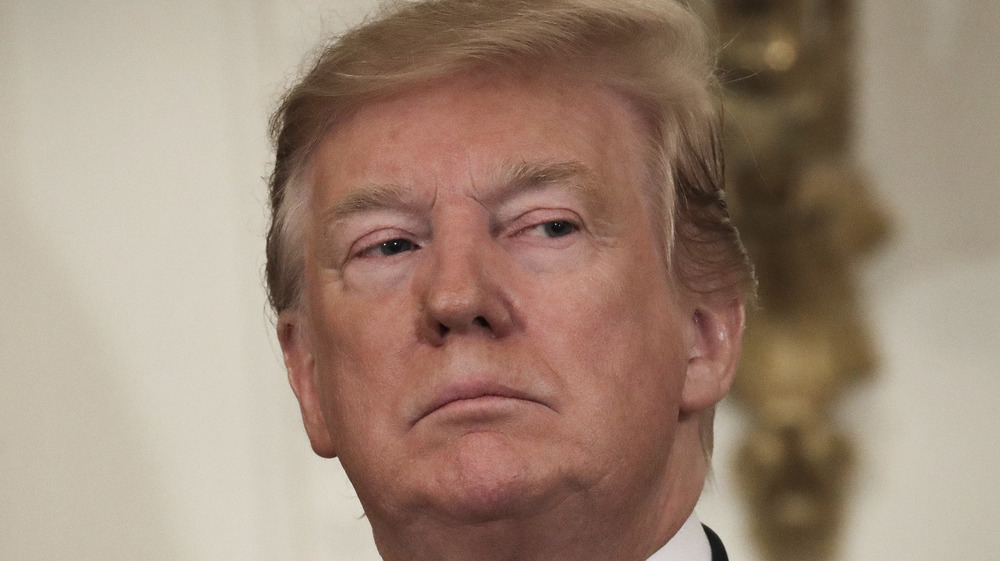 Drew Angerer/Getty Images
It's a bird, it's a plane... it's Donald Trump! The former president was spotted in New York City on March 7, 2021, per The New York Post, marking his first time visiting the Big Apple since his leaving office. Aren't you a little bit curious what he was up to? 
Post-presidency life for Mr. Trump and wife Melania Trump has been relatively quiet — until recently. The Trump family famously jettisoned off to their home at Mar-a-Lago in Palm Beach, Fla. on Jan. 20, 2021, hours before Joe Biden was set to be sworn in as 46th president. Since then, Trump has been golfing often (he hit the links on Valentine's Day, per The Daily Mail), Melania has been spending "several hours" a day at the spa (via CNN), and the world is left wondering what's next.
Trump made a comeback at the Conservative Political Action Conference on Feb. 28, 2021, held in Orlando, where he once again played his greatest hits of disproven claims of voter fraud in the 2020 election, per NBC News. "Actually they just lost the White House... This election was rigged," Trump said to the roaring crowd at CPAC (via Variety). Trump's cries feel a little pacified given his lack of Twitter account, and everything more immediate happening politically, including a sweeping 1.9 trillion stimulus bill helmed by Biden. But it's still hard to resist wondering what The Donald is up to.
So, where was Trump spotted in New York City? Scroll down to find out.
Donald Trump was spotted somewhere you may suspect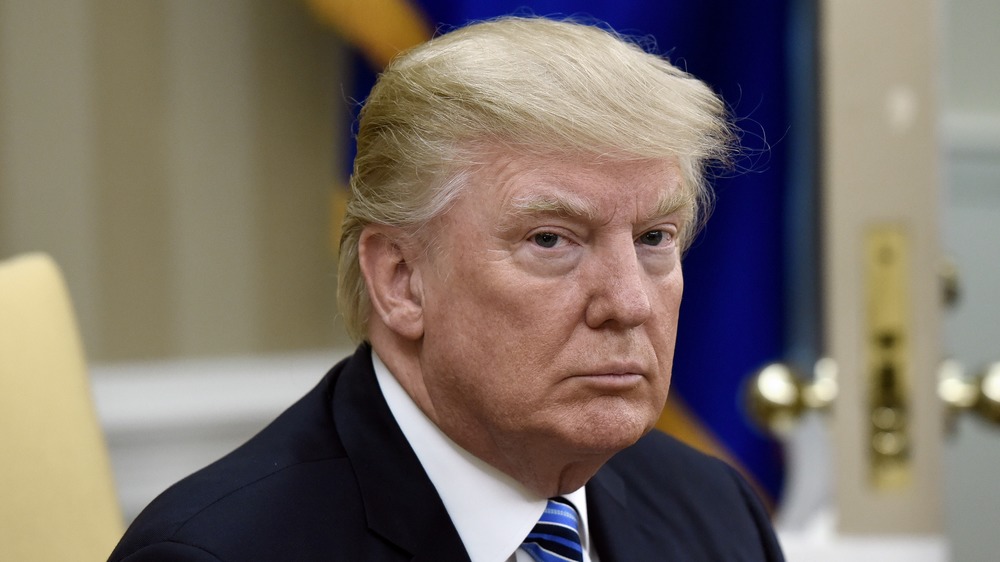 Pool/Getty Images
So, where in New York City was Donald Trump spotted in his first time since losing the election? That would be at Trump Tower. According to The New York Post, on March 5, 2021, "Trump pulled up to the Midtown skyscraper where he stays while in Manhattan just before 9 p.m... He was seated in the backseat of a black SUV." The outlet added, "Upon his arrival, he waved to a lone supporter who was across the street next to the media." Check out the image of Trump arriving here. 
The internet was quick to react to Trump's (maybe a-little-less-than triumphant) New York City return. "Who cares. No one in New York is eager to see a return of Donald Trump," one Twitter user wrote. "Was it Don Jr.?" another jokingly tweeted, referring to how Trump was met with a one-member welcome committee. "why is Trump wearing a suit?" another pondered. Lots of questions, not many answers! 
According to MSN, Trump "arrived without his wife Melania and their son Barron." And according to Gothamist, "the reasons for his visit have not been disclosed." But according to The New York Times, the visit comes as Trump, a native New Yorker, is being investigated by the Manhattan District Attorney's office over "tax and bank-related fraud" as well as possible wealth inflation to obtain loans, per the outlet. According to the Times, a federal prosecutor has recently been brought into the fold.