Donald Trump Just Took A Big Step Against The GOP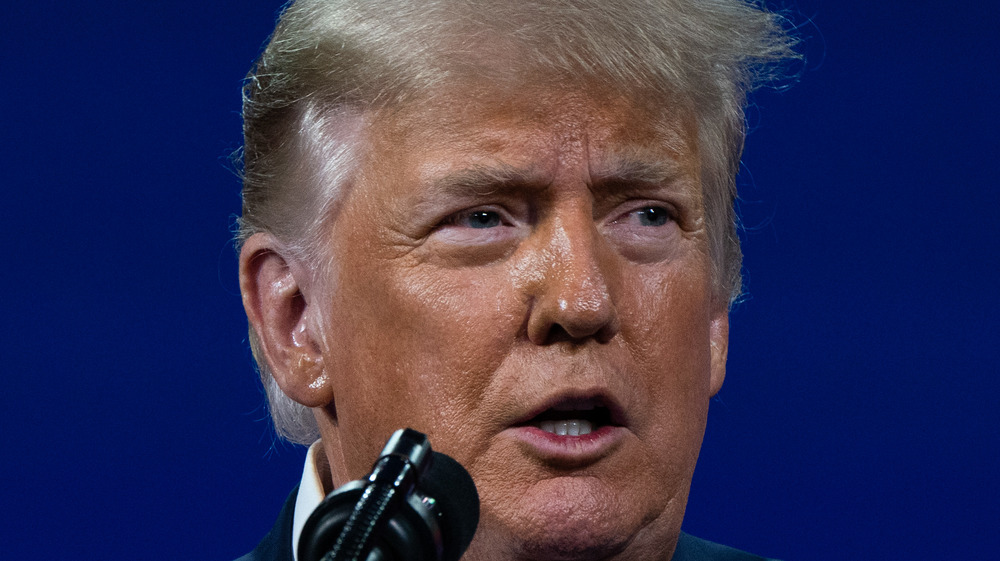 Bloomberg/Getty Images
Donald Trump's battle with his own political party has escalated again, deepening the rift that has formed in the GOP since the deadly Capitol building riots.
Although an unnamed source told Politico that Trump "remains committed to the Republican party and electing America First conservatives," the former president has voiced his unhappiness with the moderate Republicans who turned on him during his impeachment trial.
"The RINOs [Republicans in Name Only] that we're surrounded with will destroy the Republican Party," he declared in his first big post-presidency speech at CPAC, per USA Today. He then mentioned specific "RINOs" who had voted against him, including Adam Kinzinger of Illinois, Tom Rice of South Carolina, and high-ranking Wyoming representative and outspoken Trump critic Elizabeth Cheney.
Trump also recently swore to campaign against the "disloyal" Alaskan senator Liza Murkowski in the 2022 midterms, despite her being a reliable vote-winner for the Republicans since 2002. She was one of seven senators who crossed party lines to vote against him.
Although Trump is still the "clear favorite in party polls," as The Guardian reported, he continues to clash with his critics. And according to Politico, most senior Republicans "scoffed" at his latest move against the RNC.
Why did the RNC 'scoff' at Trump's latest legal challenge?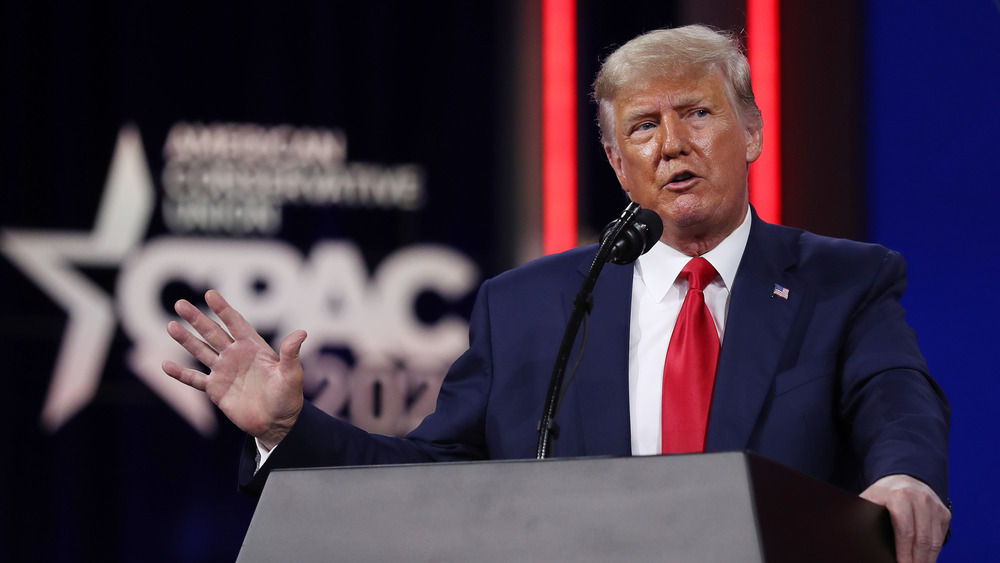 Joe Raedle/Getty Images
In the midst of this ongoing power struggle, Donald Trump's team of attorneys delivered a cease-and-desist demand to the Republican National Convention and others, objecting to their use of his face. 
As Politico reported, Trump's lawyers issued the request on March 5, 2021, to several groups including the Republican National Committee, the National Republican Congressional Committee, and the National Republican Senatorial Committee. They were ordered to "immediately cease and desist the unauthorized use of President Donald J. Trump's name, image, and/or likeness in all fundraising, persuasion, and/or issue speech."
Before his return to public speaking at CPAC, the former president stated that the "only" way to raise funds for loyal, Trump-approved Republicans was through Save America, the political action committee he formed after Election Day. His PAC already has more than $30 million donations stockpiled, according to CNN.
Trump's warning that money should go through him rather than through the RNC seems to have been brushed aside, however. Per AP News, the committee's chief counsel Justin Riemer claimed that the RNC "has every right to refer to public figures as it engages in core, First Amendment-protected political speech, and it will continue to do so in pursuit of these common goals."
Since Trump's lawyers first asked them to stop, the RNC has continued to email donors using Trump's likeness and asked Republican voters to "defend President Trump's legacy" by sending donations to the party, as per Politico.