The Real Reason Thomas Markle Once Hung Up On Prince Harry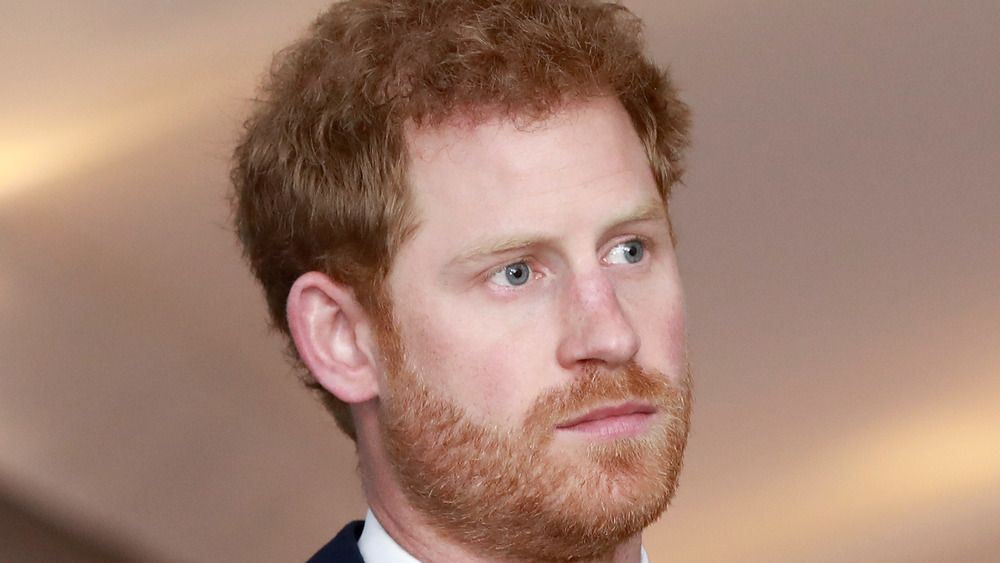 John Phillips/Getty Images
Prince Harry and Meghan Markle's highly-anticipated interview with Oprah Winfrey aired on March 7, 2021. In the 2-hour segment, Harry and Meghan had their first chance to be honest about their time as royals before stepping down, as well as the aftermath of their decision to leave England and raise their son and future second child in California. (It's a girl, by the way!)
Interestingly, Harry and Meghan reportedly didn't watch their tell-all interview but that doesn't mean they weren't keenly invested in telling the truth. They dropped some major bombshell revelations about their life with the royal family and other parts of their experience in the public eye. While Harry and Meghan opened up about the royal family, Meghan's own family was also covered.
In fact, royal viewers wondered at first why Meghan's relationship with her father and sister wasn't covered in the interview and some asked if Oprah missed those questions. Well, Oprah never misses a question. There was just so much content that Meghan's family got covered in the extended interview on CBS This Morning, according to BuzzFeed, which aired a day later. In that portion, Meghan spoke about her half-sister as well as how her father sold her letter to the Daily Mail and how he interacted with the media. However, Meghan's father Thomas Markle has opened up about his experiences with the couple and said he hung up the phone on Harry once! Here's the scoop.
Thomas Markle said Harry was being 'snotty'
Thomas Markle spoke with Good Morning Britain on March 9, 2021, only days after Meghan Markle and Prince Harry's interview with Oprah Winfrey aired.
Markle spoke about an incident in 2018, right before Meghan and Harry's wedding. He was slated to walk her down the aisle but he had suffered a heart attack and couldn't, according to Page Six. Harry called him to address Markle's interactions with the media. For instance, according to the Daily Mail, he had staged photos for paparazzi shortly before the nuptials.
"Harry had said to me, 'If you had listened to me, this wouldn't have happened to you,'" Markle said of the call. "Me, laying in a hospital bed after having a procedure, I had a stent put here and put here and that was kind of snotty so I hung up on him."
Markle added on Good Morning Britain, "We all make mistakes ... but I've never played naked pool and I've never dressed up like Hitler." Markle was referring to an incident in 2005 when Harry wore a Nazi costume to a friend's party, according to The Guardian. The pool reference was from 2012 when Harry played "strip billiards," according to TMZ, in a VIP suite in Las Vegas with friends.
During the interview, Markle claimed that he hadn't heard from Harry or Meghan since 2018. "The bottom line," Markle said, "is I've never heard back from Meghan and Harry in any way, shape or form. I would love to hear from them."