The Queen's Response To Meghan And Harry's Interview Is Raising Eyebrows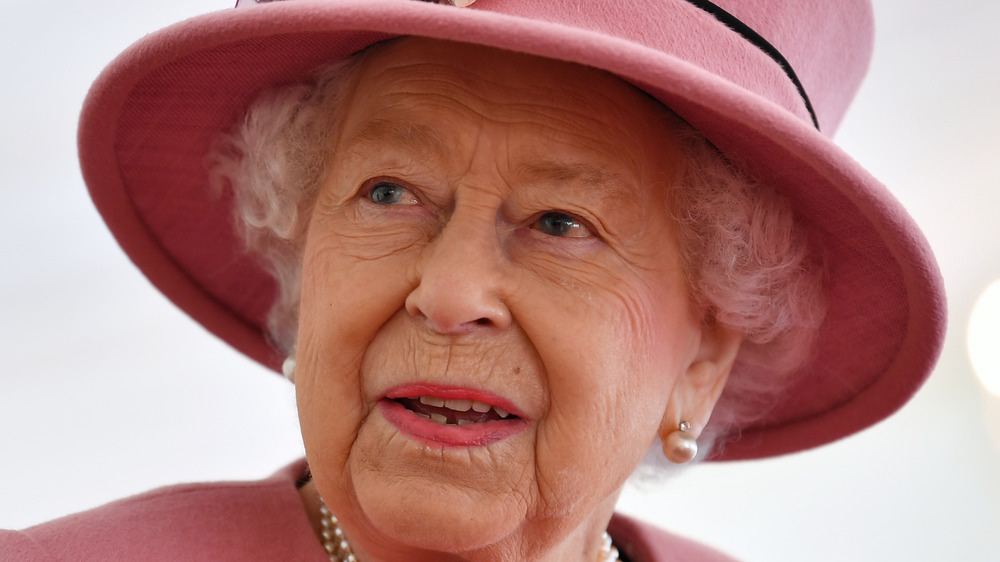 Wpa Pool/Getty Images
The matriarch of the royal family, Queen Elizabeth II, has finally responded to the bombshell allegations made against them. As most of the world knows, Prince Harry and Meghan Markle sat down for a March 2021 interview with Oprah Winfrey, in which they quite frankly aired out the royal family's dirty laundry. The special garnered stellar ratings, and more than 17.1 million viewers from the United States tuned in.
During the two-hour tell-all, it seemed like almost nothing was off-limits. Meghan sat down with Oprah for a solo interview before her husband, Prince Harry, joined her. One of the most jaw-dropping revelations in the interview surrounded the color of baby Archie's skin. Meghan told Oprah that there were "concerns and conversations about how dark his skin might be when he was born" (via CNN). The Suits actor explained that she found the information out from her husband. "That was relayed to me from Harry. Those were conversations that family had with him," Meghan shared, without revealing which member of the royal family made the shocking remarks. "That would be very damaging to them," she continued. When he was questioned, Harry also refused to say exactly who uttered those words, though Oprah later revealed on CBS This Morning that Harry told her it wasn't the queen or Prince Philip.
Queen Elizabeth II released a statement in response to the interview, and it's just as fascinating as the interview itself.
Queen Elizabeth II released a royal response to Prince Harry and Meghan Markle's accusations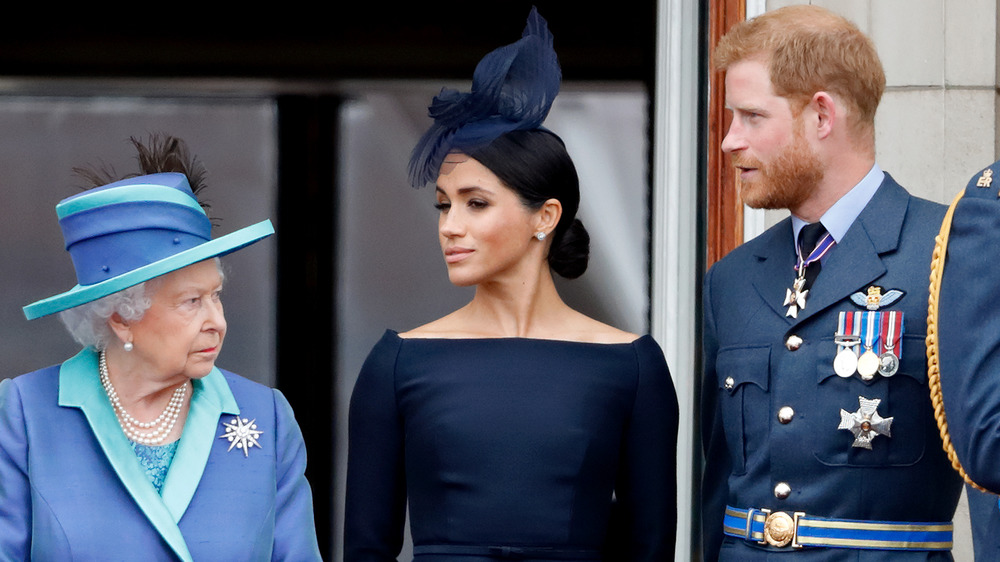 Max Mumby/indigo/Getty Images
Queen Elizabeth used damage control following Prince Harry and Meghan Markle's accusations. According to the Daily Mail, she released a statement on behalf of the entire family that expressed remorse for what the famous couple had reportedly gone through. "The whole family is saddened to learn the full extent of how challenging the last few years have been for Harry and Meghan," the statement read. "The issues raised, particularly that of race, are concerning. While some recollections may vary, they are taken very seriously and will be addressed by the family privately." Queen Elizabeth ended the press release by reiterating the fact that Harry, Meghan, and baby Archie will "always be much loved family members."
While some have empathized with the queen, others have questioned the authenticity of it on social media. "Im sorry, Your Majesty, Im not buying what you're spokes people are putting out!" one person tweeted. "The Royal family being saddened is a farce. Not giving a title & protection to Prince Harry's children but give to Prince William's children speaks volumes," said another Twitter user. "Racism is alive & well. Lost respect for Queen Elizabeth as the responsible person. No more visits for me." One more #TeamMeghanandHarry fan shared a photo of graffiti on a statue of the queen that read "parasite" in bold, red letters. (Notably, both Harry and Meghan detailed their ongoing kinship with the queen in the interview.)