The Odd Thing Rosamund Pike Does With Her Acting Awards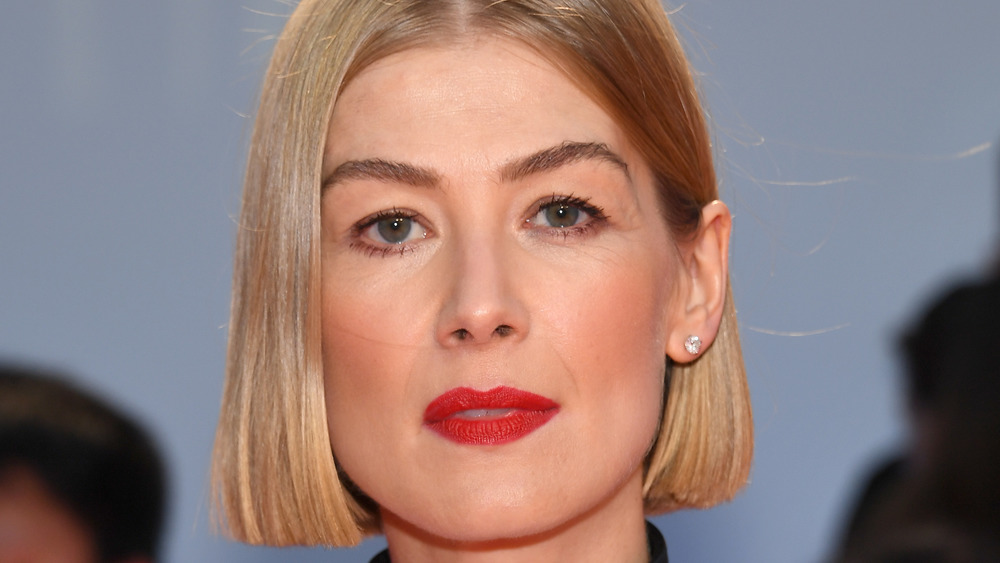 George Pimentel/Getty Images
On Feb. 28, 2021, actress Rosamund Pike took home a Golden Globe for Best Actress in a Motion Picture: Comedy or Musical for her diabolical performance in the Netflix thriller I Care a Lot. In the film, Pike plays a con artist named Marla who dupes the elderly, draining their finances and cutting them off from their families. If it sounds evil and twisted, that's because it is! Pike's turn as Marla is reminiscent of her role as the murderous Amy Dunne in David Fincher's 2014 film adaptation of Gillian Flynn's bestseller, Gone Girl. Clearly, she is drawn to these dark antiheroines who stop at nothing to achieve their end goal, no matter who or what gets in their way. "She's allowed to do the things that men have always been allowed to do: be ruthless, ambitious...strive for exactly what she wants," Pike said of Marla, during a recorded interview for Netflix (per CNN). "She's out to win."
While it's hard to root for Marla and her reign of terror, it's much easier to cheer on Pike IRL. The actress was gracious in her win, thanking her fellow nominees when it came time to accept her Golden Globe. "Ladies, I salute you. Wow! I bet it looks like I care a lot. I do," she joked in her speech, according to People. So, now that Pike has her Golden Globe, where did she put it? Did she display it in a place of honor? The answer may surprise you.
Rosamund Pike thinks it's 'awkward' to display her awards at home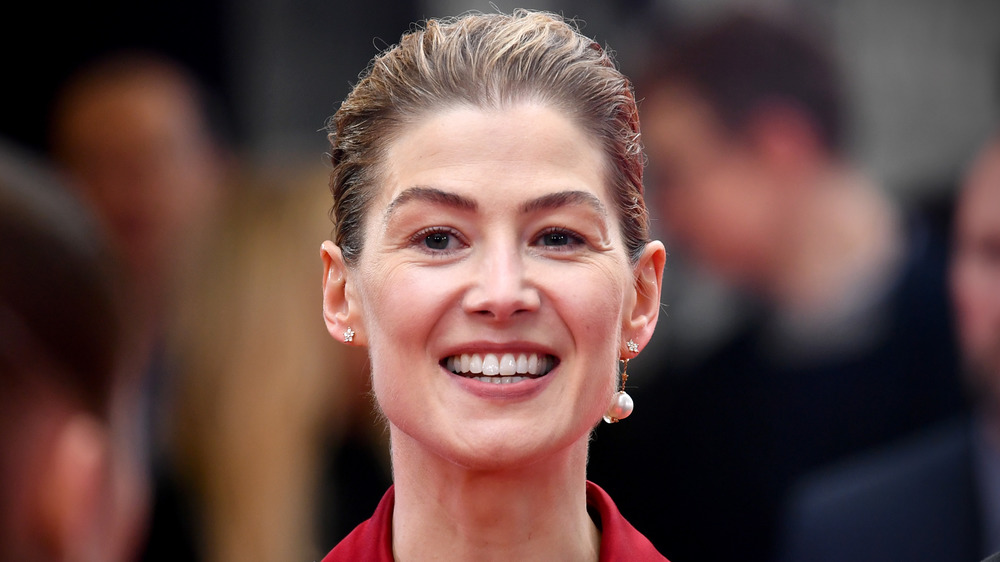 Gareth Cattermole/Getty Images
You would think actors who win prestigious awards would want everyone to see their accolades, but apparently that's not the case for Rosamund Pike. Appearing on The Ellen DeGeneres Show on March 10, 2021, Pike confirmed that she stores her many awards in a very unusual place: her garden. "I find it an uneasy thing to display any award in your home. How do people interact with them when they come home?" Pike explained, calling such a public display "awkward." 
"I bury them [the awards] in the garden with a little bit showing up so you can have a glimpse of a hand or maybe a crown or the globe maybe," she added.
It's certainly an interesting take on things, and Pike is aware of how it comes off. "If you've got any psychiatrists or therapists in your audience they'll probably say it's some deep-lying imposter syndrome," she acknowledged. But beyond a psychological habit, Pike's desire to bury her awards in the ground simply amuses her. "I think it's amusing because in the future, when I'm dead and gone or when somebody else buys the house, they'll be landscaping and they'll hit metal and they'll think they found buried treasure and they'll have in fact found a host of awards," she said on Ellen (via People). That's one way to think of a time capsule!