Inside The Tragic Accident Surrounding Ree Drummond's Nephew
Famous food blogger and television personality Ree Drummond's nephew Caleb Drummond (pictured above) is reportedly in critical condition, following a motor vehicle accident that occurred near her ranch in northeast Oklahoma. 
As reported by People, the Pioneer Woman's husband, Ladd Drummond, and nephew, Caleb, were responding to reports of a wildfire bordering on the property and each driving a Himmat Fire Truck when they crashed in a head on collision due to limited visibility from "high winds on a gravel road." According to an Oklahoma Highway Patrol report, the crash occurred on March 10, 2021 around 1:43 p.m. The report also states that neither of the men were wearing seatbelts. Tragically, due to the lack of seatbelt use, Caleb "was ejected approximately 70 feet from point of rest." 
While Caleb was transported to the St. John Medical Center in Tulsa to be treated for various external and internal injuries, it's reported that Ladd "refused treatment at the scene." Keep reading to learn more about Ladd's relationship with his famous wife.
Ree Drummond affectionately refers to her husband as 'Marlboro Man'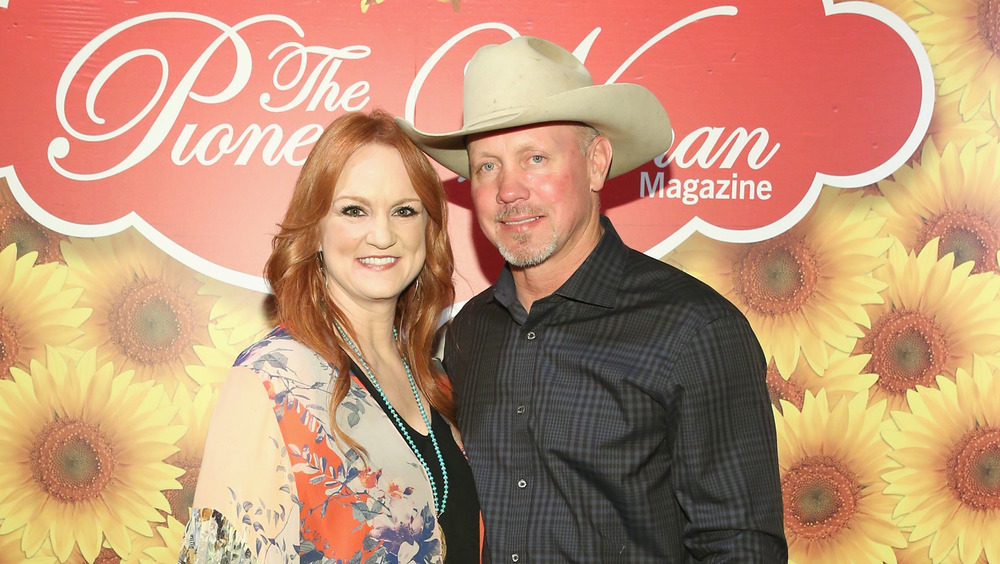 Monica Schipper/Getty Images
As you may recall, Ree Drummond affectionately refers to her husband Ladd Drummond as the "Marlboro Man." In one of her popular blog posts titled "A Man on a Horse," Ree recalled how she met the rancher and how it only took her seconds to realize that he was the one. "Just one glance of him on his horse has always been nothing short of an instantaneous revival of every ounce of love, lust, respect, and adoration I've ever felt for Marlboro Man," she gushed in the post.
But how did the two meet? At a bar, of course. In a an issue of The Pioneer Woman Magazine (via Yahoo! Sports), Ree explained that after a long conversation at the bar, in which he eventually bailed on her to "cook Christmas turkeys for some folks in his small town," the Pioneer Woman expected the mysterious cowboy to give her a call... but he didn't... at least not until four months later. Wow! Talk about a long game. Fortunately, after that long, overdue phone call the two were inseparable.
Our thoughts go out to both Caleb and Ladd Drummond, and we're wishing them a speedy recovery!