The Pioneer Woman's Strange Marriage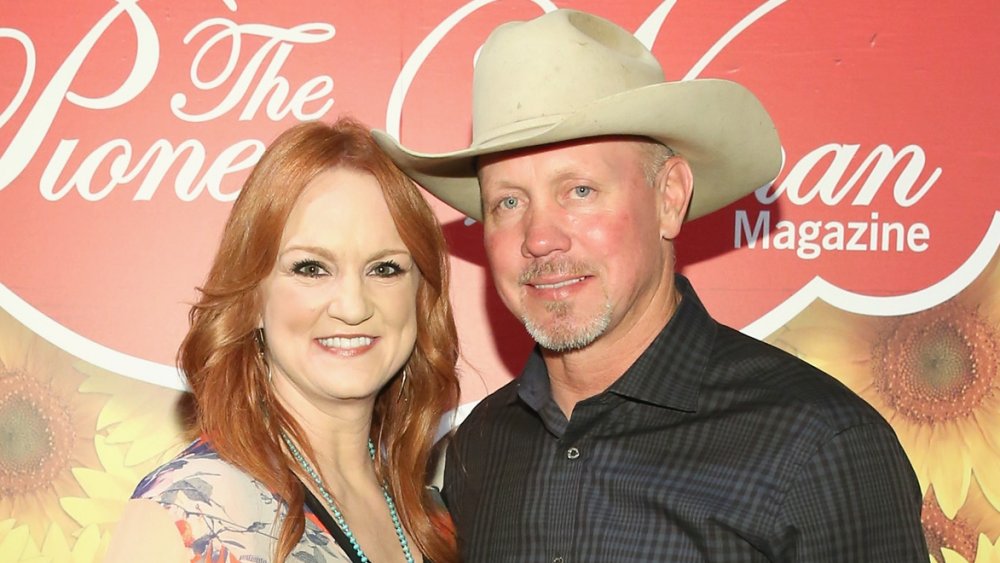 Monica Schipper/Getty Images
Ann Marie "Ree" Drummond has been sharing what life is like for a rancher's wife on her website, The Pioneer Woman, since 2006. The success of her blog opened doors for her to become a published author, the host of her own Food Network cooking show, and owner of a line of Pioneer Woman branded products. Loyal readers of her blog have been able to watch her children — Alex, Paige, Bryce, and Todd — grow up right before their eyes, but most of Ree's fans are enthralled by her relationship with her husband — an elusive rancher named Ladd Drummond, who she affectionately dubbed the "Marlboro Man."
Their whirlwind romance began when the handsome cowboy wrangled her heart with his icy blue eyes, his chaps that fit oh so perfectly, and his horse riding skills. We can't help but smile when she mentions the "butterflies and hiney tingles" she feels around him, but that doesn't mean everything is picture-perfect between these two. Here are some strange things about the Pioneer Woman's marriage.
The Pioneer Woman's husband made her wait!
Ree Drummond fell in love with Ladd Drummond at first sight, according to the juicy details she shared in an issue of The Pioneer Woman Magazine (via Yahoo! Sports). They met at a bar. "He was tall, strong and mysterious, sipping bottled beer and wearing jeans and cowboy boots," she said. After staring him down for "a few minutes," she struck up a conversation, but he had to leave the bar early to "cook Christmas turkeys for some folks in his small town."
She expected him to call her, but Ladd played it cool. "Nor did he call that day, or week, or month. Throughout that time, I allowed myself to remember his eyes, his biceps, his quiet manner. Disappointment would wash over me," she lamented. Finally, four months later, Ladd made her hotline bling, and the rest is history. So what took him so long to finally dial her digits? 
A blog reader asked that same question, and Ree replied, "I know the answer. But I'm going to let him tell you." Was there another pioneer woman in the picture, or did he lose his cell somewhere on his 433,000 acres of land? Your guess is as good as ours. 
Ree Drummond won her husband over with cow manure
Before they became husband and wife, Ree Drummond had to prove she was ready to make the switch from farm girl to farm wife. She detailed the grueling (and stinky) crucible in a May 2006 blog post, describing how Ladd Drummond invited her to his ranch in Pawhuska, Okla. to work cattle alongside his brother, Tim.
"You'll be taking [the cattle's] temperature," Tim informed Ree, and she quickly realized the thermometer would need to be inserted where the sun didn't shine. "Before I knew it, the first animal had entered the chute. Various cowboys were at different positions around the animal and began carrying out their respective duties. Tim looked at me and yelled, 'Stick it in!'" Ree recalled. Soon enough, the job was complete, but not before her arm was "covered in runny, stinky cow crap." 
A few weeks after her smelly farm adventure, Ladd proposed, and of course, Ree said yes. "Looking back, I'm aware of just how much I was being tested that day at the cattle chute," she said. "Since he was my husband's only sibling, Tim had to approve of me. This was merely Tim's sick, twisted way of measuring my worth."
Ree Drummond's groom didn't boot scoot
Ree and Ladd Drummond wed in a gorgeous church ceremony, but what was the reception like? Were guests doing the Watermelon Crawl into the wee hours of the morning? According to Ree's blog, Ladd was likely too preoccupied to get his two-step on because he was holed up "in the men's locker room" watching his alma mater, Arizona State, take on Nebraska in college football. "[Arizona State] won, and Marlboro Man wasn't missing it either for the world or for our wedding reception. He says the game was a good omen," she wrote. That sounds cool and all, but we're way more curious about this men's locker room he was hiding out in. Was their reception inside a musty gym? We need answers.
In addition to the locker room hijinks, we also find it interesting how the couple noticeably forgot their wedding anniversary in 2018. "Our anniversary blew by us last week! It's a sandwich generation thing," Ree captioned a photo of the couple on Instagram. She was sure to add, "Dang, you're a specimen." While it's common to forget a special occasion when you've been married for so long, it's strange when you consider how madly in love these two appear to be. 
The Pioneer Woman's honeymoon was over right away
Ree and Ladd Drummond decided to "let nature take its course" once they got married, and bada bing, bada boom! They wound up conceiving when they were on their three-week honeymoon in Australia. "Now that I'm painfully aware of just how fertile I am, I laugh when I remember how 'surprised' we were when the test came up positive," the mother of four wrote on her blog.
Ree said she tried to keep the spark alive throughout her pregnancy, writing that she made an effort to keep her toes pedicured as her due date approached. Even as she went into labor, she took the time to shower, curl her hair, and even "primped like crazy" until they finally left the ranch and made the drive to the hospital to deliver their daughter, Alex. 
They say the first year of marriage is the toughest, so we can only imagine the adjustments Ree and Ladd had to make as they went from husband and wife to first-time parents in such a short amount of time.
Farting is a big no-no in The Pioneer Woman's marriage
It's apparent that Ree Drummond gets utterly freaked out at the mere thought of doing something that could turn off her husband, Ladd Drummond. You would think that after so many years of marriage, he's already seen her at her best and her worst, but Ree reportedly still gives him strict rules on what he can and cannot witness, especially as it relates to her pregnancies. 
"Even during labor, I attempted to remain the ever-fresh and vibrant new wife, going so far as ordering my husband to stay north of my shoulders during the birth," she wrote on her blog. In between contractions, Ree was busy "reapplying tinted lip balm" and she even admitted that she "restrained" herself when it came time to push because she was afraid she would inadvertently "fart in front of [Ladd]." She claimed this natural bodily function would be the "kiss of death" upon her marriage. "And then I'd just have to divorce him and start fresh with someone else. And I'm not kidding," she blogged. Even her obstetrician thought she was taking things too far and demanded she cut the crap and start focusing on pushing out the baby.
After giving birth, Ree was beyond proud of her valiant efforts. "I'd made it through. Over nine months and a normal delivery without the slightest flatulent slip-up in front of my lover," she wrote. 
Oh, the things Ree Drummond does for a date night
When New Year's Eve rolled around and Ree Drummond was "dying to go out on a real date," she asked her husband if he'd be willing to join some of their friends for dinner. "But Marlboro Man didn't want to go. He was exhausted, having had a grueling week of working cattle. All he wanted to do that night was stay home and relax. I was deflated," she wrote on her website.
Begging and pleading wasn't going to change his mind, but after Ladd Drummond fatally wounded a skunk that had been wreaking havoc on their property for weeks, he presented Ree with an offer. "Tell ya what, honey," he said. "You dispose of that skunk carcass while I take my nap and I'll take you out tonight!" Ree was up for the challenge. As Ladd snoozed, she wrote on her blog that she'd "disposed of that skunk. I won't share the details. It still haunts me sometimes. Sometimes I wake up screaming." 
So far, the common denominator in their marriage is smelly things: cattle poo and a deceased skunk. Pee-yew!
The Pioneer Woman's husband saw her guts, literally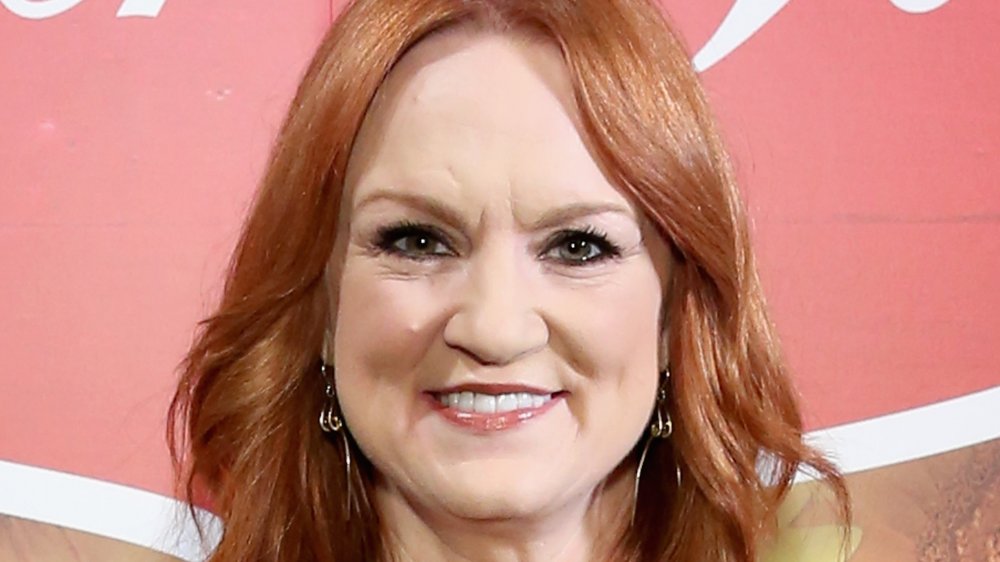 Getty Images
Ree Drummond is super picky about what her husband, Ladd Drummond, is exposed to, and a labor and delivery recap exposed some of the odd rules that her hubby must strictly abide by. After going into labor at 35 weeks, Ree was rushed to the hospital for an emergency C-section. Ladd was there for the procedure, "though I ordered him not to look at anything having to do with my abdomen," Ree wrote on her blog.
After returning home with their newborn son, Ladd made a startling confession. Although he was told not to look at her stomach during her C-section, he "sweetly" mentioned to her: "I saw your guts." This probably wouldn't have been a big deal for any other woman who had just given birth, but this is Ree we're talking about here — a woman who seems obsessed with presenting herself as a flawless image of perfection to her adoring husband. We can only imagine how horrified she was when she realized he had broken her rule and was having a staring contest with her insides. 
A labor of love ... and vomit
Are you sensing a pattern? During Ree Drummond's labor and delivery story that she shared on her blog, she detailed yet another perceived embarrassment when a nurse administered "magnesium sulfate" to stop her from going into early labor at 35 weeks. She had been told the medication would probably make her throw up, which prompted Ree to fearfully respond: "Oh, please, please, no. Please, please, no. Do we have to do this?"
Ladd Drummond was getting ready to attend a rodeo but dropped everything to rush to Ree's side. He arrived at the hospital just as "the drugs took hold," she said. "And without any time to ask for a bedpan, a plastic bag, or even an empty trash barrel, I projectile-vomited across the room. Think Linda Blair, then multiply that by eighty," she said of her The Exorcist-like expulsion. We're pretty sure Ladd empathized with his wife, but all Ree could sarcastically think to herself was: "And I'll bet he'd never felt more in love with me than he did right at that moment."
The Pioneer Woman's husband convinced her to quit being a vegetarian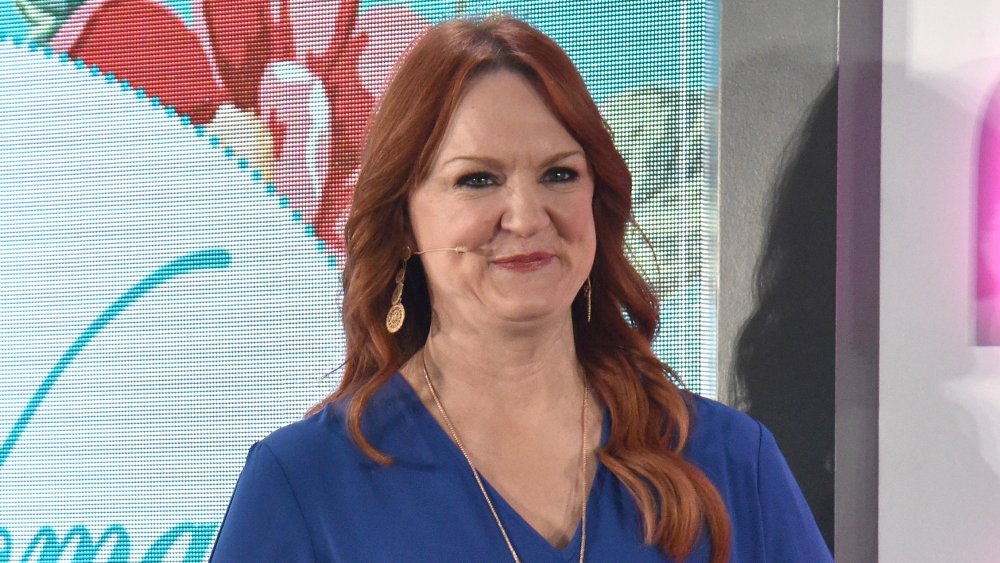 Bryan Bedder/Getty Images
Ree Drummond can whip up almost any dish in the blink of an eye. And while we think most people would absolutely love being married to someone who knows their way around the kitchen, Ladd Drummond is far from being the adventurous type when it comes to his meals. You probably won't catch him inhaling oysters on a half shell or nibbling on a bowl of caviar in a posh, Michelin-starred restaurant. He's more of a "meat and mashed potatoes" kind of guy. 
"I'm kind of a picky eater, so I'm not the best guy in the world to cook for," he told People. But on the flip slide, he's not a bad cook himself. Ree told the magazine that she was a vegetarian when they first met, but after he whipped up his speciality — a "steak sizzling in butter" — she kicked her veggies to the curb and became his meat-eating bride. 
We're serious, Ladd Drummond is really committed to his meat and potatoes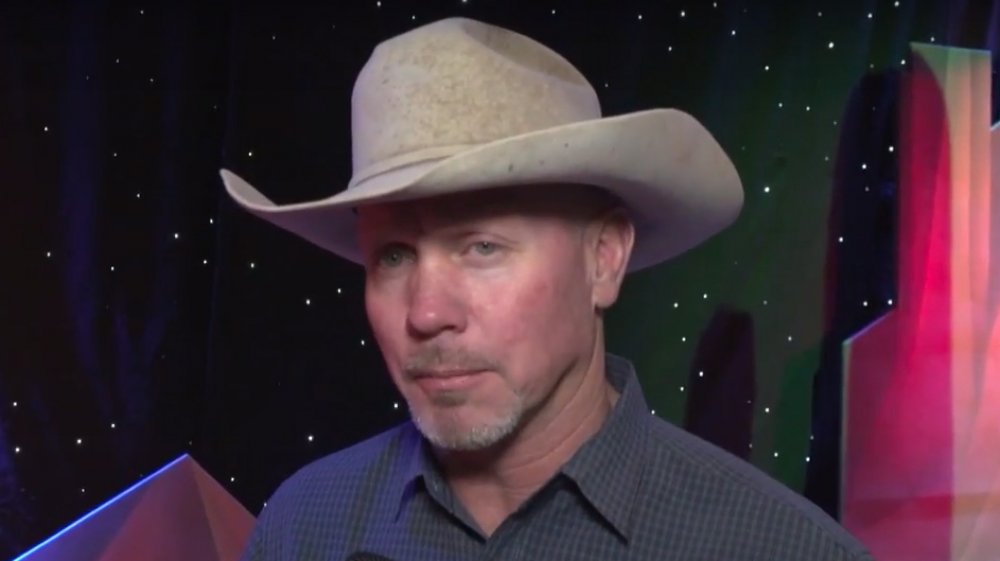 As a Food Network star, one would think Ree Drummond is celebrated chef in her own home. But Ree's culinary creations haven't always been a hit with her cowboy husband Ladd Drummond, who isn't a fan of everything she cooks. Case in point: On the couple's fifth date, Ree decided to cook up one of her specialities — linguine in white clam sauce —a tasty dish that clashed with Ladd's rancher sensibilities. "I had no idea that Marlboro Man, a fourth-generation cattle rancher, doesn't eat fish, let alone minced up little clams, let alone minced up little clams bathed in wine and cream, let alone minced up little clams bathed in wine and cream that are mixed up with a bunch of long noodles that are way too complicated to negotiate," Ree wrote in 2007 on her Pioneer Woman blog. 
Ha! While it's definitely funny that Ladd struggled to "negotiate" spaghetti — did he need a manual or something? — it's kind of bizarre these two synced up despite to their different taste buds, right? But sometimes opposites attract. 
Either way, some fans aren't impressed with Ladd's finicky eating. "She [Ree] thinks it's sooooo cute how he won't look twice at a vegetable, how she has to make herself a separate pizza, sandwich, whatever, because she wants some greens in her meal but Ladd would never dare because he's a meat and potatoes type of guy..." one person lamented on Reddit. 
The Pioneer Woman's marriage bucks tradition
Country boy met city gal, and together they embarked on a traditional marriage that adhered to typical societal gender roles, right? Wrong! 
The Drummonds' have been crushing the status quo ever since they had their first child, and four kids later, Ladd Drummond isn't afraid to hang up his spurs and tend to his daddy duties when his Pioneer Woman is busy blogging, writing, or traveling to attend a public appearance. In an interview with The New Yorker, Ree laid all of Ladd's parenting duties out. Aside from taking the kids to soccer practice and teaching them the ropes around the ranch, he frequently steps in to help Ree with her business, too. He checks her emails and even gives her ideas for blog posts.
"They've always been a team," Ree's mother, Gerre, told the mag. "And this, coming from a Western ranch culture in which the men have traditionally been the kings."
Does Ladd Drummond respect his Pioneer Woman wife?
We don't want to get all Dr. Phil here, but respect is of the utmost importance in any relationship. Someone who might want to revisit this memo is Ladd Drummond, as he seemingly disregarded Ree Drummond's input in a huge business decision involving their 8-room boutique luxury hotel property in Oklahoma. It all started when Ladd and Ree were tossing around the idea of opening the venture, with the Pioneer Woman star recalling to People, "At first I thought, 'Do we really need another project? Let me sleep on it.'" Ladd's response to his wife's reasonable request for more time? "Then he broke ground while I was asleep," Ree added. 
Considering a business partnership involves more than one person, we're pretty confused by Ladd's behavior. Why not respectfully wait until Ree came to a decision — especially when lots of money was probably involved?
But wait — even more drama went down regarding this "joint" project. "I'm not going to paint a rosy picture of husband and wife working perfectly together," Ree told People about the two butting heads over design ideas. "There were definite disagreements, and that is part of why we ended up splitting the building into two halves."
Hmm ... it sounds like it all worked out this time, but that kind of conflict doesn't sound sustainable for a business or a marriage. 
Is disaster is right around the corner for the Pioneer Woman's marriage?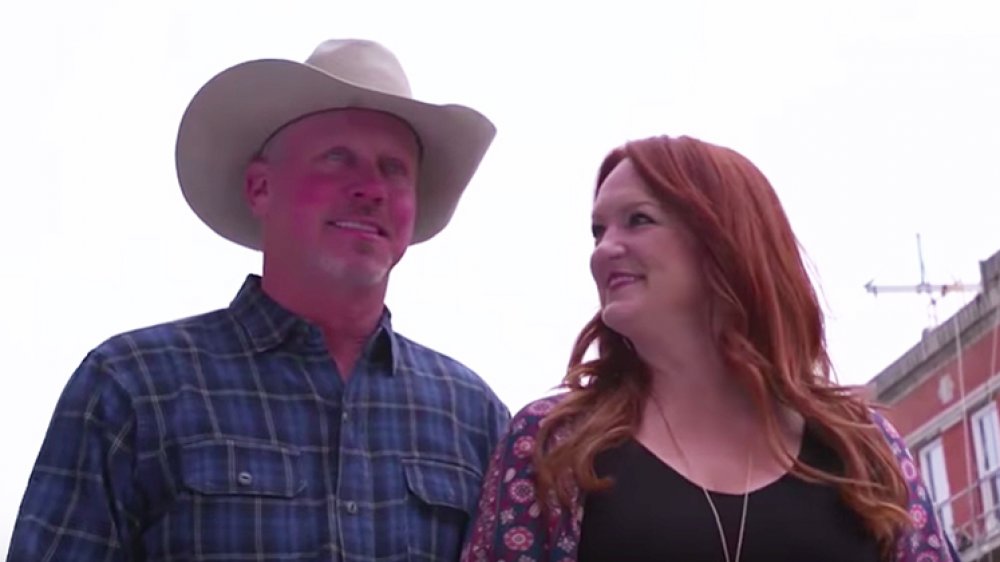 If you take a look at Ree Drummond's Instagram account, it appears as if she has a near perfect life. But is the blogger and chef's world really full of roses? Ree had something very interesting to say when asked about the glue keeping her marriage together, telling People in 2017, "This isn't the answer for everybody, but we go to church together every Sunday. It's something that we do no matter what comes up. No matter how tired we are. I've seen the times that we've slipped away from that, and disaster is lurking in the bushes."
Disaster is a pretty strong word, to say the least, and we find it a tad odd one thing is preventing the marriage from succumbing to catastrophe. That being said, however, it's likely Ree didn't intend this sentiment to be taken literally — it's possible that church just brings them closer together. To each their own, right?