Why Julia Roberts Isn't On The Hollywood Walk Of Fame Yet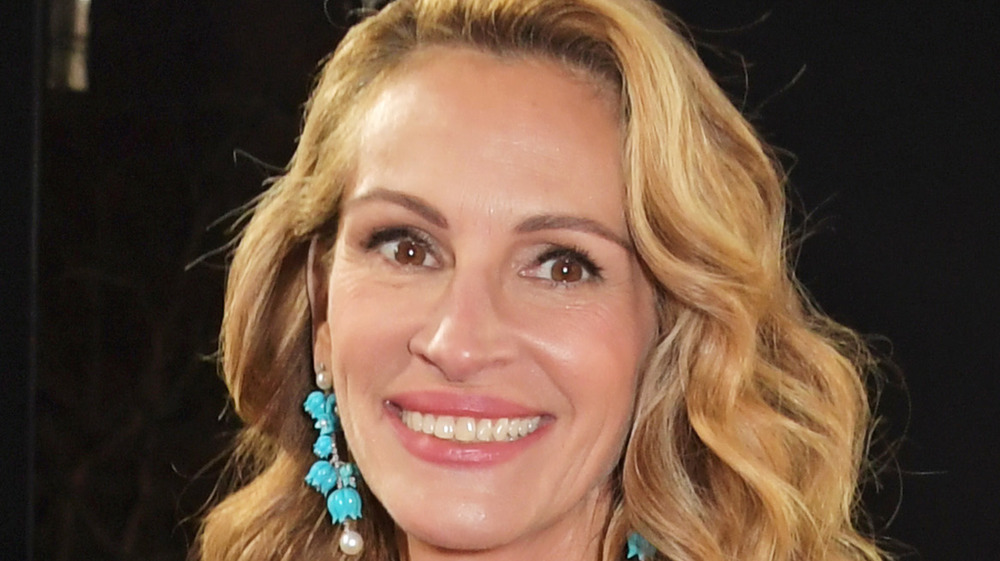 David M. Benett/Getty Images
Julia Roberts may have claimed the Hollywood Walk of Fame was her "turf" when she starred as Vivian Ward in Pretty Woman — but in real life, she's hasn't scratched the street's surface. Roberts, known for her big flashy smile and versatility on screen, has had an award-winning career spanning over three decades — but has yet to make her star mark there. 
Roberts garnered critical acclaim in the coming-of-age film Mystic Pizza in 1988 and just a year later, earned her first Golden Globe for Steel Magnolias. But it wasn't until she donned the blonde wig and that unforgettable blue and white cut-out dress in Pretty Woman — a now classic Halloween outfit — that her career sky-rocketed. She was just 21 years old when she starred opposite Richard Gere in the 1990 cult rom-com classic. Following that, Roberts appeared in blockbusters like Erin Brockovich (for which she won the Best Actress Oscar), as well as My Best Friend's Wedding, Notting Hill, and Ocean's Eleven. Roberts is even reportedly worth $250 million — but a big bank account doesn't necessarily score you a spot on the Hollywood Walk of Fame. Celebrities instead have to be nominated by a third party to get a star on the street.
What's the real reason Roberts doesn't (yet) have a star?
Did Julia Roberts decline a star on the Hollywood Walk of Fame?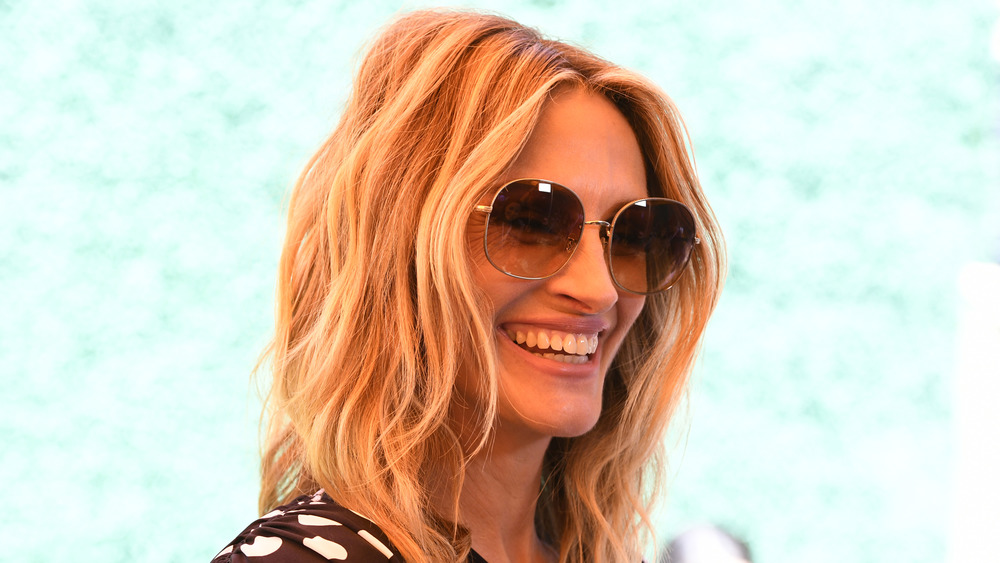 Frazer Harrison/Getty Images
The popular tourist attraction founded in 1960 is the number one most visited landmark in the United States, per Business Insider. Fans can walk by — or on top — of more than 2,400 stars "across its 18-block stretch pavement," according to Us Weekly — but unfortunately Julia Roberts admirers cannot. The selection process is strict, with celebrities sometimes "requiring several annual nominations" before being awarded a starring spot. Nominations can be made by a friend or family member, or, if you've got money to spend, a fan (per Us). 
Not to burst fans' bubbles, however, as Hollywood Walk of Fame rep Ana Martinez told Variety it's not as simple as footing the bill. She said they receive 200-300 nominations in the two months they allow for voting. "You cannot just buy a star. People don't understand that there's a process. They feel like if they have money, it can be bought, and that's not the way it works," Martinez said. Celebs can also only be chosen if they've worked professionally for five years or more or contributed to the community — which Roberts certainly ticks the boxes for — but it's not to say the star hasn't been previously nominated. 
The actor reportedly turned down an initial offer, according to Us Weekly. 
Julia Roberts has a second chance
Despite Julia Roberts turning down her first nomination, the actor did get a second shot in 2019, as per Entertainment Weekly. Ceremonies generally take place the next year — however, the majority of those nominated that year opted out, due to the pandemic. Ana Martinez of the Hollywood Walk of Fame told Variety they had just one in-person ceremony in 2020, comedian Anthony Anderson. The celebration generally sees hundreds of fans watch the celeb unveil their star; this celebration had 25. Was Roberts included in that group of would-be inductees that got bumped due to the pandemic? 
Speaking exclusively with Nicki Swift in July 2021, Martinez said that Roberts actually "was nominated, went through the practice, and was selected ... right before COVID." Since then, the organization is just in a "waiting" pattern for Roberts to schedule her her induction ceremony. Martinez speculates it will likely coincide with the next time Roberts "has a project or an anniversary," since stars often use the opportunity as a promotional double whammy. 
But the story of Roberts' soon-to-be star on the Walk of Fame doesn't end there, as Martinez also shared that it was friend and fellow actor Rita Wilson who nominated Roberts — during Wilson's own ceremony in 2019. As for why Roberts is more open to getting the star now? Martinez claims it was Roberts kids questions about why she didn't have one that prompted the star to go for it. Let's just hope that if/when she does accept her award, she shows up in Vivian's fabulous getup.