What Michelle Obama Had To Tell Sasha And Malia To Stop Doing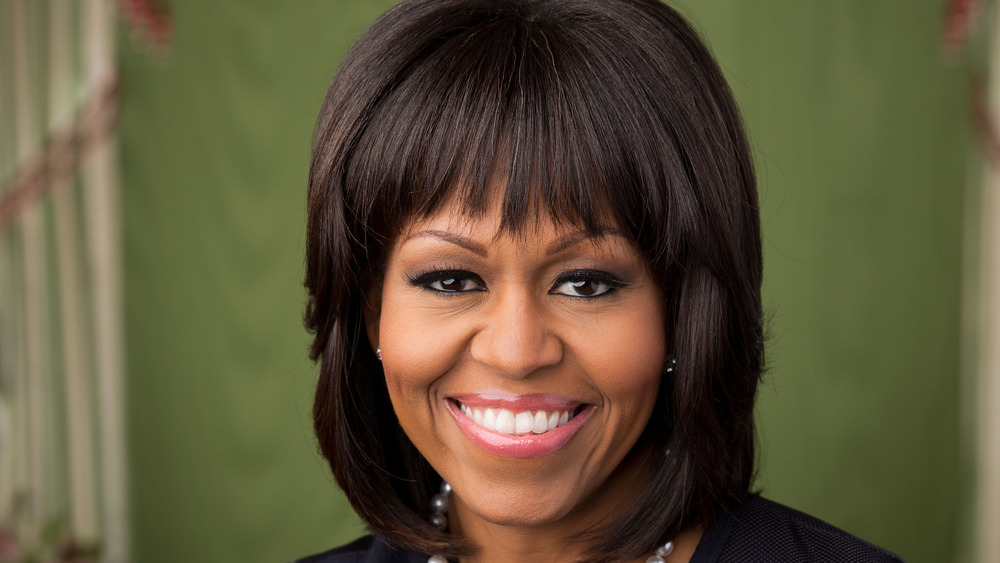 The White House/Getty Images
Since her two terms as the first lady of the United States, Michelle Obama has always advocated for healthier diets for children. In February 2010, Obama announced her "Let's Move!" campaign, which sought to decrease childhood obesity by 5% through healthy school lunch initiatives, improved food labels, and physical activities for children. According to the campaign's website, the movement was successful in changing the landscape of the school food environment with the 2010 Healthy, Hunger-Free Kids Act, which updated school lunch nutrition standards for the first time in 30 years.
Considering Obama's dedication to healthy meal alternatives, it's safe to assume that the former first lady is a foodie herself. Obama will show off her best cooking skills alongside some friendly puppets on her new Netflix show, Waffles + Mochi, which is slated to air in March 2021. Although she may inspire children across the world to get active in the kitchen, Obama wants her two daughters, Sasha and Malia, out of the kitchen. Keep scrolling to find out why!
Sasha and Malia love midnight baking a little too much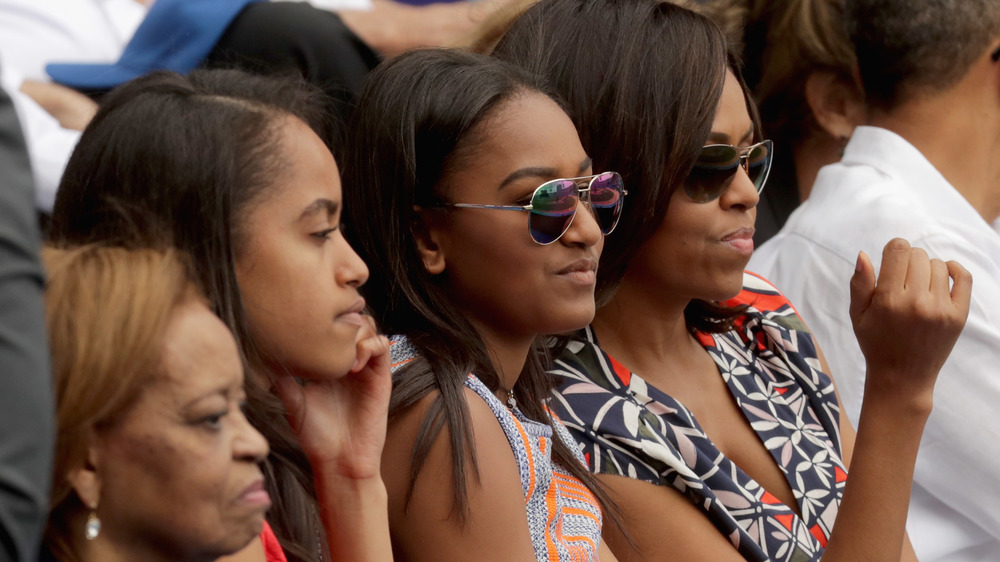 Chip Somodevilla/Getty Images
Everybody indulges in a sweet treat from time to time. However, there's no one who enjoys sweets more than Sasha and Malia Obama. According to Michelle Obama, her two college-aged daughters don't have an issue with cooking — the problem is, the sisters can't stop! "They were baking way too much at the beginning of quarantine, too many delicious pies. They were good at it! Good pie crust, good fillings," Obama told People in March 2021.
Instead of practicing their baking skills during the daytime, Obama says Malia and Sasha are "midnight bakers" who like to cook late at night. Unfortunately, that means the Obamas have been on a sugar rush, much to Obama's disdain.  "At 1 in the morning, you'd smell cinnamon buns baking," she continued. "I had to tell them to stop because we can't have all those sweets." Former President Barack Obama, on the other hand, doesn't partake in the tasty treats despite his known love for a homemade pie.
Clearly, Sasha and Malia are taking over the kitchen duties in the Obama household. As for Mrs. Obama, she's "retired" from her cooking days but happy that her children picked up her skills. "Now that [Malia and Sasha] are back, they are cooking more," she said. "My girls are very much into cooking, they love the freedom of being in the kitchen, they love creating, they love experimenting. So I've passed on that right to the next generation." How sweet... literally!