Drake And Jennifer Lopez Heat Up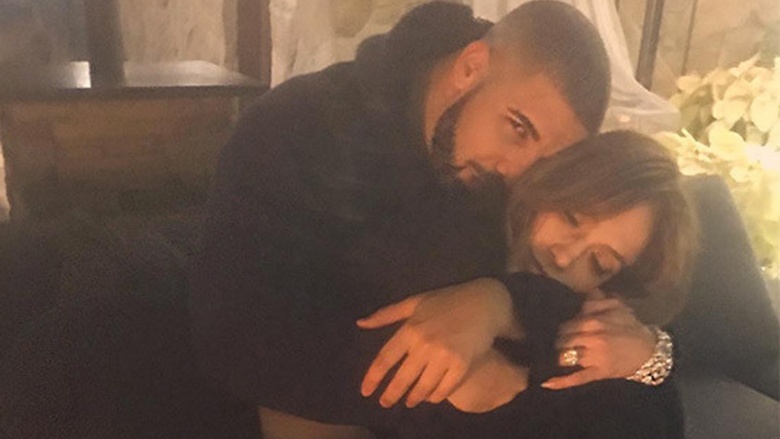 Jennifer Lopez is reportedly moving on from dancer Casper Smart with another younger man, Drake. The rapper is apparently newly single after splitting from on-again-off-again starlet Rihanna in October 2016, just a month after the duo publicly gushed over one another at the MTV Video Music Awards.
Sources close to both Lopez, 46, and Drake, 30, told TMZ there's something up between the rumored pair. In December 2016, Drake reportedly rented an entire restaurant in Los Angeles with Lopez as his guest, and insiders say he's been visiting the "I'm Real" singer at her Las Vegas residency. Sources also said J. Lo and Drizzy were collaborating on a song together, and that they expected a romance to blossom from the business venture.
Lopez reportedly bailed on a Miami performance on New Year's Eve in order to stay with Drake. "He will be in Vegas and she wants to hang out with him," a source told Page Six. Lopez's rep added, "They are spending time together, working on a new music project."
On Dec. 27, 2016, both Lopez and Drake posted the same Instagram photo of the pair snuggling on a couch together, which TMZ and Page Six both suspect is more of a publicity stunt than a public display of affection.
Still, some insiders think it's the real deal. A source told The Sun, "Jen and Drake have tried to keep their romance under wraps by suggesting they are just working together, but the truth is they are an item. They have been seeing each other for a number of weeks and her friends are saying she is already smitten. The age gap doesn't bother them. They have fun together and that's all that matters." Additionally, Rihanna unfollowed Lopez on Instagram. An insider dished, "People in Rihanna's circle are saying she is very unhappy about the whole thing. Only a few months ago she and Drake were still together. Jen is one of her friends in the industry which made her all the more surprised." Another spy told E! News that while Drake and Lopez aren't exclusive, "They are seeing each other. [Drake] is really into her."
This is certainly not the first time Drake has created dating buzz around a female collaborator. He and Rihanna were often rumored to be hooking up when working together, most recently with the steamy video for "Work." Drake also sparked romance rumors with Taylor Swift in October 2016 when they reportedly grew close during a potential collaboration of their own. Drake even filmed an Apple commercial where he lip syncs to a Swift single while working out.