Matthew McConaughey's Political Aspirations Are Turning Heads
Matt Winkelmeyer/Getty Images
Matthew McConaughey wears several hats in his life, including that of actor, businessman, producer, and father. So when you hear McConaughey's name, political figure is not likely something that comes to mind. As an actor, McConaughey has made a name for himself as one of the most beloved stars in Hollywood, and he has an incredible résumé to go along with it.
McConaughey's career spans decades, and according to his IMDb profile, the actor got his start at a young age, playing the role of Larry Dickens in the Unsolved Mysteries TV series in 1992. A year later, he put himself on the map by playing the role of Wooderson in the now-classic film Dazed and Confused. Some of the actor's other more popular films include Dallas Buyers Club, Magic Mike, Mud, and the television series True Detective.
McConaughey nabbed an Oscar for his performance in Dallas Buyers Club, and in his acceptance speech, which you can watch on YouTube, he spoke from the heart while thanking his wife, Camila Alves, and their three children. "To my wife, Camila, and my kids Levi, Vida, and Mr. Stone (Livingston), the courage and significance you give me every time I go out the door is unparalleled," he shared. "You are the four people in my life that I want to make the most proud of me. Thank you."
With a poignant speech like that, it should not come as a surprise that McConaughey is thinking of running for office. Keep scrolling to find out the details.
Matthew McConaughey has his political sights set high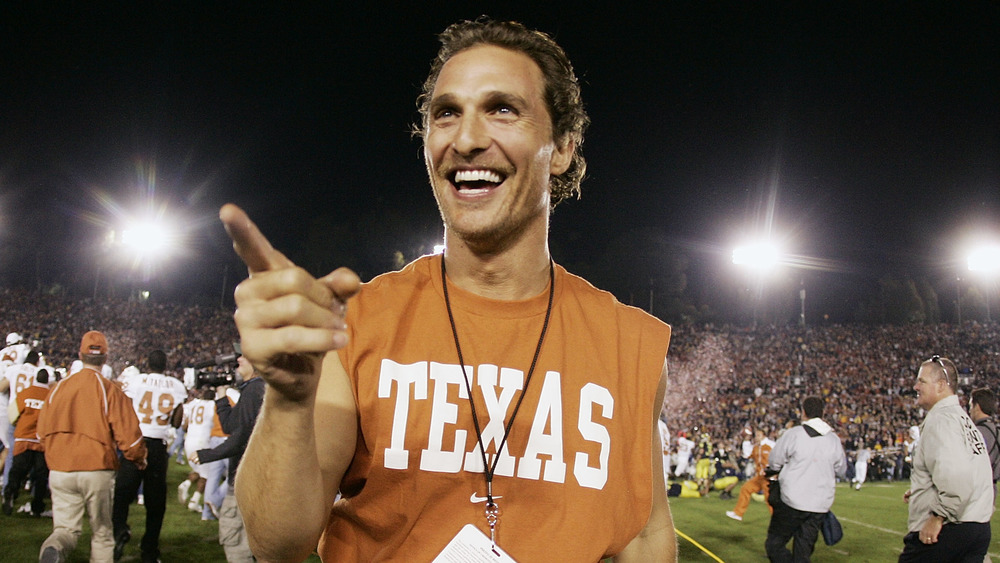 Donald Miralle/Getty Images
In a March 2021 interview on The Balanced Voice with host Rania Mankarious, Matthew McConaughey shared that he is toying around with the idea of running for office. Rather than starting off small as the mayor of a city or something along those lines, McConaughey has set his sights high. When asked about whether or not he would be interested in running for governor of Texas, the actor revealed that it was a "true consideration."
"I'm looking into now again, what is my leadership role?" the actor said. "Because I do think I have some things to teach and share, and what is my role? What's my category in my next chapter of life that I'm going into?"
McConaughey also touched on the role of running for governor during an interview on the Hugh Hewitt show in November 2020. "I don't know. I mean, that wouldn't be up to me. It would be up to the people more than it would me. I would say this," he said when asked if he would be interested in running. "Look, politics seems to be a broken business to me right now. And when politics redefines its purpose, I could be a hell of a lot more interested." 
It will be interesting to see if McConaughey sticks to his words because he would not be the first celebrity to run for office (cough, cough Arnold Schwarzenegger), and he probably would not be the last, either.