Gwen Stefani Addresses The Future Of No Doubt
Dimitrios Kambouris/Getty Images
Since bursting onto the music scene with punk/ska band No Doubt in the 1990s, Gwen Stefani has remained a high-profile star with still a successful singing career. On March 11, 2021, the three-time Grammy Award winner dropped a new single, "Slow Clap," and promoted the release by doing a radio interview with Zane Lowe for Apple Music, per People. Along with discussing her track, she also revealed if there are any plans for No Doubt to reunite at any point.
"You're about to release an album in a year, 2021, that's leading up to another year — God willing — 2022. And in 2022 you're reaching an anniversary or a milestone since the beginning of your musical career ... back in 1992 with your friends in No Doubt," said Lowe. "And if we have to put a pin in that for now and come back and discuss that, but man, surely that's got to cross your mind at some point. That's a big deal."
Stefani agreed with the radio host and admitted that No Doubt's upcoming 30th anniversary "is a pretty big deal," adding, "I'm reflecting so much on all the music. When you're writing new music, reflect on everything that you've done."
While many fans probably hope to see No Doubt back together on stage at least one more time, it seems there is nothing in the works, as of yet. "I have no idea what the future holds with that. You know what I mean? It's impossible," Stefani explained.
It's been nearly a decade since No Doubt last released music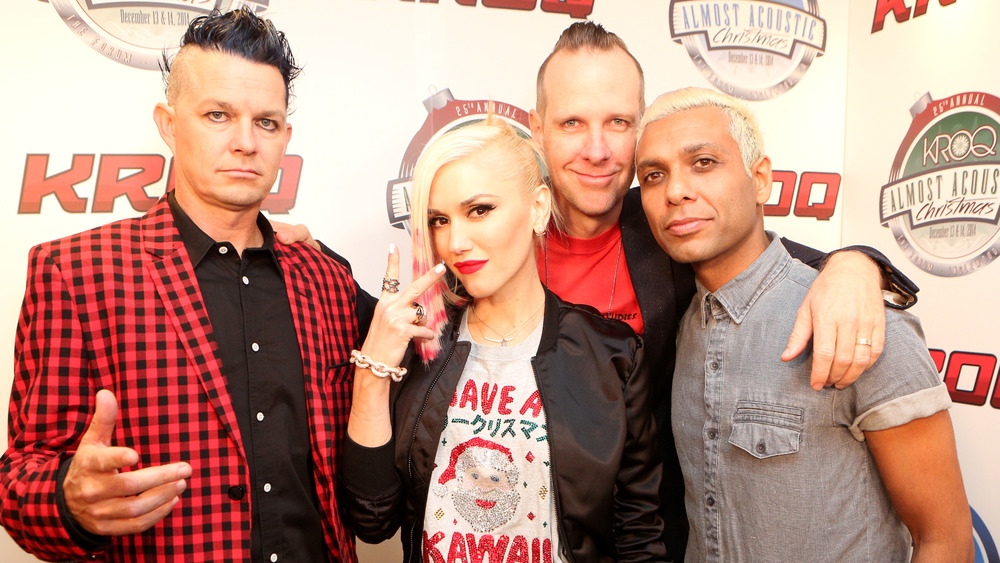 Gabriel Olsen/Getty Images
It's been a hot minute since Gwen Stefani and her No Doubt band members, Tony Kanal, Adrian Young, and Tom Dumont, did anything together. The last time the band released an album was in 2012 for Push and Shove. In a 2015 interview with POP Magazine, Stefani admitted making their comeback record was a struggle, per Beacon Street Online.
"I had been trying to do the No Doubt record and to be a parent in the way that I needed to be at that point when things you know, you go through different phases. At that particular time, it was tough for me as Gavin was on tour. I really needed to focus on my kids. It was just a lot! It made the record a really drawn our [sic] process which I think in some ways was frustrating for everyone," she explained. No Doubt had plans to follow-up Push and Shove with another album soon after. However, Stefani's pregnancy with her youngest son, Apollo, stopped another release from happening. "The record finally came out and it just didn't feel exactly how we wanted it to, so we went back into the studio to write, and then I got pregnant. Then I was like, now this is what I'm going to do!" Stefani continued.
In October 2020, No Doubt's iconic Tragic Kingdom album turned 25 years old. In a since-deleted Instagram post, Dumont stated that he would love to honor the anniversary with a tour but doesn't believe it'll happen, per Inquisitr.