The Huge Record Beyonce Just Broke With Her Win At The Grammy Awards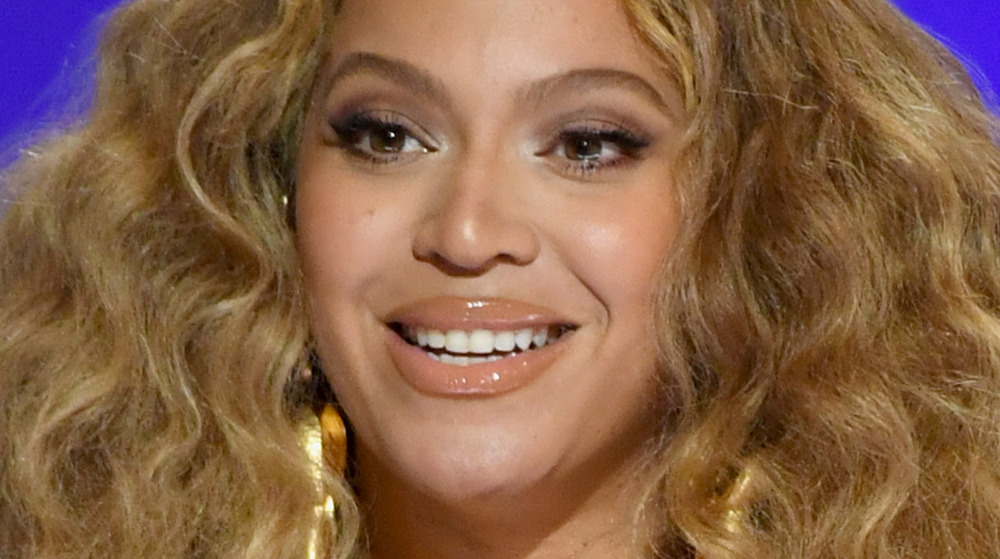 Kevin Winter/Getty Images
It seems like Beyoncé Knowles Carter may need to install a new award shelf in her home. The worldwide superstar took home four new Grammys at the 63rd Annual Grammy Awards on March 14, 2021, adding another victory to her already 24 wins since the start of her career.
Beyoncé's first-ever Grammy win came by way of her former group Destiny's Child. The all-girl group won Best R&B Performance by a Duo or Group with Vocal and Best R&B Song in 2001 for their single "Say My Name." Since then, Beyoncé added 26 more wins including Song of the Year in 2010 for "Single Ladies (Put A Ring On It)," Best Music Video in 2017 for "Formation," and Best Music Film in 2020 for "Homecoming." 
Of her 2021 wins, Beyoncé took home Best R&B Performance for "Black Parade," and Best Rap Performance and Best Rap Song with fellow Houstinite Megan Thee Stallion for their 2020 summer remix, "Savage." Queen B and her daughter Blue Ivy took home the Best Music Video award for "Brown Skin Girl" making the heir of the Carter fortune the second-youngest to win a Grammy of all time...but you know what they say, the apple doesn't fall far from the tree. Beyoncé's wins at the 2021 Grammys mark some history-making of her own.
Beyoncé broke an impressive Grammys record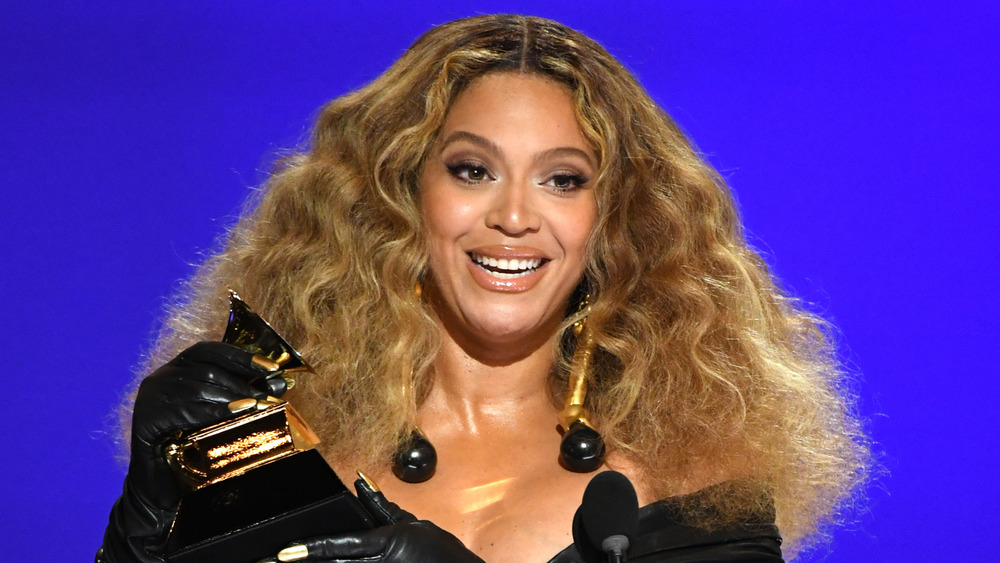 Kevin Winter/Getty Images
Thanks to her additional four Grammys won at the 63rd Annual Grammy Awards, Beyoncé Knowles Carter is now the most Grammy-winning female artist in all of Grammy history (cue "Run the World (Girls)." However, Queen B wouldn't be Beyoncé if she went home with just one historical win. The artist also has the most awards of any other performer alive, male or female, according to Rolling Stone.
With a total of 28 Grammys sitting somewhere in the Carter mansion, Beyoncé is well on her way to becoming the most Grammy-winning person alive or dead. That record is held by Georg Solti, a British conductor who died in 1997 after receiving his final Grammy, the Lifetime Achievement Award, Newsweek noted. Solti won a total of 31 Grammys. The music producer ties Beyoncé in overall Grammys with 28 awards.
"Oh my god. I am so honored. I am so excited. Thank you guys," said Beyoncé in her acceptance speech, per Elle. "As an artist, I believe it's my job and all of our jobs to reflect the times. It has been such a difficult time so I wanted to uplift, encourage, and celebrate all of the beautiful Black queens and kings that continue to inspire me and inspire the whole world. This is so overwhelming. I've been working for my whole life, since nine years old, and I can't believe this happened. This is such a magical night."
The Lemonade artist also congratulated her daughter Blue Ivy Carter on her big win. So cute!