The Internet Has Some Thoughts About Noah Cyrus' Wild Grammys Look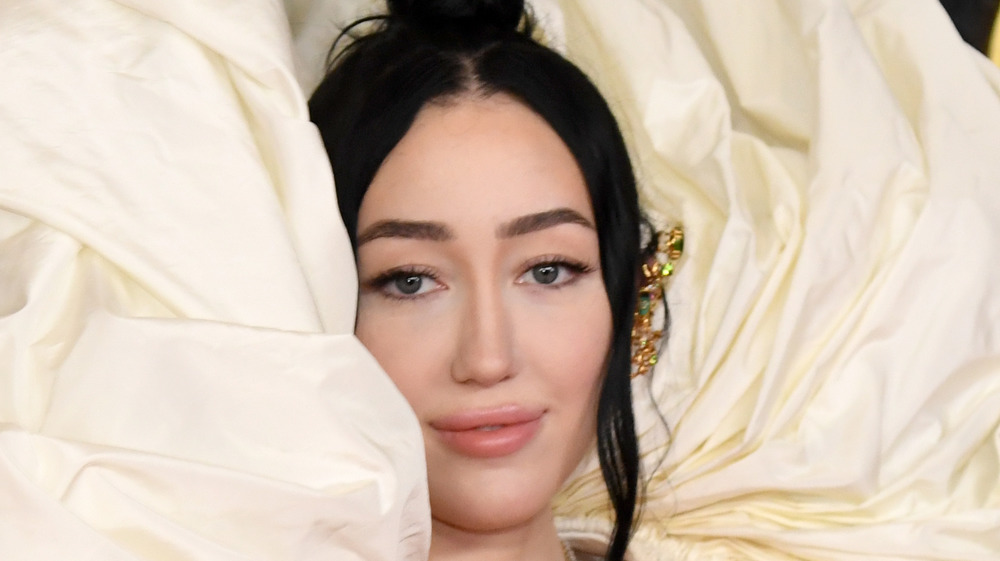 Kevin Mazur/Getty Images
Noah Cyrus was one of the many high-profile singers that attended the 2021 Grammy Awards on March 14. The young star was nominated for her first-ever award at the ceremony, Best New Artist, and had some tough competition. The "Make Me (Cry)" hitmaker may have lost out to rapper Megan Thee Stallion, but she still made an impact on viewers with her choice of fashion.
On the red carpet, Noah wore a white garment from Daniel Roseberry's Spring 2021 haute-couture collection for Schiaparelli, according to The Hollywood Reporter. The floor-length gown featured a plunging neckline and had a matching cape in silk taffeta. She teamed the look with chunky gold heels and accessorized herself with numerous rings, a couple of necklaces, earrings, and bracelets.
Just like her big sister Miley Cyrus, Noah is a fan of body art and showed off the many tattoos inked on her hands. She styled her dark hair up in a bun, but left the front down to frame her face. She rocked acrylic nails that matched her attire and looked like a goddess from head-to-toe. After admitting she was "obsessed" with the bold look during her red carpet interview, Noah quickly became a discussion point on social media.
Some people compared Noah Cyrus' attire to a bed sheet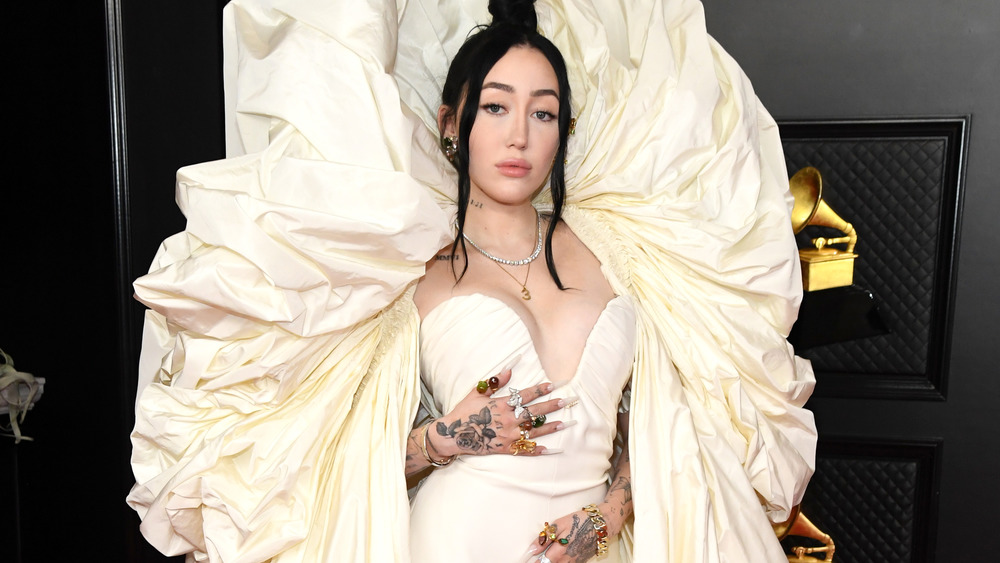 Kevin Mazur/Getty Images
As soon as Noah Cyrus' wild Grammys fashion statement hit the TV screens, people quickly took to social media to tell their followers what her attire reminded them of. Despite looking very elegant and angel-like, her look drew comparisons to a bed sheet.
"WTF IS NOAH CYRUS WEARING??? THIS B***H LOOK LIKE A FITTED BED SHEET," one user tweeted. "Best new artist nominee Noah Cyrus wearing Schiaparelli Couture... or a fitted bed sheet? #Grammys," another person shared. "Noah Cyrus's dress was cute but why did she attach a bed sheet to it?" remarked a third user.
During her red carpet interview with Giuliana Rancic on Live from E!: Grammy Awards, Noah expressed she felt "honored" to be wearing the gown. When getting ready for the prestigious event, she started to get emotional and even received a message from her superstar father, Billy Ray Cyrus. "My dad texted my mom, 'She looks like an angel,'" she said. "I was like, 'Thanks, dad.' Hi, dad, if you're watching."
Back in 1993, Billy Ray was also honored with a Best New Artist nomination and gave his daughter the advice "to take in every single moment, live in the moment," adding, "Just to eat it up is what he kept saying. Just live in that moment because it's gone in a flash. It's one night, especially the way we're doing it tonight, it's so different and everything. So like, this is just something that I really am just living every single second."