Megan Thee Stallion Just Made History At The Grammys. Here's How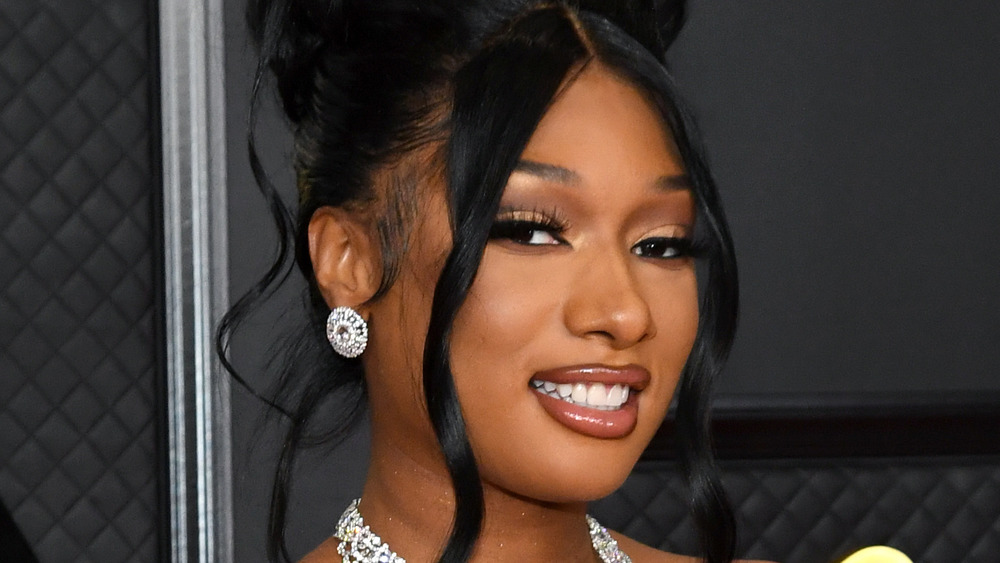 Kevin Mazur/Getty Images
Within the first 3 years of her mainstream career, Megan Thee Stallion has proved that she is here to stay. The Houston native's rise to fame was effortless, as she collected impressive features from big-name artists such as Beyoncé, Cardi B, and Nicki Minaj. Additionally, the rapper released her own impressive catalog of songs, such as "WAP," "Body," and "Hot Girl Summer."
One of Megan's songs, however, took her career to new heights. Her Beyoncé-assisted track, "Savage (Remix)," swiftly became a cultural phenomenon during the COVID-19 pandemic. "Savage" became Megan's first #1 single on the U.S. Billboard Hot 100 chart, and was nominated for three Grammys at the 63rd Annual Grammy Awards. Continuing the momentum from her career peak from 2020, the self-proclaimed Houston hottie snagged two Grammys in the Best Rap Performance and Best New Artist categories in March 2021, per USA Today. 
Megan's win not only marks a milestone in her rap career, but also a historical moment for the award show. Read on to find out how Megan Thee Stallion made history at the Grammys.
Megan Thee Stallion's Grammys win is monumental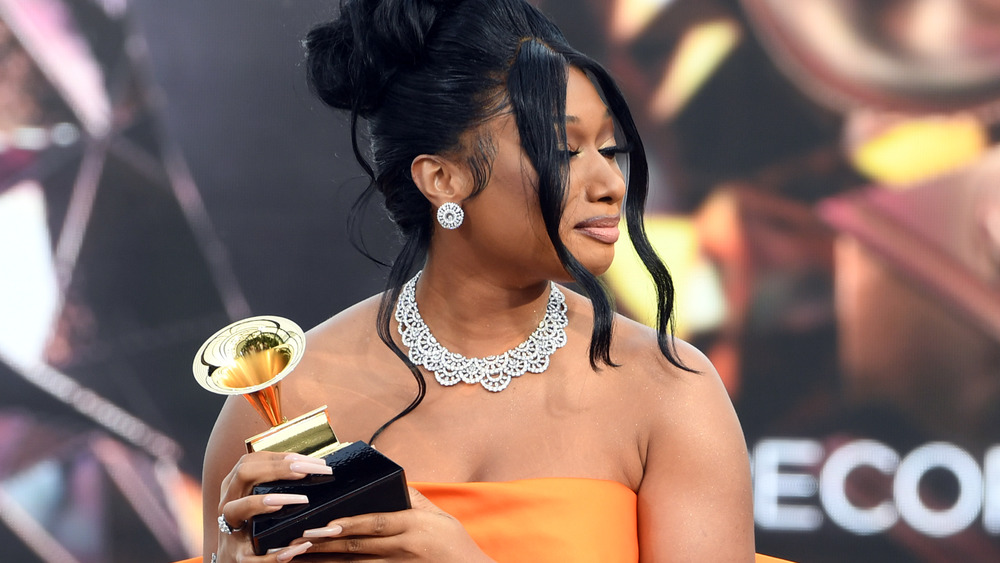 Kevin Winter/Getty Images
It's safe to say 2021 belongs to Megan Thee Stallion, and clearly, she's not ready to let up. As mentioned above, the "Big Ole Freak" crooner won her first two Grammys at the 63rd Annual Grammy Awards in March 2021. Following the news, the rapper took to social media to react to her win. As for her fans that she refers to as "hotties," she took the time to thank them for their support in a simple tweet: "Love you hotties [heart emoji]."
Although Megan's double Grammy win is already a pivotal moment in her career, her first two awards are also making history. Thanks to the success of "Savage (Remix)," Beyoncé and Megan have made history as the first female artists to ever win the Best Rap Performance category, per CNN. The good news doesn't stop there for Megan, pun intended. Additionally, Megan is the first female rapper of the century to win a Grammy for Best New Artist, according to the Los Angeles Times. The rapper's win comes 22 years after fellow rapper Lauryn Hill accepted the honor in 1999.
Upon receiving the honors, Megan gave tearful speeches, reminiscing about conversations with her late mother about her desires to win a Grammy. "I'm so excited. Sometimes I'm in disbelief," she said (via CNN). "I cannot believe I'm this girl from Houston who really made it. Me and my mom used to always talk about me being at the Grammys, and she'd tell me that I'm going to win a Grammy." We love to see it!