Lil Baby Sent A Bold Message With His Performance At The Grammys
Kevin Mazur/Getty Images
Lil Baby gave a powerful rendition of his song "The Bigger Picture" at the 63rd Grammy Awards, which fans on Twitter called "the performance of the night."
The rapper, who was born Dominique Jones, released "The Bigger Picture" in June 2020. Per Forbes, it quickly sent him to the top of the Billboard Artist 100 chart and became the most streamed protest song throughout a summer full of demonstrations. The music video shows Lil Baby participating in Black Lives Matter protests in his native Atlanta, following the killing of George Floyd.
"I'm definitely proud of it, 'cause it's like it's working in a good way for me and for my people," the rapper, who has been vocal about what the Black Lives Matter movement means to him, told NPR in 2020. "And it let me know that my mind state is not all the way wrong — the way I feel and the way I'm thinking."
Per Entertainment Tonight, Lil Baby's explosive performance began with a Black driver (played by actor Kendrick Sampson) being shot by white police officers, in a chilling reference to the death of Rayshard Brooks. The set was built to resemble a city rocked by protests, complete with riot shields, masked demonstrators, and Molotov cocktails being thrown.
Lil Baby was joined onstage by Killer Mike and activist Tamika Mallory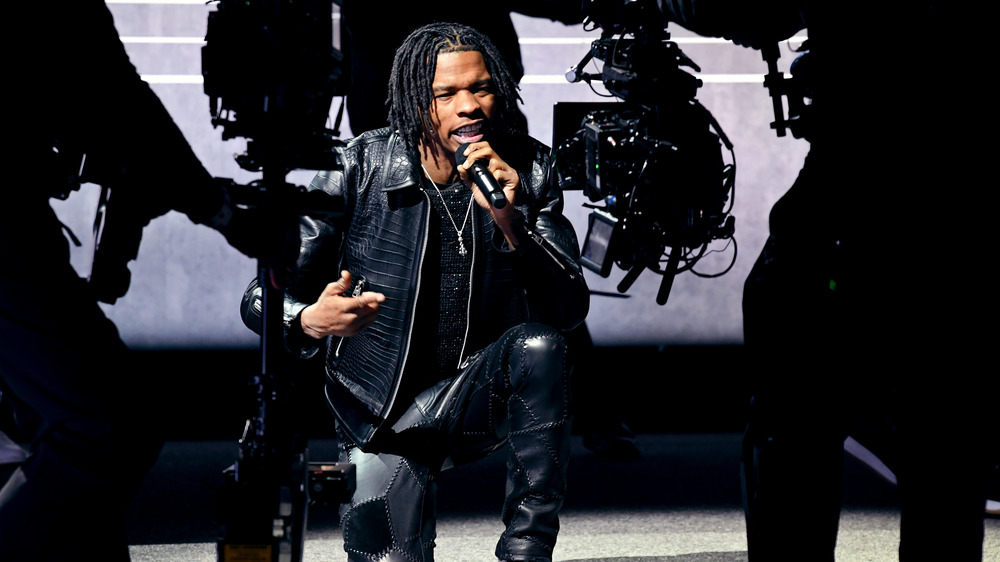 Kevin Winter/Getty Images
Sirens could be heard behind Lil Baby as he rapped about how there are "too many mothers grieving" and why he felt the need to speak up: "Every video I see on my conscience / I got power, now I gotta say somethin'," the musician explained. As The Hill reported, he also gave a platform to activist Tamika Mallory, a co-founder of the Women's March, who spoke in the middle of the performance.
"President Biden, we demand justice," she declared. "Equity, policy, and everything else that freedom encompasses. And to accomplish this, we don't need allies, we need accomplices. It's bigger than Black and white. This is not a trend, this is our plan: Until freedom! Until freedom! Until freedom!" Killer Mike also joined Lil Baby on stage for a verse, rapping part of the Run The Jewels song "Walking In The Snow," according to Pitchfork.
"My performance is important to me and I had to make sure it was right. Nominations aside, actually performing 'The Bigger Picture' means the most to me," Lil Baby told the press in a statement after his momentous Grammy Awards performance. "I paint pictures with my songs and wanted the performance to bring that picture to life."
"Just like with the song, this performance had to reflect the real. No sugar-coating," he continued. "My family, my fans, and my city know who I do this for."