The Real Meaning Behind BTS's 'Fire'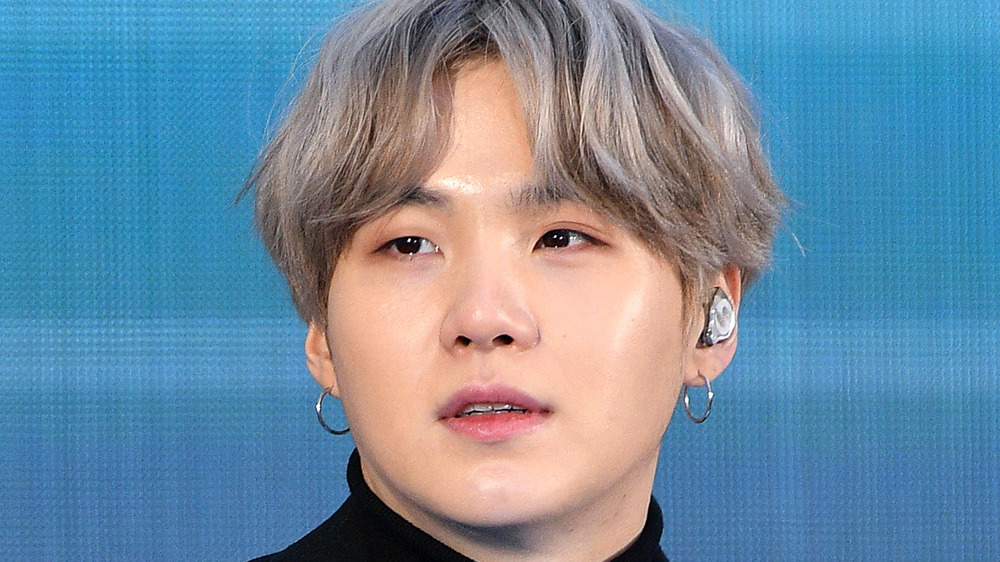 Dia Dipasupil/Getty Images
If you're a fan of K-Pop superstar group BTS — which includes members Suga, Jin, J-Hope, Jimin, Jungkook, RM, and V — then you've likely wondered about the meaning behind their popular songs while belting out tunes like their first single, "No More Dreams," as well as follow-up hits like "Dynamite" and "Spring Day." Of course, there's also the super-catchy "Fire."
Released back in 2016 "[a]s the lead single from The Most Beautiful Moment In Life: Young Forever album," according to Billboard, the outlet noted that the song "evoked the notched-up intensity of earlier singles like 'Dope' and 'No More Dream.'" While the official video for the tune was released in May of that year, a second purely dance-focused version came soon after and, in turn, Billboard added that the "explosive electro-pop banger is responsible for some of BTS's most painstaking choreography." It's true, their moves are fast, furious, and absolutely, well, on fire.
As for the sizzling song, Fuse pointed out that it lights fans up with its "aggressive combination of zipping synthesizers, trap percussion, and group chants." On top of that, the members of BTS "deliver some of their most impressive rap sections to date, with member J-Hope particularly shining in the track's opening verse." Clearly, BTS had a red-hot hit on their hands. But what exactly are they saying in "Fire" and what does the song really mean?
BTS wants you to 'burn it up'
Pop on "Fire" by BTS and you'll hear the group showing off their fine singing and rapping skills. However, since the song is in Korean, you might not be able to follow the meaning behind the lyrics unless you have a firm grasp of the language. For those of us who are not fluent, Genius offered up an English translation of the song.
The blazing tune starts off with Suga simply saying "burning up" before adding, "fire / fire / fire / fire." From there, he's joined by J-Hope, and together they tell listeners, "When I wake up in my room, I have nothing / After the sun sets, I sway as I walk / I'm completely drunk, drunk / I'm swearing on the streets / I've lost it, I'm like a crazy guy / Everything's a mess, livin' like beep."
While that offers a somewhat serious view of what's happening, Jungkook, Jimin, and Suga then lead into the chorus with this little piece of big advice: "Live however you want, it's your life anyway / Stop trying, it's okay to lose." And that's surely what you can take away from the song as they continue by telling everyone to "throw your hands up, scream, burn it up."