The Interview That Left Mike Tyson In Tears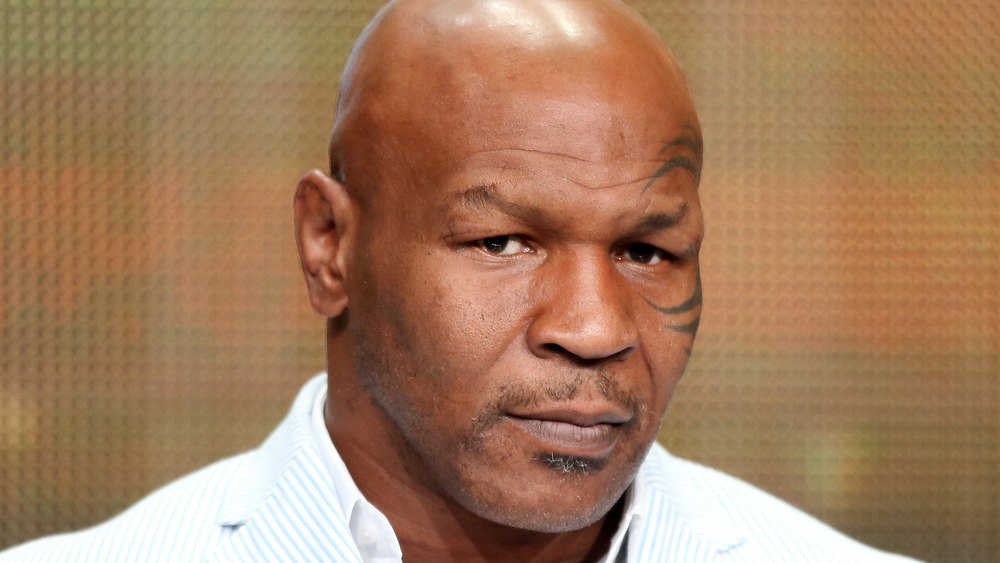 Frederick M. Brown/Getty Images
Did you know an interview once left Mike Tyson in tears? And no, it wasn't upon recalling how he punched Zach Galifianakis' character in The Hangover.
Boxing superstar Tyson is arguably one of the most famous and... complicated athletes in history. He first made his professional debut at the age of 18 in 1985. By 1986, he was crowned the youngest heavyweight champion in the history of boxing, and reigned as its undisputed champ until 1990. As ESPN wrote, "Tyson landed 56 percent of his power punches, which is 15 percentage points higher than the heavyweight average." Ouch, literally. Whether it be his professional statistics, his facial tattoo, or his infamous incidents in the ring (we won't bite—err talk your ear off about it), he's a tough cookie. But that was then, this is now — we guess?
These days, Mike Tyson has softened up and gotten more real and in-touch with his (perhaps) bottled-up emotions during his best years. The star certainly is not perfect, and his track record of domestic abuse towards ex-wife Robin Givens (via Complex) could tell you that. But he has gone on to give the world 100-percent of Mike Tyson. The star put on a one-man show, Undisputed Truth, per The Guardian, that made it to Broadway and has remained in the spotlight. The splashy boxer definitely still has reflecting to do, but he's not going anywhere, and he's sharing his feelings. 
For example, here's an instance where Mike Tyson actually broke down crying in an interview. 
Mike Tyson teared up over this friend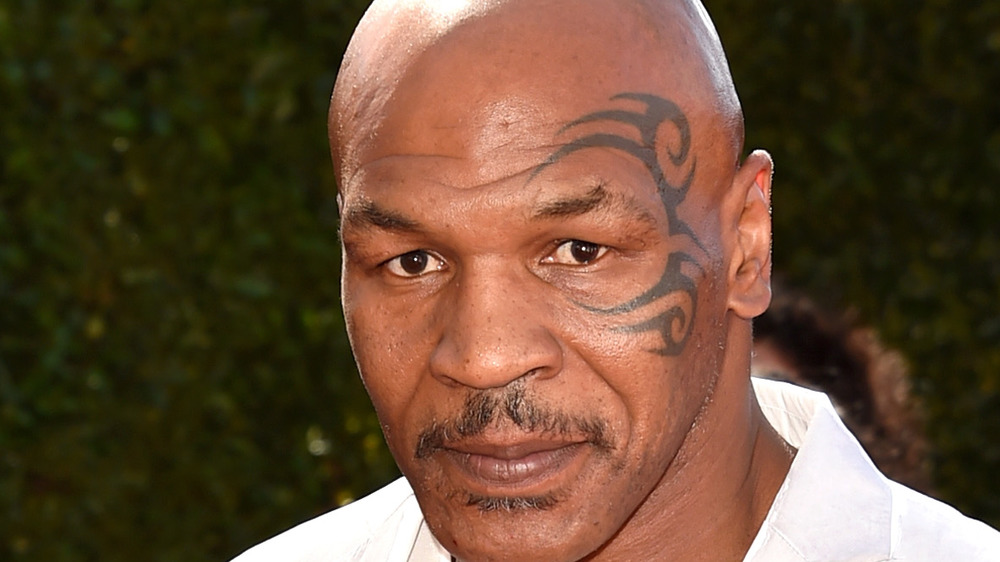 Jason Merritt/term/Getty Images
So, what interview led the tough Mike Tyson to break down in tears? The famously hard-boiled star has definitely let his guard down recently, specifically, on his podcast, Hotboxin' with Mike Tyson. 
During his chat with Sugar Ray Leonard in May 2020, Tyson teared up explaining what the boxing legend meant to him, and how he even watched Leonard's fights in juvenile detention. "I saw you fight Wilfred Benitez when I was locked up, what was that, in '79?" Tyson asked, holding back tears. "I can't even talk." After Leonard told Tyson that he cares for him, the former heavyweight champion interrupted him. "I saw you fight Duran, and it changed my life. I said, 'this is what I'm going to be,'" Tyson added. "You might not think you're nobody... but I love you," he added.
Later in his chat with Leonard, Tyson also discussed his general love of the sport. "I read about them all. I studied them all. I know the art of fighting, I know the art of war, that's all I ever studied. That's why I'm so feared, that's why they feared me when I was in the ring," he said. "I was an annihilator. It's all I was born for. Now those days are gone. It's empty. I'm nothing. I'm working on the art of humbleness. That's the reason why I'm crying, 'cause I'm not that person no more, and I miss him."
We see you, vulnerable Mike Tyson!