The Real Reason Donald Trump's Net Worth Keeps Shrinking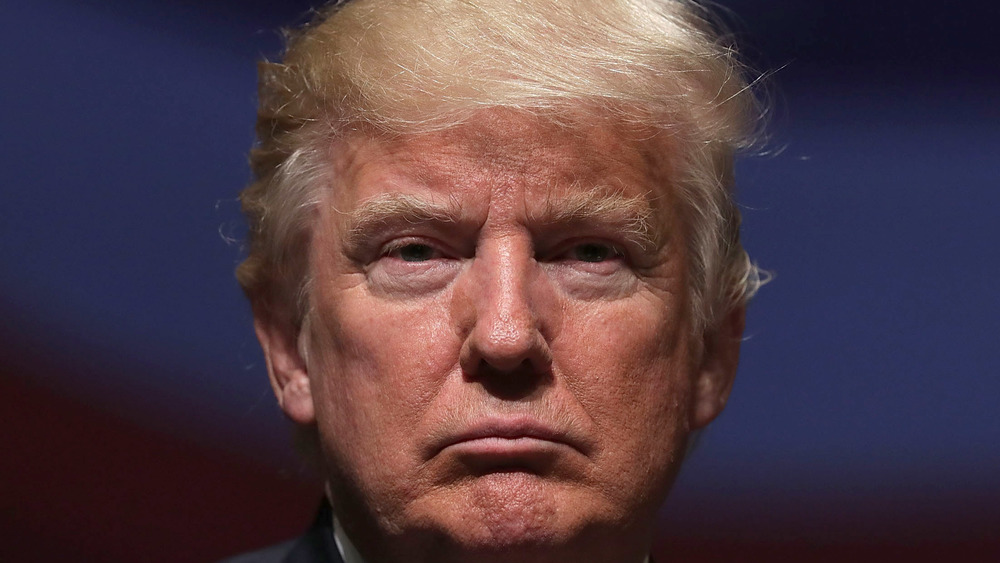 Alex Wong/Getty Images
Donald Trump's net worth is shrinking, "bigly." 
Former President Trump undoubtedly cares a lot about having buckets of money. According to CNN, former Trump lawyer Michael Cohen testified that Trump "inflated his total assets when it served his purposes," and one could argue one of those purposes was becoming president. On the 2016 campaign trail, the polarizing figure claimed he was worth $9 billion, per The Guardian. And he famously forwent the annual presidential salary of $400,000, per Celebrity Net Worth, when he got there.
Another purpose? Perhaps the "Forbes 400" list of the wealthiest Americans. "From the beginning, Trump was obsessed," a reporter told The Washington Post, adding, "Trump was desperate to scale it." And he did, for years, but now, he's hanging on by his fingernails. On Forbes' 2020 list, Trump dropped to 339th place, with the outlet reporting that The Donald's net worth had shrunken in the past four years from $3.7 billion... (still a far cry from what he claimed; Forbes quickly learned to "immediately divide it [Trump's claim] by three" for their list), to what it is now. 
Trump famously stepped away from his luxury real estate, golf, and hotel empire when he became president, enlisting those responsibilities in his sons, Eric Trump and Donald Trump Jr., per Bloomberg. But now that "daddy's back" (after losing the 2020 election), things aren't looking so golden for the golden-haired man. Here's Donald Trump's net worth today and why it's sinking.
Donald Trump's fortune is slipping fast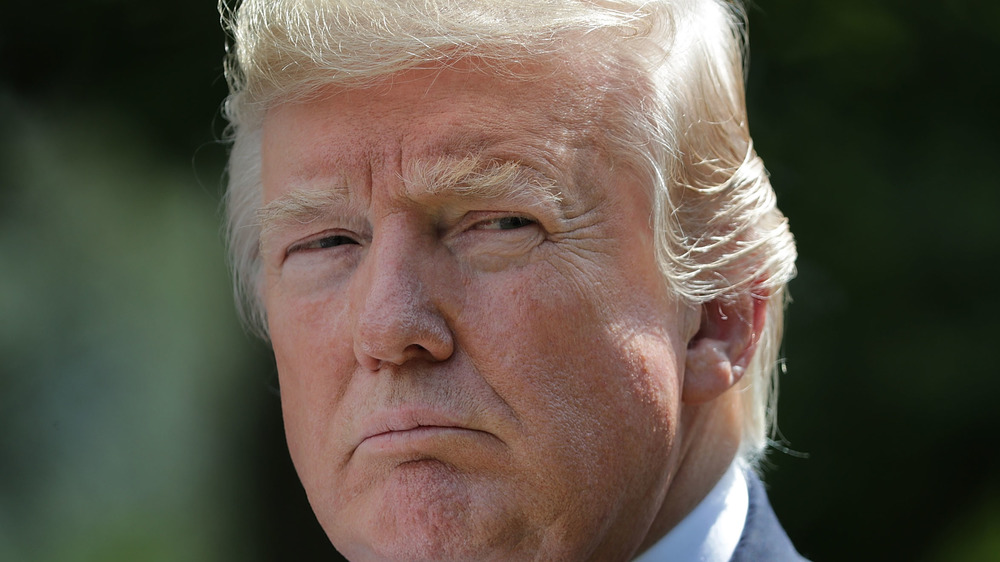 Chip Somodevilla/Getty Images
So what is Donald Trump's net worth today? According to Forbes, it's $2.5 billion, down a massive $1.2 billion from when he took the oath in 2016. Bloomberg estimated the number even lower, at $2.3 billion, down from $3 billion. For context, fellow New Yorker Michael Bloomberg is estimated at $55 billion; No. 14 on Forbes' list. So what happened? 
As Bloomberg reported, the pandemic "is walloping his company," and January 6 Capitol Riots, "wounding his brand." The riots, specifically, have hurt Trump's "relationships with brokers and lenders," with $590 million "in loans come due in the next four years" as well as buildings like Trump Plaza in Florida's West Palm Beach voting "to strip Trump's name." Ouch. 
More specifics? Trump's commercial real estate empire ("three-quarters of his net worth," per the outlet) has dropped 26 percent in value since 2016 to $1.7 billion. The value of his resorts and hotels has dropped 42 percent since 2015, and rents at Trump Tower in Manhattan have dropped 32 percent in two years. Then, there's the Trump brand. Per Bloomberg, income from his books dropped 87 percent since 2015, now bringing him a paltry $119,341 yearly. Quitting the Screen Actors Guild lost him another $80,000 annually. This, all as investigations into his withholdings continue. 
It may be a lot to parse, but if we know anything about Donald Trump, things could be even worse than advertised.