The Real Meaning Behind Justin Bieber's 'Die For You'
Jon Kopaloff/Getty Images
Justin Bieber released his sixth album Justice on March 19, 2021 — exactly one year, one month, and five days after Changes — featuring 17 new tracks and a whole bunch of fresh lyrics to decode. The singer opened about the new album with Vogue ahead of its release, revealing his this "objective in making this album was to provide comfort to the listener." 
"I know a lot of people have been isolated," Bieber continued, "but music is really an outlet to bring people together." Justice has a lot to offer, including a deeper look at his love with wife Hailey Baldwin, as well as his rumored feelings for his ex, Selena Gomez, on the track "Ghost," per HollywoodLife. But, overall, JB said the album isn't only about "lovey-dovey stuff;" there's also the song "As I Am," which reflects on "his own mental health," according to Vogue, and another titled "Unstable," about the "really, really bad place" he was in a year ago and how Baldwin was there for him "through it all."
Another track on the album is "Die for Me — and although on the surface, the lyrics might sound like it's about a woman he'd die for, Bieber revealed it actually means more than that. Keep scrolling to find out the real meaning behind the song about standing up for what you love.
Justin Bieber's 'Die for You' was inspired by a civil rights icon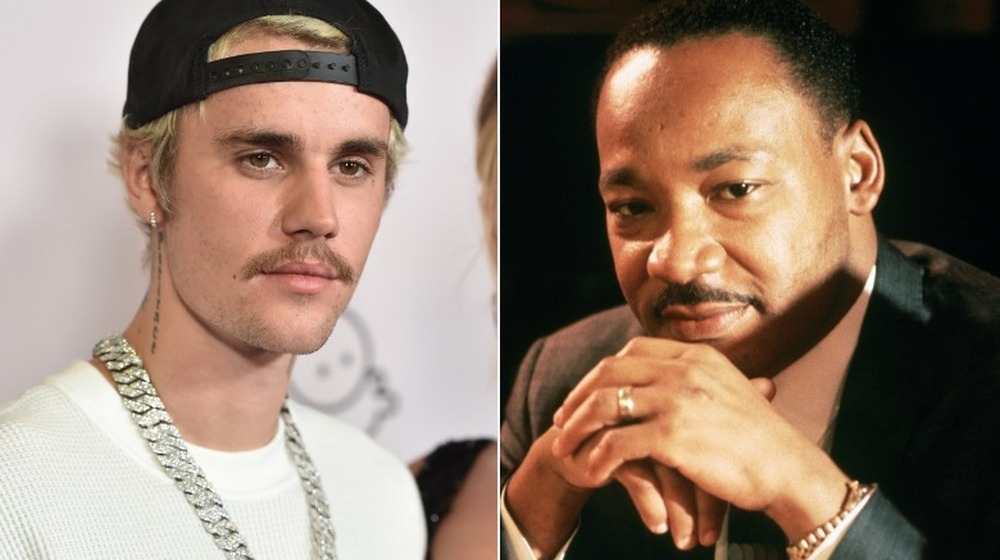 Alberto E. Rodriguez, Martin Mills/Getty Images
Justin Bieber's new song "Die for You," features lovey lyrics like: "I would walk through burning fire/Even if your kiss could kill me/You know I would die for you/Yeah, I would die for you." It turns out, however, that Hailey Baldwin might not have been his only inspiration. During his interview with Vogue, the singer said Dr. Martin Luther King Jr.'s quote "If you have never found something so dear and so precious to you that you will die for it, then you aren't fit to live," which comes from a speech he delivered in Atlanta on November 5, 1967, inspired him to "amplify" the late activist's voice "to this generation." 
"Being Canadian, it wasn't so much a part of my culture," Bieber explained. "This speech was actually during the time when [he had] a feeling that he was going to die for the cause, and what he was standing up against was ultimately racism and division. I think his message was that a lot of people can be afraid to stand up for what is right, but if you're not standing up for justice — for what is right — what are you doing with your life?" The 27-year-old star added, "I'm sorry to get so deep, but these are the times we're living in. That's why I wanted to make this album, because I think it's very timely and very necessary."