What Miss Honey From Matilda Looks Like Now
What '90s kid didn't want a teacher like Miss Honey from all-time classic film Matilda? She was extremely kind and never yelled. She gave Matilda books, and then saved her from her terrible family. In fact, Miss Honey is the only trustworthy adult in Matilda Wormwood's whole life, and we all loved her for it. If you felt an emotional connection to the affable teacher (and what millennial didn't?), you may not have noticed that the actress who plays her has been in lots of other movies and TV shows you've probably seen.
However, you've probably always associated Miss Honey's name with her hair which was, quite appropriately, the color of honey. Perhaps this is why it was hard to recognize her in other things. Embeth Davidtz, the actress who plays Miss Honey, is usually dark-haired. And she definitely doesn't always play sweet-tempered school teachers. Keep scrolling for a giant WTF moment.
You've definitely seen her before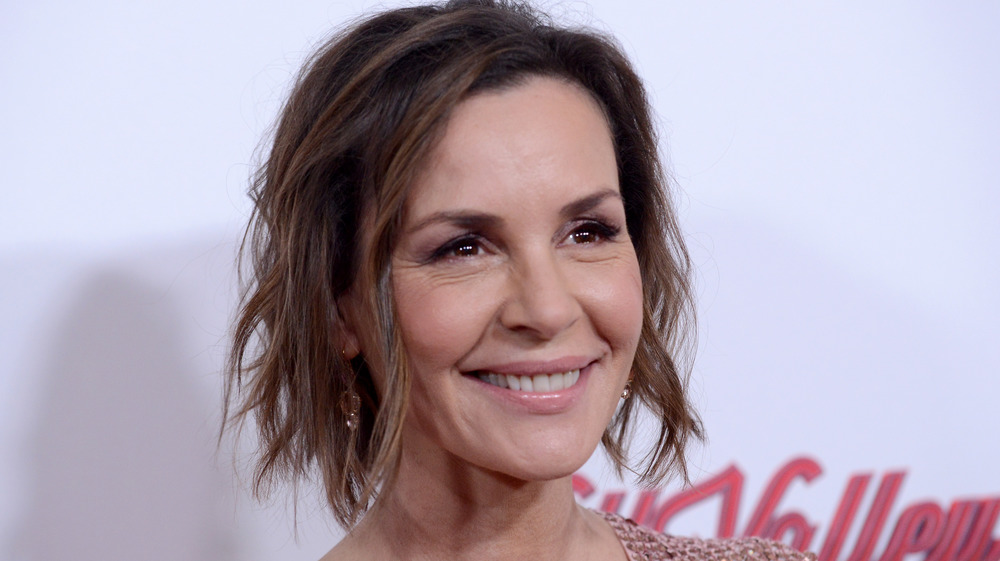 Albert L. Ortega/Getty Images
If you're surprised to learn that Miss Honey was actually in several high-profile projects that you have definitely seen before (like Schindler's List, for example), know that you're not alone. Embeth Davidtz also played Mary Crawford in Mansfield Park, Portia in Bicentennial Man, and Natasha in Bridget Jones' Diary. We know! You may have seen Davidtz more recently in shows like The Morning Show as Paige, Grey's Anatomy as Derek's sister Nancy Shepard, or Ray Donovan as Sonia Kovitzky.
You probably wouldn't recognize Miss Honey in Davidtz's Instagram photos either, where the actress usually posts selfies, vacation snaps, and photos of her kids. But she did post one cute nod to the beloved movie: a picture of her daughter Charlotte imitating the classic, meme-able image of Miss Honey lowering her glasses in shock, with the original below for comparison. "Look at the little apple that fell not too far from the tree! Charlotte made this little side by side comparison and it makes me happy," Davidtz wrote.