The Normal Job Suga Had Before He Joined BTS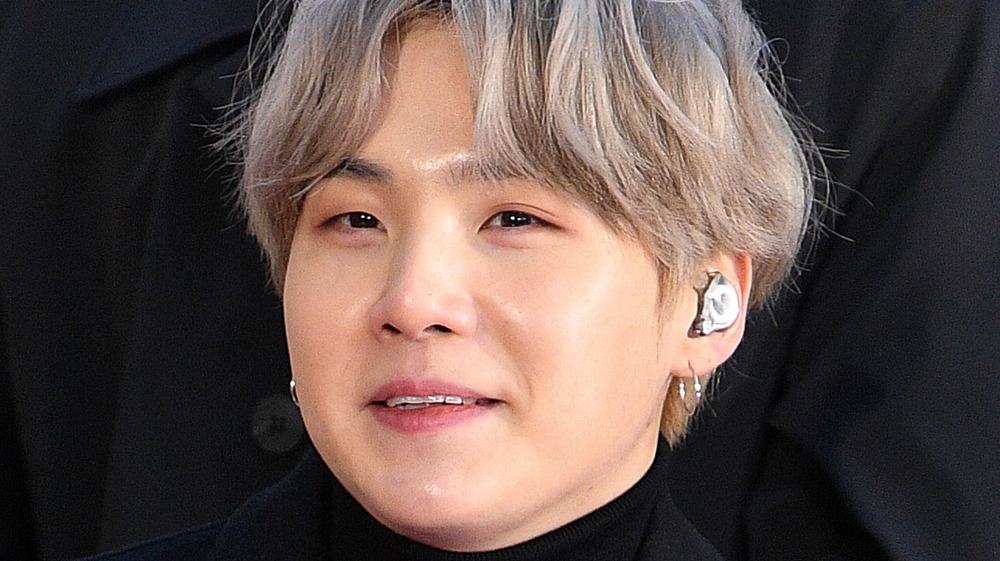 Dia Dipasupil/Getty Images
The members of K-pop's musical sensation BTS are nearly as well-known as individuals as they are as a group. Their fans, BTS ARMY, rally around them and love them separately as well as together. Fans also know that the members all actively pursued careers in music or the arts before they joined BTS. Favorite member Suga is no exception, working as a rapper and producer before becoming a pop idol. But while he was always involved in music, Suga did have a short stint in a non-music-related job before BTS took off.
Min Yoon-gi, aka Suga, knew early on that he wanted to create music. He studied formal composition in hopes of attending an arts high school and joined Big Hit Entertainment thinking he would primarily be a producer and composer. He jokes that the agency "tricked him" into joining BTS, because "someone here told me a blatant lie!" According to Koreaboo, Suga called out Big Hit producer Bang Si Hyuk because, "He told me I'd be in a group like 1TYM. He said I wouldn't have to dance, only groove a little." Of course, Suga's primary work with BTS is as a rapper and a dancer, doing "some of the hardest choreography done at music shows."
Despite his start composing and arranging for a music studio when he was only 17 years old, Suga still had at least one non-arts related job — from which he sustained a long-term injury. Keep reading to find out what happened.
BTS's Suga seriously injured his shoulder while working a regular job
Suga focused on his chosen career from a young age, doing composition, lyric-writing, and arranging for a music studio while in high school (per Koreaboo). He was also a rapper and producer in the Daegu, Korea, underground rap scene, under the name Gloss (according to Koreaboo). When he entered a Big Hit Entertainment competition, he won second place, and they hired him as a producer and trainee.
But music doesn't always pay the bills when you're just starting, so Suga needed additional income. Per SBS, Suga worked as a delivery boy during training, but when a car accident resulted in a dislocated shoulder, Suga didn't tell Big Hit because trainees weren't supposed to have outside jobs. Suga describes the accident in more detail in the group's behind-the-scenes documentary, Burn the Stage, on YouTube: "I was delivering riding the bike when I got hit at the intersection," Suga tells his bandmates. "I open my eyes, and I see the wheel here, right in front of my eyes. ... I got drawn under the car."
Suga raps about the terrifying accident in his emotionally raw solo song "The Last," but it's not clear in the song how it happened. It's also lucky, perhaps, that the injury wasn't more serious. Of course, Big Hit was supportive when they found out about it, and Korea Herald reported that Suga had surgery on his shoulder to fix a torn labrum in November 2020.