Whatever Happened To Pauly D's Stalker?
Adam Bettcher/Getty Images
Since their 2009 debut, the cast of MTV's Jersey Shore have fist-pumped their way into our hearts. Within the show's six seasons, the cast of Jersey Shore has given viewers tons of memorable moments and quotes that still appear on our social media timelines almost a decade later. Whether it be Mike "The Situation" Sorrentino giving himself a concussion or the countless amount of times we've heard Samantha "Sammi" Giancola call Ronnie Ortiz-Magro's name, the cast of the MTV show always left us thoroughly entertained.
Of Jersey Shore's most shocking moments, the one we can't seem to forget is Paul "DJ Pauly D" DelVecchio Jr.'s several stalkers. Throughout the show, Pauly D encountered several "Stage 5 Clingers," including a woman named Vanessa Sky Ellis. Vanessa made her debut in season 5 of Jersey Shore, following the cast around town regularly. Although it was already creepy that she was following the cast around, it seemed that she took a liking to Pauly D, considering she would always wear something in tribute to him. Read on to find out where Vanessa is today.
Pauly D's stalker is still his #1 fan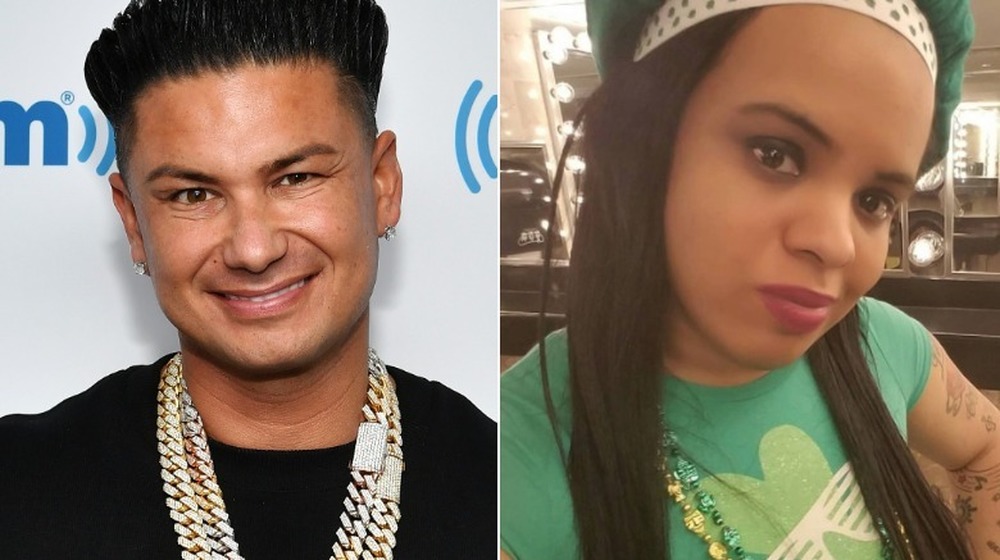 Slaven Vlasic/Getty Images, Vanessa Sky Ellis/Instagram
Many Jersey Shore viewers may remember Pauly D's stalker Vanessa Sky Ellis for her frequent (and eyebrow-raising) expression of her love for him. Although Pauly D and Vanessa's interactions seemed very awkward, it didn't stop the latter from making her presence known at every spot the cast visited.
Believe it or not, Pauly D isn't the only celeb Vanessa keeps tabs on. In 2013, she was featured on TLC's Celebrity Stalking show, where she proudly revealed that she is a celebrity spotter. "I'll go after whoever, whenever," Vanessa explained on the show. "Celebrity spotting is the most important thing to me. It's more important than having a boyfriend, than going to work, than doing anything."
As for Vanessa's love for Pauly D, nothing has changed. In September 2020, Vanessa shared a Tik Tok video of her taking a trip to visit the former Jersey Shore home, donning an "I heart Pauly D" shirt and mask. Per Showbiz Cheat Sheet, Vanessa sells masks of celebs' faces and continues to follow celebs today. Vanessa's love for celebrities such as Pauly D remains strong, and now she's turned her hobby into a profit. Impressive!