The Truth About Pauly D's Relationship With His Daughter Amabella
Jersey Shore star DJ Pauly D may be a fixture on our TVs thanks to his many projects, including A Double Shot at Love With DJ Pauly D and Vinny and Revenge Prank, but we seldom see the reality star with his little girl, Amabella Sophia Markert. The father welcomed his daughter with Amanda Markert after a one-night stand in 2013. "I'm proud I'm a father," he told TMZ at the time. Although Amabella was quite the surprise, he said he was "excited to embark on this new part of my life."
We have been able to keep up with Amabella thanks to her mom's Instagram page, where she often gushes over her daughter. While the DJ tries to keep his social media platforms professional, it has left fans clueless that he actually has a daughter. Thankfully, he cleared the air during an interview with In Touch Weekly, and explained that the two share a special relationship. "She's like me, she's a little prank war champion," he boasted to the outlet. Keep scrolling for more details about Pauly's bond with his baby girl.
Amabella definitely has Pauly D's funnybone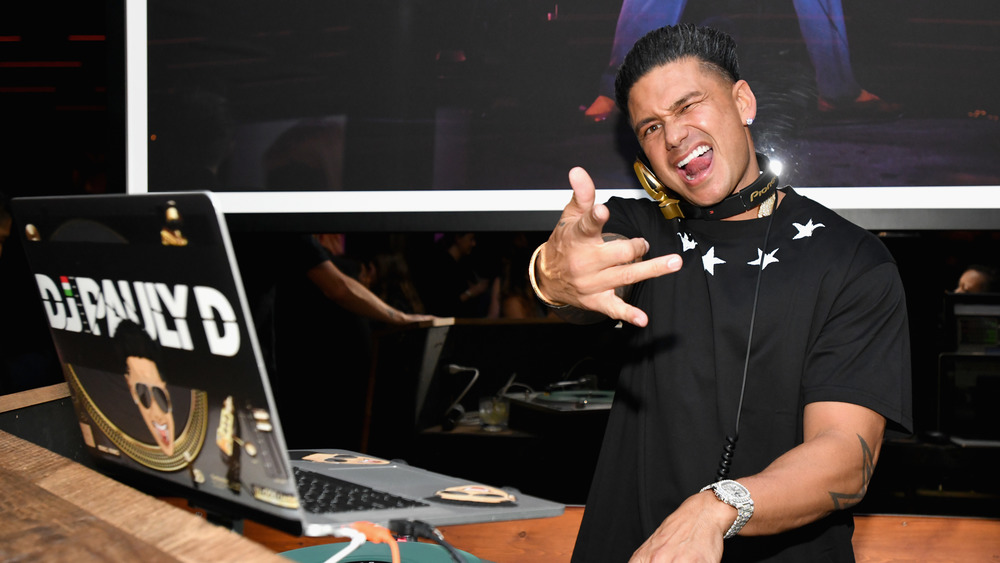 Earl Gibson Iii/Getty Images
It seems like Amabella takes after her father when it comes to her sense of humor. "She makes me laugh," DJ Pauly D told In Touch. "She hides everyone's phones. She hides everyone's things. You know, she's funny," he said, explaining her skills as a "prank war champion." Additionally, she enjoys a good megaphone just like her daddy. "She runs around yelling like I do," he revealed. "She's so loud ... am I that loud?" 
In addition to their similar personalities, he said the two both enjoy playing video games, but he's had his fair share of "parenting fails" when she gets into his games that are a little inappropriate for an impressionable young lady. "I have this arcade upstairs. It's sorta kid-friendly — [I have] basketball and air hockey — but instead of wanting to play that, she wants to play Mortal Kombat," he shared. "So I have a 7-year-old girl upstairs playing Mortal Kombat. I'm like, 'This is not good.'"
While there is nothing Pauly loves more than spending time with Amabella, he said the coronavirus pandemic has unfortunately kept them apart. "It's really difficult to see her, but thank God for technology and the FaceTimes," he explained. "She's able to do school at home, and I can [do] school with her online, too. So thank God for technology is all I'm going to say. Yeah. And wifi." Despite the hardships children today are facing, Pauly said his baby is "doing good."