Pauly D's Net Worth: How Much Is The Jersey Shore Star Really Worth?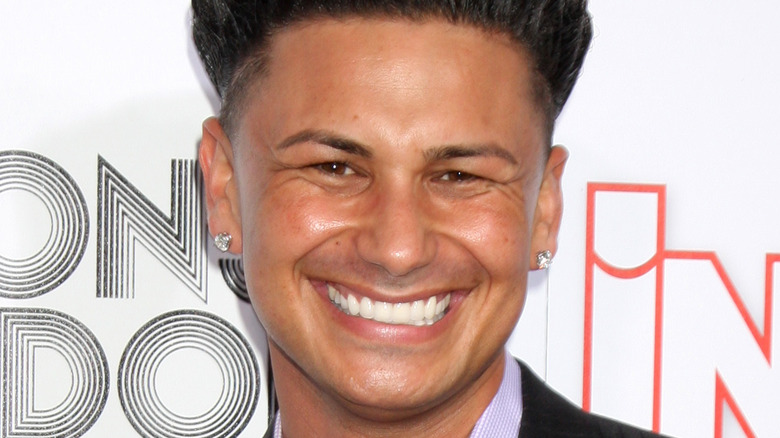 Shutterstock
Paul "DJ Pauly D" DelVecchio is easily one of the most well-liked "Jersey Shore" cast members. With his million-watt smile and ripped abs, Pauly D brought the "gym" to "GTL." He also brought the levity, particularly due to the melodramatic story arcs like the infamous relationship between fellow cast members Sammi "Sweetheart" Giancola and Ronnie Ortiz-Magro.
Pauly D began practicing his professional aspiration early, he once told Complex. "I wanted to be a successful DJ since I was 14 years old," Pauly D recalled, initially practicing at home in Rhode Island on cheap DJ equipment and DJing friends' birthday parties. He soon began working the local nightclub circuit. "Everyone ... always wants to break out of their state and become a famous DJ, but it's very hard. I was constantly, constantly promoting," Pauly D told PR.com in 2011. 
Still a local DJ when "Jersey Shore" producers discovered him in 2008 off his MySpace page, Pauly D says he "never really auditioned," with producers immediately digging his on-brand photos DJing and flaunting his six-pack, per Complex. As Pauly D told Complex, producers described him as "the real deal." Pauly D said of his authenticity, "I was all tan, I had gel in my hair ... That was just me being me." 
Since his massive "Jersey Shore" success, Pauly D's other career highlights have included two solo spin-off shows and a gig opening for Britney Spears on tour. Let's see how much this ambitious star is worth in 2021.   
Pauly D is the highest-paid 'Jersey Shore' cast member
Adam Bettcher/Getty Images
The highest-paid "Jersey Shore" cast member, DJ Pauly D is valued at $20 million by Celebrity Net Worth. Besides his $150,000-per-episode paycheck he earned by the show's last season, Pauly D was also booking $40,000-$60,000 every DJ gig as of 2021, ScreenRant reported. Additionally, he scored two spin-off shows, "Double Shot at Love with DJ Pauly D & Vinny" and "The Pauly D Project." Asked by PR.com how his explosive success has changed his life, Pauly D wisely mused on fame, "Everybody thinks that it completely changes you [but] I think it changes everybody around you."
In 2011, the DJ signed a three-album deal with 50 Cent's G-Unit Records, per Billboard. Arguably, the pinnacle of Pauly D's career was opening for Britney Spears' 2011 Femme Fatale Tour — particularly, one night when she unforgettably wrapped her legs around his neck on stage. "I never thought Britney Spears would even know I existed, let alone to give me a lap dance on stage in front of 20,000 people," Pauly D gushed to the outlet. 
In 2018, Pauly D opened up to People about his Vegas home, revealing the mansion boasts "a basketball court, a gym, tanning beds, laundry, an arcade, [a garage for] my cars and bikes and mini golf."
Part of Pauly D's success as a DJ comes from his sharp understanding of his craft. As he told Dancing Astronaut, "I'm the guy responsible for making these people have a good time."