Mariah Carey Speaks Out On NYE Disaster, Fires Creative Director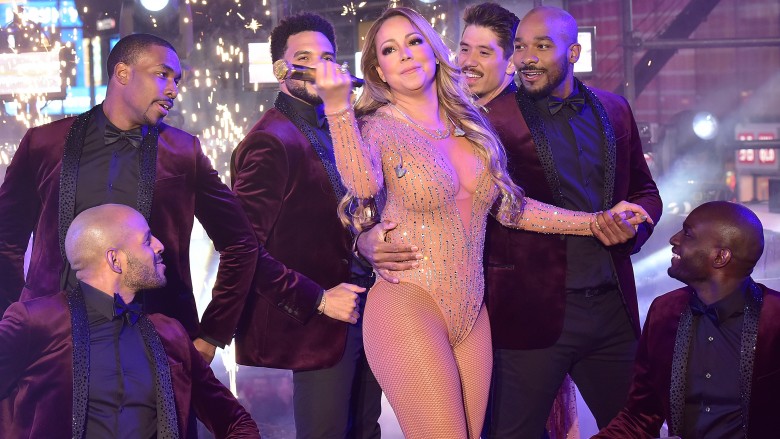 Getty Images
Songstress Mariah Carey is finally opening up about her disastrous performance on New Year's Rockin' Eve.
Carey, 46, had an extraordinarily bad time on the show. She was scheduled to perform just before the ball dropped at midnight to ring in 2017 but claimed technical issues hindered her from hearing herself or the backing tracks. Carey proceeded to strut around the stage making caustic comments, including, "Well, Happy New Year. We can't hear, but I'll just go through the motions...I'm trying to be a good sport here...We didn't have a check for this song...we're missing some of the vocals, but it is what it is...I'm just going to let the audience sing."
Since the incident, there has been a bitter back and forth between Carey's camp and Dick Clark Productions over who was at fault for the debacle. Carey's manager, Stella Bulochnikov, accused the producers of sabotaging the songbird. In an email obtained by Page Six, Bulochnikov told producers, "You know her inner ears were NOT working and your entire production team did not set her up to win. AND MARIAH KEPT TELLING THEM [something was wrong] ON STAGE IN REAL TIME. THEY KEPT IGNORING HER. SHE TOOK A HIT HONORING HER COMMITMENT TO YOU. I SHOULD HAVE PULLED HER OFF THE STAGE THIS IS SABOTAGE."
In response, Dick Clark Productions released a statement (via E! News) saying, "As the premier producer of live television events for nearly 50 years, we pride ourselves on our reputation and long-standing relationships with artists. To suggest that DCP, as producer of music shows including the American Music Awards, Billboard Music Awards, New Year's Rockin' Eve and Academy of Country Music Awards, would ever intentionally compromise the success of any artist is defamatory, outrageous and frankly absurd."
Bulochnikov then backed down slightly, telling Page Six that producers should have cut to a commercial and not broadcast the performance on the West Coast feed, adding, "Once things went wrong, they took the decision to keep rolling and make her look like a train wreck for the ratings. They owe her a public apology."
Other than a dismissive tweet that said, "S**t happens," Carey has been quiet about the incident, until recently. "All I can say is Dick Clark was an incredible person and I was lucky enough to work with him when I first started in the music business," Carey told Entertainment Weekly. "I'm of the opinion that Dick Clark would not have let an artist go through that and he would have been as mortified as I was in real time." She added, "It's not going to stop me from doing a live event in the future. But it will make me less trusting of using anyone outside of my own team."
Not everyone is buying Carey's story. Insiders told Page Six the mishap was her fault. One source said, "It was totally [Carey's] screw-up...Her assistant came out for the sound check, not her...All her dancers were in step. Everybody else onstage heard the track. Even without [the earpiece] there were eight speakers onstage. It was not the sound people." The insider added, "She was like a lost puppy...She wasn't even standing where she was supposed to...There was no [production] reason she couldn't do it." The source also said Carey skipped out on a private after-party performance at Planet Hollywood. A second source claims, "The sound check was about 20 minutes. A stand-in did the whole routine with the mic. Mariah was on the side of the stage, and at the very end—no more than four seconds—she goes up and goes, 'La-da-dee-da...Everything sounds great. Love you, New York,' and left."
Carey's rep denied those claims.
One casualty of the disaster is Carey's longtime creative director and choreographer, Anthony Burrell, who reportedly moved her backup singers offstage to make room for dancers—which in turn hindered her ability to hear her vocal cues. "He's not being brought back [in 2017] for a number of reasons," a source close to Carey told Entertainment Tonight, who added that the move left Carey "with no support" onstage.
Aside from her own team, the chanteuse has one particularly staunch defender in the form of Marie Osmond. The "Paper Roses" singer told Access Hollywood Live, "I think people enjoy seeing people have problems, which is kind of sad, but it's kind of where we are. First of all, high-five to her for not walking offstage. When you can't hear, you can't hear. I don't care what you think. People think you can hear. You don't know what to sing to. You don't know what pitch to sing in, and they go, 'You know, it was lip-synched.'" She added, "Just so you know, most of those big shows are [lip-synched] because they don't want a mishap, and they want to make sure that everything is right. Do you know what I'm saying?...And so she was in a really bad predicament. I think she gave it her best shot, and she's gotten a lot of publicity from it, so, awesome."