Donald Trump Makes A Sharp Statement About Joe Biden And Kamala Harris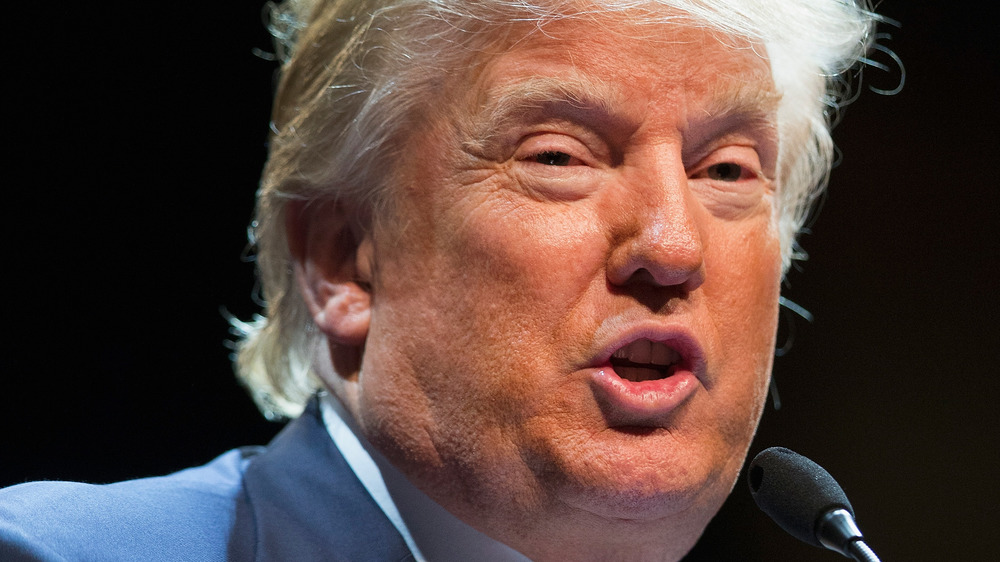 Scott Olson/Getty Images
One of former President Donald Trump's tactics during his 2020 presidential run was to create a concerning narrative around President Joe Biden's competence. Trump often called Biden "Sleepy Joe," continuously throwing around claims about the future president's decision-making capabilities. 
Trump continued to take aim at Biden's cognitive skills during his presidency, saying in February 2021 alleging he is "mentally gone," a jab that came after Biden made a head-turning statement about the coronavirus vaccine not being available when he came into office in January 2021. "It was already in early November when we announced it [the vaccine], but we actually had it substantially before that. We were giving millions of shots and millions of doses," Trump stated to Greg Kelly Reports, according to Newsweek. "So he's either not telling a truth, or he's mentally gone, one or the other."
Now, the Mar-a-Lago resident has another unfounded accusation about Biden's mental well-being. Keep reading to learn the pointed statement Donald Trump made about Joe Biden and Kamala Harris.
Donald Trump supported a widespread conspiracy theory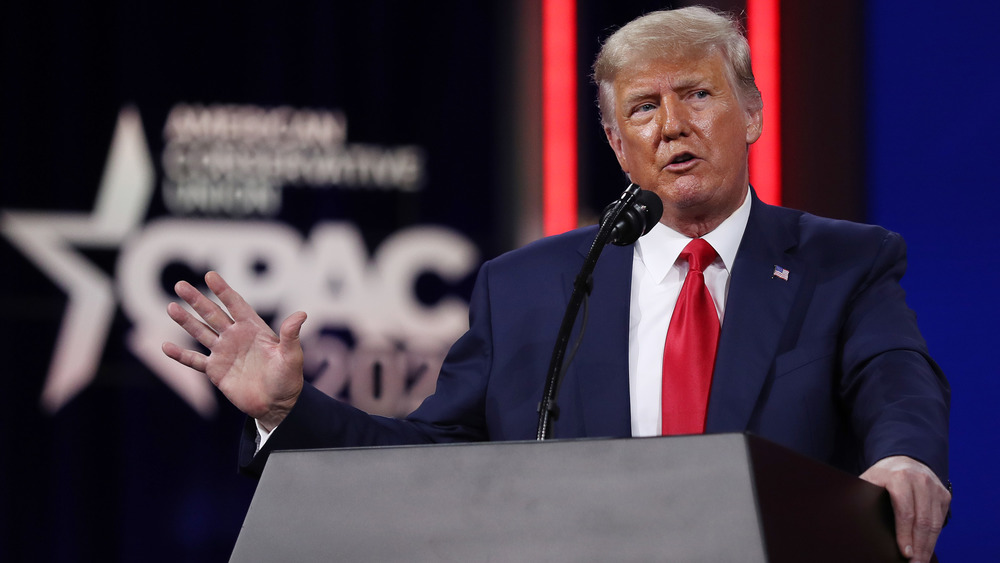 Joe Raedle/Getty Images
Amid the debate surrounding Joe Biden's mental capabilities during the 2020 presidential election, many people turned to a conspiracy theory that Biden was only running as a front for Kamala Harris and that she'll replace him during his first term. Now, Trump is saying he sees it happening. Following Biden's fall walking up the stairs of Air Force One on March 19, 2021, Trump told NewsMax TV's Greg Kelly that he "expected" the fall.
Trump then debated the possibility of invoking the 25th Amendment for Biden. (The 25th Amendment says that if the president becomes unable to do his job, the vice president takes their place.) "There's something going on, it's crazy," Trump began. "What's happening is crazy and you wonder whether or not all of the things that he's signing, whether or not he understands what he's signing, because this is worse than Bernie Sanders at its worst point. We never thought this could happen. Bernie Sanders on steroids wouldn't be signing what this guy is signing." Trump also noted how Biden addressed Vice President Kamala Harris as "President Harris" the week of his fall to support his wild claims.
Following Biden's fall, White House Communications Director Kate Bedingfield tweeted that he is "just fine" and did not require medical assistance. As of this writing, there has been no public comment by the White House regarding the idea that Vice President Harris will soon replace Biden.