The Big Mistake Jimmy Carter Made When He Met Queen Elizabeth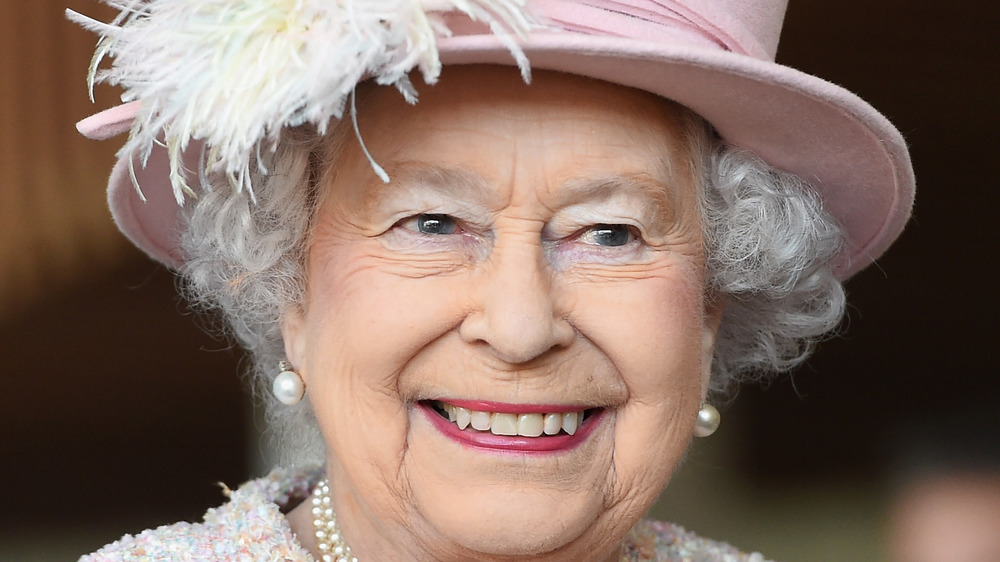 Stuart C. Wilson/Getty Images
From Richard Nixon's 1972 trip to China and sitting down with Mao Zedong (per Post Magazine) to Donald Trump's tour of Japan with Prime Minister Shinzo Abe in 2019 (per Time), meeting with foreign leaders is a huge part of being the United States' top dog. Having strong relationships with other figureheads, and consecrating that relationship with an in-person event, showcases a president's ability to play well with others. Simply put, it comes with the territory of being President of the United States. Yet, when Jimmy Carter met with the Royal Family back in the day, including Queen Elizabeth II and the Queen Mother, he "royally"... screwed up.
Carter served as the 39th president from 1977 to 1981, according to WhiteHouse.gov, beating out former president Gerald Ford in his re-election bid. While the Georgia-born former prez arguably isn't considered one of the more controversial in White House history — his legacy isn't muddied by a scandal a la Richard Nixon, or by racism like Andrew Jackson, whose portrait Joe Biden removed from the Oval Office on his first day — he did make a messy, or make that wet n' sloppy, mistake. It took place when he met the Queen Mother and Queen Elizabeth II overseas in 1977. Scroll down to see what happened.
Jimmy Carter took a greeting with the Queen Mother too far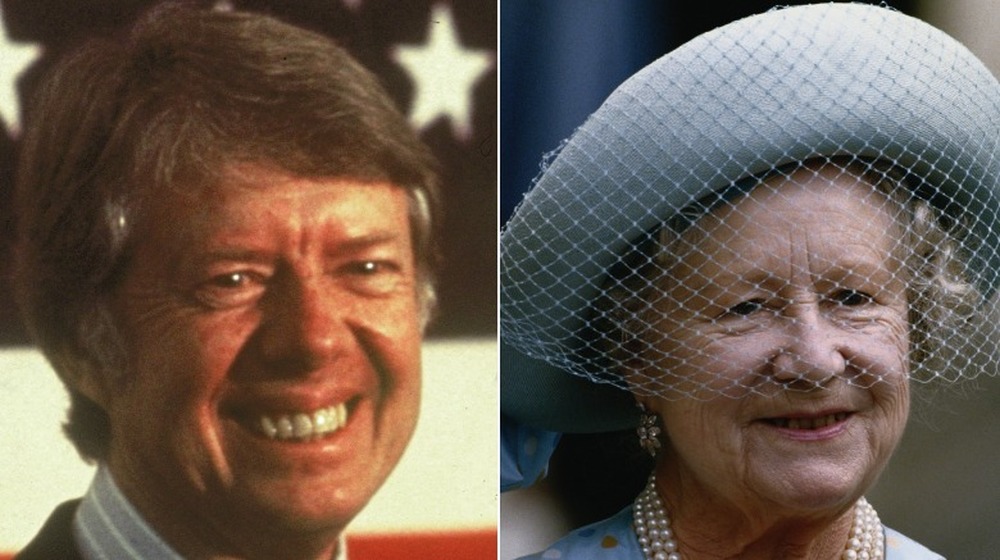 Hulton Archive, Anwar Hussein/Getty Images
So what happened between Jimmy Carter and the Queen Mother, that left, per ABC News, Queen Elizabeth II with "a grudge against Carter for years"? Welp, the big mistake was Carter going in for a kiss.
According to BBC America, the royal smooch-in-question happened in 1977, the year Carter was elected to the highest office in the U.S. According to the outlet, the 39th president had already met Queen Elizabeth II before; in Washington, D.C. in 1976 when she visited America for the bicentennial celebrations (200 years since America got its freedom). But in 1977, Carter made his first trip overseas as president, per BBC America, when Buckingham Palace hosted "a dinner for NATO leaders." And that's when it happened. When it came time for Carter to say hello, he not only crossed the pond, but crossed the line. He, per ABC News, "declined to bow" and instead famously gave the Queen Mother, who died in 2002, a... kiss on the lips. 
"I took a sharp step backwards — not quite far enough," the Queen Mother commented afterwards, per BBC America. "Nobody has done that since my husband died," she added, according to to Express. Eek! The outlet noted that "while there are no obligatory ways to greet the Queen and the Royal Family," usually a bow or handshake will do. Apparently, not for Jimmy Carter! Awkward...