Meryl Streep Sings At Carrie Fisher's Memorial Service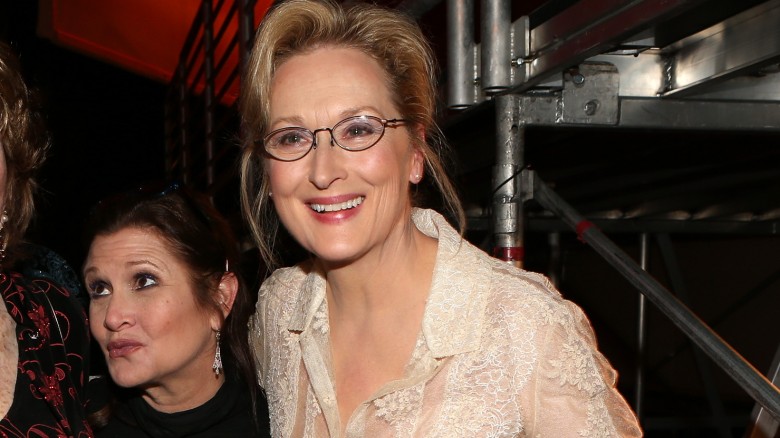 Getty Images
Meryl Streep led a touching tribute to Carrie Fisher at a private memorial for the Star Wars icon and her mother, Debbie Reynolds.
People reports that Streep performed Fisher's favorite song, "Happy Days Are Here Again," at the private service in Fisher's Los Angeles home on Thursday, Jan. 5, 2016. "By the end, everyone was singing," a family friend said.
Page Six reports that 125 guests gathered at the compound Fisher shared with Reynolds, who lived next door, and that Streep, Fisher's daughter Billie Lourd, her half-sister Joely Fisher, brother Todd Fisher, comedians Stephen Fry and Tracey Ullman, and writer Bruce Wagner all delivered eulogies for the departed stars. Other guests included Gwyneth Paltrow, Candice Bergen, Meg Ryan, Emma Roberts, Jamie Lee Curtis, Lourd's rumored boyfriend Taylor Lautner, Star Wars creator George Lucas, Penny Marshall, Ellen Barkin, Courtney Love, and Francis Bean Cobain. The guests reportedly noshed on fried chicken, collard greens, and cornbread.
The party was similar to others that Fisher and Reynolds had thrown at their home, the family friend noted. "The only things missing were Carrie and Debbie," the source told People. "Debbie would sit in the corner, and everyone there would come up and pay homage. Even the biggest stars were starstruck by her. Carrie would walk around barefoot with a can of Coca-Cola, making sure everyone was having a good time, saying the funniest things you've ever heard."
The friend added, "Billie wanted the people her mother loved to gather in that living room one last time. All the tributes circled back to Billie and how much Carrie loved her."
Fisher's beloved dog, Gary, was also present at the memorial service.
Fisher passed away on Dec. 27, 2016 at 60 years old after suffering cardiac arrest on a flight from London to Los Angeles. Reynolds died one day later. Reynolds and Fisher are scheduled to be buried together at Forest-Lawn Cemetery in Hollywood Hills on Friday, Jan. 6, 2016. Fisher was cremated per her request, but a portion of her ashes will be buried next to her mother.