Ryan Seacrest Talks Mariah Carey New Year's Eve Drama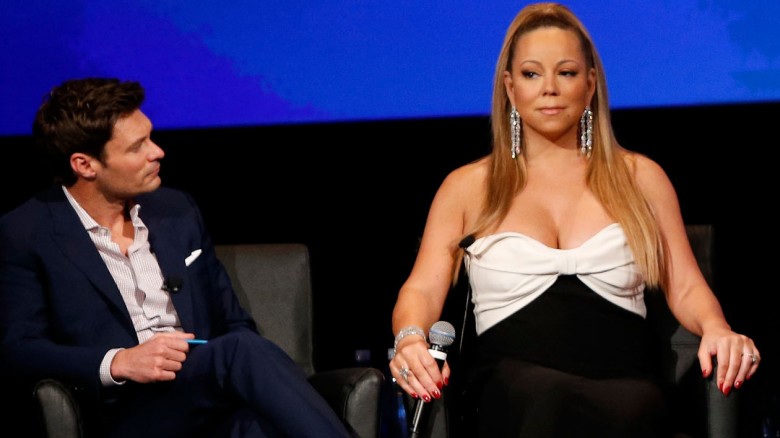 Getty Images
Ryan Seacrest chose his words very carefully when he spoke out about Mariah Carey's New Year's Rockin' Eve debacle, in which the songbird, 46, claimed to have audio issues and refuse to sing or even lip sync along with her own tracks.
On his On Air with Ryan Seacrest show on Thursday, the former American Idol host declared, "I'm just catching up on all this, but there's been a lot reported about the performance in Times Square for Mariah. And, you know, just to talk about it for a second, it is difficult to perform in Times Square. She had done it before because she was the first musical guest that we had had live when I started doing the show years—about a decade ago," he said. "So she had seen it. She knows what Times Square's about. It's complicated. Imagine every single outlet—TV outlet—in the world is there, so there's all kinds of technical things going on. For Mariah, I was up there at the stage to introduce her on the same stage she performs on. It's live television, and things happen on live TV, and, you know, if something goes wrong, it's unfortunate for anybody."
Seacrest also responded to claims from Carey's manager, Stella Bulochnikov, that Dick Clark Productions "sabotaged" the chanteuse—an allegation the company denied, and that Bulochnikov tiptoed away from after they called the accusation "defamatory"—as well as Carey's own claim that Dick Clark would be "mortified" at what went down.
"I know this team of producers—I've known these guys for years. I knew Dick Clark very, very well. This is a team that wants to do everything they can to accommodate any artist," he said firmly. "We are in the business of wanting people to look good and, believe me, tricky things, tough things can happen. It happens on live television. You've seen artists before in a concert pull out their earpiece because something happens. Something could have happened in the ears. I wasn't in those ears. It's just unfortunate that it comes to all of this. It's a night of celebration and a night of fun."
He made sure to add that he had no hand or even knowledge of what was happening in real time. "Interestingly, from where I was, I remember after I introduced the artist, I immediately physically moved from that stage back down several blocks to the other stage," he said, "so I didn't have a visual." That's okay—if he's had WiFi access since Jan. 1, 2017, chances are he's got a visual now.