The Forgotten Donald Trump Interview That's Hard To Watch Now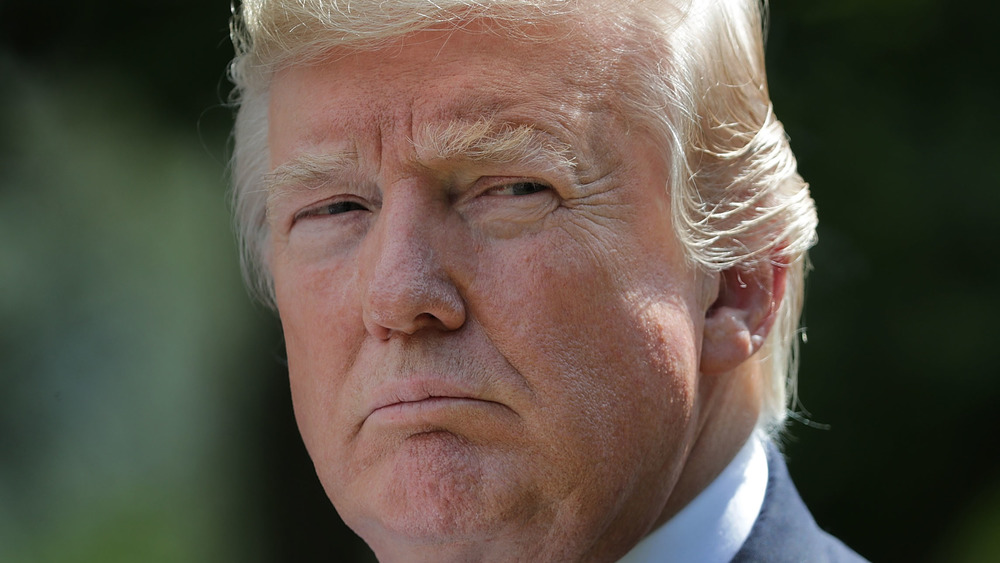 Chip Somodevilla/Getty Images
Former President Donald Trump lost the election to President Joe Biden and left the White House on Jan. 20, 2021, according to CNN, begrudgingly. Trump continuously challenged the election results, claiming election fraud, an anthem which was echoed by his supporters, per The Washington Post. But Trump did leave, exiting the White House with Melania Trump, who turned more eyes than her husband did on that fateful day.
Trump skipped Biden's inauguration ceremony and landed in Florida with his wife to start a new chapter of their life at his resort, Mar-a-Lago in Palm Beach. However, since Trump's exit from Washington, he's caused a stir with his remarks, which clearly signify his plan to return to politics. In fact, Trump spoke at the 2021 Conservative Political Action Conference on Feb. 28, 2021 that offered a pretty direct hint that he has his eyes on 2024.
Despite Trump's plans for the future, we're taking a moment to pause and look back. Hindsight is a remarkable thing, and an old interview of Trump's is really hard to watch now.
Donald Trump claimed the Democratic Party could never win another election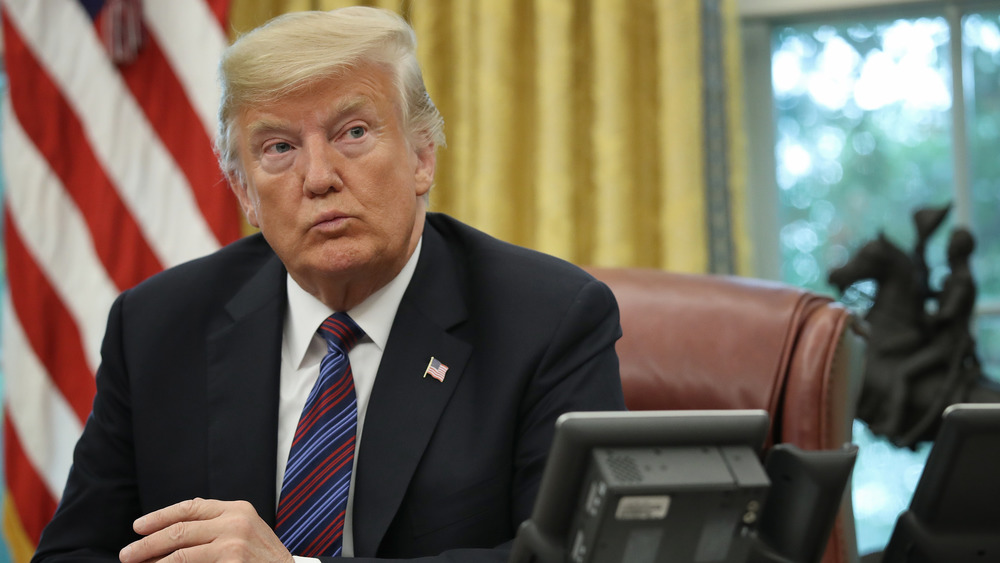 Win Mcnamee/Getty Images
To mark his 100th day in office, John Dickerson of CBS interviewed Donald Trump on May 1, 2017. The interview is tough to watch for many reasons. First of all, Trump derided Senator Chuck Schumer and incorrectly predicted that the Democratic Party couldn't win another election. "Schumer's not a leader, he doesn't know how to lead," Trump told Dickerson. "[I've known] him for a long time, he has no leadership ability. And he's bringing them so far left they're never going to win another election, believe me."
The interview became iconic because of the ways Trump spoke about the presidency. "It's the bigness of the office," Trump said. "It's the bigness of the transactions. It's the bigness of the deals." The interview ends uncomfortably, as Dickerson pressed Trump about something he had previously tweeted about former President Barack Obama. According to The New York Times, Trump called Obama a "bad (or sick) guy" and claimed that Obama had Trump's "wires tapped."
The interview got uncomfortable. Dickerson asked, "I just wanted to find out, though. You're– you're the president of the United States. You said he was 'sick and bad' because he had tapped you– I'm just–." Trump replied, "You can take– any way. You can take it any way you want." When Dickerson continued to press him, Trump abruptly ended the interview.