What Kourtney Kardashian Really Eats In A Day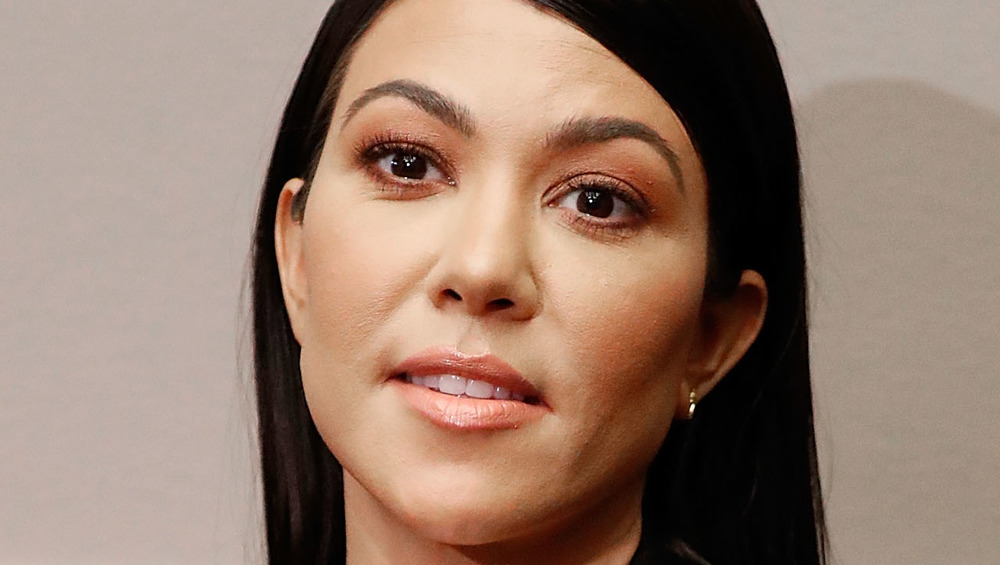 Paul Morigi/Getty Images
Kourtney Kardashian pays close attention to what goes into her body, and her diet has clearly produced results — her Instagram followers couldn't stop gushing over a photo of the mom-of-three rocking a silver bikini during spring break. Kourtney's healthy eating habits have seemingly rubbed off on her equally fit family members, with her younger sister Kim Kardashian now singing the praises of a plant-based diet.
However, Kourtney's family does occasionally tire of her obsession with eating healthy. The Keeping Up With The Kardashians star told Natural Health that she likes to "pick apart" her relatives' pantries, which they find "super-annoying" (via People). And who could forget when Scott Disick got so irritated with his ex's restrictive diet that he tried to sneakily replace Kourtney's gluten-free bread with regular bread?
During her perpetual pursuit of better health, Kourtney ingested her own placenta, and she used to start her day with a shot of a type of butter called ghee (via Glamour). She's come a long way since her pre-mommyhood days. "When I got home from school, my snack was a bag of chips or cookies, and as an adult, I didn't even know what organic meant — I'd just go to the market and buy the same thing my mom bought," she told Natural Health.
When Kourtney became a mother herself, her health overhaul began and it included two big diet trends.
Inside Kourtney Kardashian's diet mashup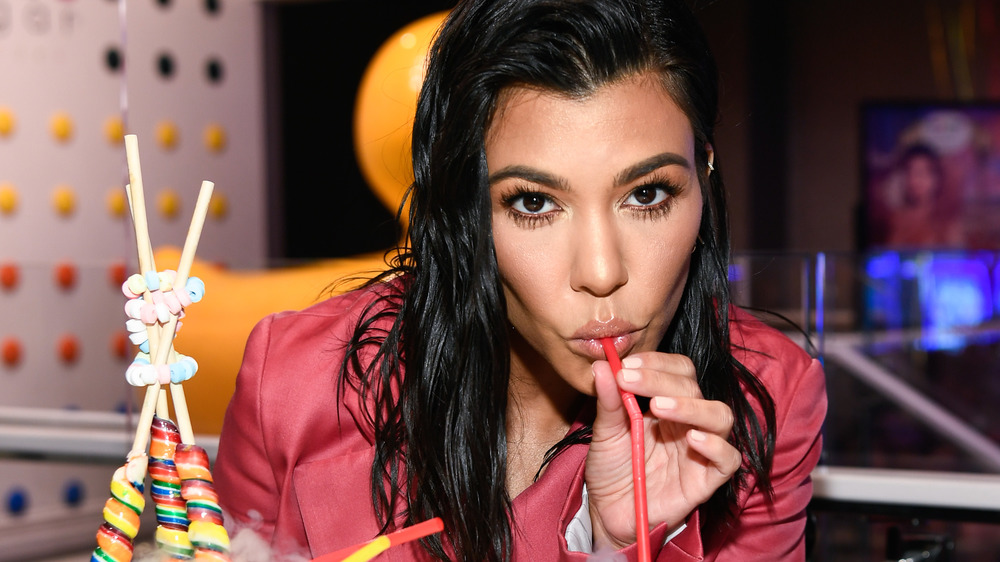 Dave Kotinsky/Getty Images
As reported by Health Digest, Kourtney Kardashian is a fan of the ketogenic, or keto, diet. It involves limiting carbs and eating more fats and proteins to turn the body into a fat-burning machine. However, the ratios have to be just right for it to be effective. Achieving the perfect balance paid off for Kourtney, who told Health that her "body never looked better" after doing keto for two months.
Kourtney combined the diet with a form of intermittent fasting. Beginning at 7 p.m. each evening, she would go 14 to 16 hours without eating. In other words, late-night snacks were a big no-no. On her Poosh website, Kourtney revealed the first thing she put into her body each day was collagen powder mixed with water. After her morning working out, she refueled with her favorite avocado smoothie. The creamy green concoction contained an organic avocado, non-dairy milk, blue-green algae, MCT oil, Stevia, and bone broth powder.
Kourtney's lunch was typically a salad with greens, turkey, and egg whites. Her dinner protein was usually chicken or salmon, and she curbed her craving for carbs with a side of cauliflower rice or broccoli rice. The long list of foods she could not eat included sugar, fruit, processed foods, starches, grains, and alcohol. 
While Kourtney's healthy diet sounds like no cakewalk, she does allow herself to eat cake on occasion. in fact, she confessed that she ate two cakes in four weeks during quarantine.