Brandi Glanville Looks Completely Unrecognizable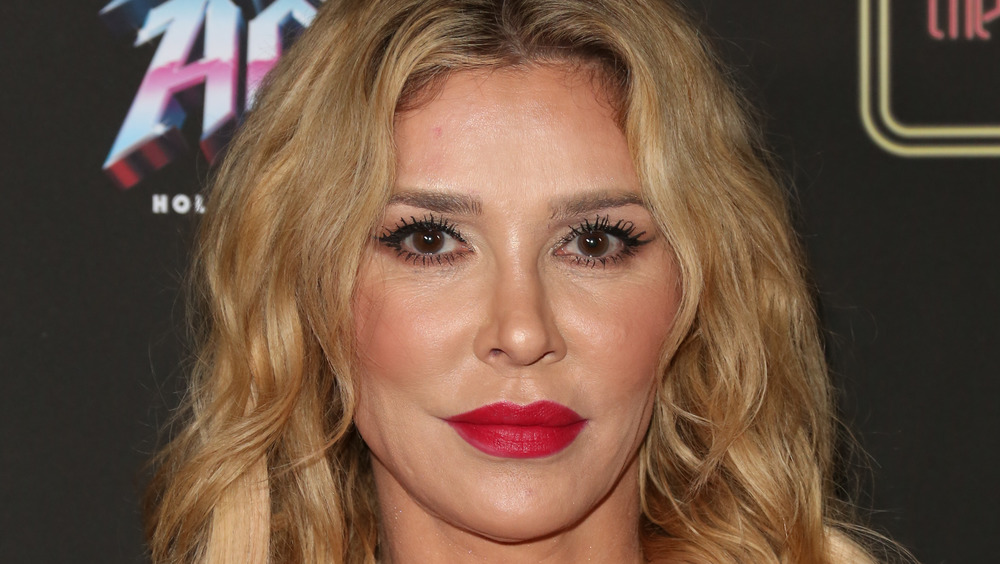 Paul Archuleta/Getty Images
When The Real Housewives Of Beverly Hills star Brandi Glanville appeared on Australia's The Morning Show on March 25, 2021, the topics of conversation included her podcast and her juicy drama with Denise Richards. However, all some viewers could talk about was her physical appearance.
The Daily Mail deemed the 48-year-old mother-of-two "unrecognisable" after her video chat with hosts Larry Emdur and Kylie Gillies. For the occasion, Brandi rocked her familiar blonde waves and a glamorous face of makeup, which included a rosy lip color that was a few shades lighter than her bright pink turtleneck.
While she clearly put some effort into her look, it was the size of Brandi's lips that got scores of Twitter users talking. "I wouldn't have known who she is...lip implants?" read one response to a tweet that included side-by-side comparison photos showing how different Brandi looked on The Morning Show. Another person wrote that it looked like she had "cement injections."
Other commenters expressed dismay over what they viewed as a botched cosmetic procedure. "Why do people do this? She was beautiful before she went and ruined her face. I think it's a sickness," read yet another critical tweet. While Brandi has denied having plastic surgery in the past, the Drinking and Tweeting: And Other Brandi Blunders author has also been upfront about what she has done in pursuit of plump, line-free skin.
What Brandi Glanville has said about cosmetic procedures
As reported by People, Brandi Glanville (pictured above on The Morning Show in March 2021) denied plastic surgery rumors in July 2020 after the way she looked during a RHOBH confessional became a hot topic on Twitter.
"I do look bad but I haven't done anything to my face," Brandi wrote at the time in response to a now-deleted tweet accusing her of going under the knife. She blamed her altered appearance on her decision to use less blush, a tip she learned by watching makeup tutorials. "I had to do my own makeup & we had virtual lighting," she added. "I suck at both hair and makeup. I look horrible."
Brandi further explained her swollen appearance was caused by dental surgery that she had to undergo during quarantine, revealing she had two teeth removed. While some fans still weren't convinced, she was previously honest about what she's done to change her looks. In 2015, she appeared on E!'s plastic surgery-focused talk show Good Work, where she confessed to having "tons" of work done (via Us Weekly). According to Radar Online, she described some of her experiences with Botox and fillers as "bad," and she admitted that she has "overdone it at times."
Brandi has also been upfront about why she's risked going under the needle when the results aren't always what she hoped for. "I've definitely made some mistakes, but it's hard to watch yourself get older on television," she confessed.