Who Is The Grandpa Monster On The Masked Singer?
The Masked Singer appears to be the nation's favorite guessing game as Season 5 continues to be a big discussion point every week. So far, Caitlyn Jenner, Danny Trejo, and Kermit The Frog (yes, you read that correctly) have all been unmasked. On March 17. 2021, Grandpa Monster made their performance debut and entertained the panel — Nicole Scherzinger, Jenny McCarthy, Robin Thicke, and Ken Jeong — by singing a fun rendition of Lou Bega's "Mambo No. 5 (A Little Bit Of...)"
In their first clue package, Grandpa Monster expressed they "couldn't believe the trouble making fool" they were as a "youngster." They explained they were "always acting out to have all eyes" on them. They are still "working on shaking" their "bad reputation" and hopes viewers won't be afraid of who they used to be a long time ago when it's time to take off their mask. The clip hinted that Grandpa Monster could be a football player, and a weight with "6.2 tons" written on it was shown. 
When it came down to guessing who Grandpa Monster could be, the panel's guesses were a little all over the place. Thicke said Ashton Kutcher, Dax Shepard, and Johnny Manziel, while McCarthy went with The Miz. Jeong, who is known for his extra guesses, assumed it might be reality star Scott Disick, which McCarthy completely disagreed with.
Although the panel may not be 100% sure about who Grandpa Monster is, fans think they have already figured it might be.
Fans think Grandpa Monster could be Logan Paul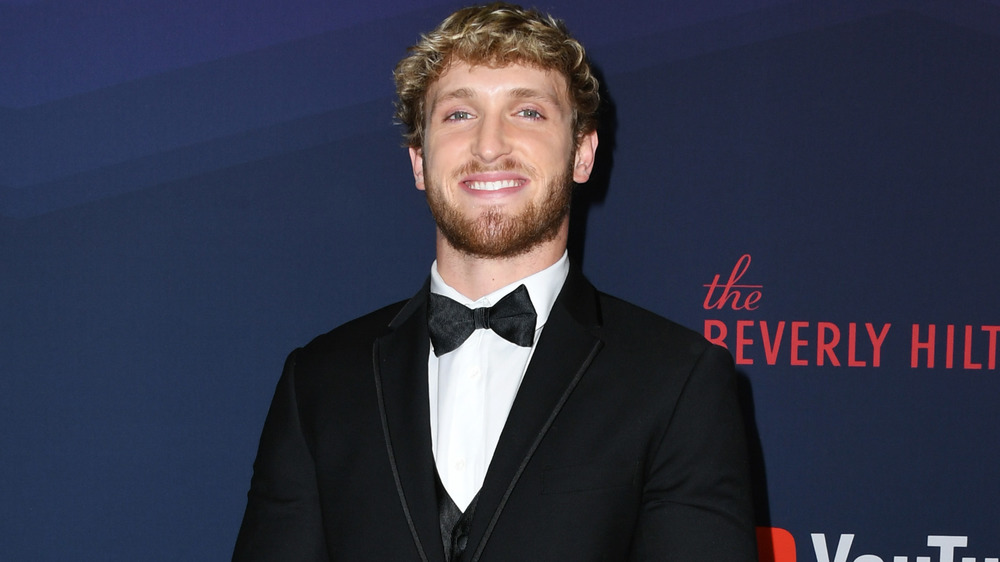 Jon Kopaloff/Getty Images
Although the panel named a whole bunch of celebs for Grandpa Monster, a lot of fans think they might have guessed who it might be. In fact, viewers are fairly confident that it's someone the panelists did not even mention: YouTuber Logan Paul.
In one tweet, a user wrote, "I'm gonna be posting this like every week now because I would bet my life savings that Logan Paul is grandpa monster on the masked singer," and attached a TikTok video explaining why they think it's him. Along with mentioning Paul's bad reputation in the past, the TikTok notes that he used to play football. Paul also has a video on YouTube titled "The Return Of The Maverick" that has 6.2 million views as of the episode's airing, which could explain why the weight had "6.2 tons" written on it. They also compared Grandpa Monster's singing voice to Paul's and it's safe to say they sound pretty similar. Another person agreed, writing, "grandpa monster is Logan Paul because you can tell in the tone of his voice as well the clues lead towards him."
As of this writing, Grandpa Monster has yet to be unmasked and currently remains in the competition, meaning fans will have to keep watching and stay tuned to find out if they are correct.